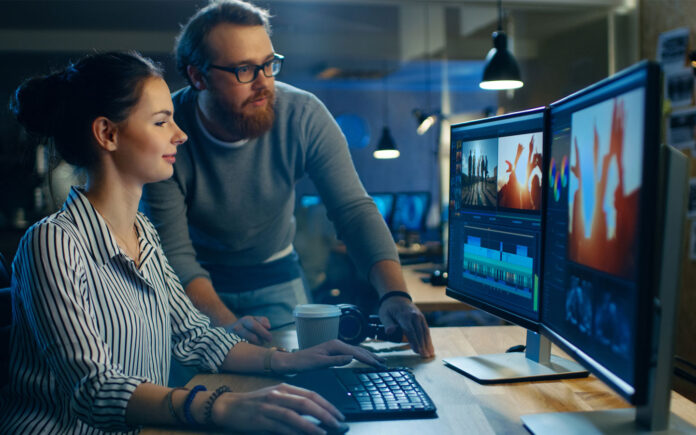 Day with us to learn how you can put up great quality videos, even on a tight budget.
Visugu Unlimited Video Editing Service offer high-quality video editing services with a super-fast turnaround time.
Converting great quality video of any resolution from 1080p full HD, ultra 2k and 4k resolutions, which are fully resizable to any aspect ratio.
Research says that "Having the right video can increase your sales and conversion by a whopping 220 percent."
Colour correction or to add other special effects, company video editing services come with cutting and cropping videos transition effects, title animations, logo embedding, call-outs, light leaks, sound effects background score, male and female voiceover and much more.
Editing team Deploying advanced techniques to create and edit videos with each customer or company in mind; team creative completed products have made a legion of satisfied customers. While a quick turnaround time means you'll be able to show off your video within days.
The Video editing team is expertly tailoring the final video to your needs. Team, take the time to understand your personal or company style and the key aspects you want to portray in your video. The result is the best video that is tailored perfectly to you or your clients. If you are a company, make your profit grow by using our best editor's team.
Types of videos that we can edit
wedding videos
vlogs
tv-shows
music videos
Facebook ads
webinars
subtitles
corporate videos
captions
trailers
YouTube videos
adding text over videos
colour corrections
tv commercials and videos ads
short films
real estate videos
name cards
training and explainer videos
slideshows
Corporate presentations
Video editing skills you need to be a better editor company
Some traits that you need to be a good video editor.
So what is a video editor?
If someone who takes a bunch of videos, music, clips and source media puts them all together, cut them up and put them in a sequence to tell a story.
So some of these traits you might be natural-born good or inclined at, and some of them you might need to practice a little at well.
You are an excellent storyteller.
Since video is like communication, be good at communicating what you want. So if your video should give across a particular emotion or Drive a specific message to the viewer or teach a lesson, the better you are at telling that story visually through the clips, the colour grading you use, the choice of music you pick.
The more effective a communicator you are, the better of a video editor you'll be because you know what you need to do to speak to your audience through the video.
You are being a talented sculptor and knowing what to take away.
So just like a sculptor, it starts with a solid block of rock and chisels away at it until they create their statue or piece of art. Your video will begin with a bunch of solid cliffs of media music and video and photo that you're going to need to be the one who decides what stays and what needs to be taken away. So you need to understand what will serve the purpose of your video to help you communicate the story and what is unnecessary.
Video editing is a lot about cutting stuff away rather than adding effects.
So keep that in mind next time you're editing a project, you're thinking about how to be. A better editor, a lot of what can I take away that I don't need for my ultimate project.