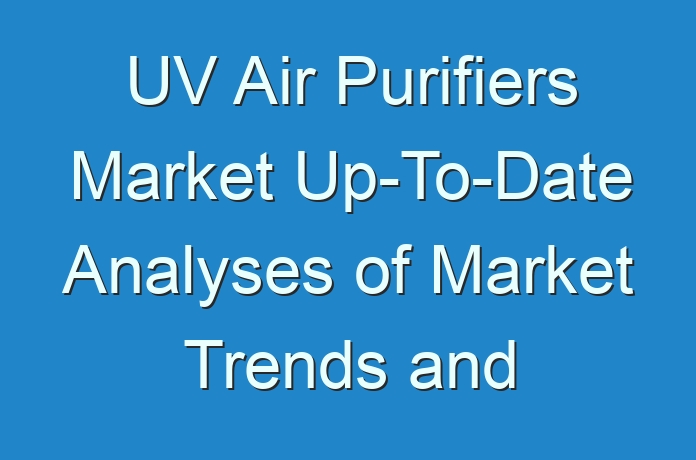 UV Air Purifiers Grow Popular in Cold Regions to Combat COVID-19
Ultraviolet C (UV-C) light air purification is gaining prominence to help protect against potential airborne pathogens such as COVID-19, pneumonia, and influenza. Such trends are creating incremental opportunities for manufacturers in the UV air purifiers market. Though facemasks and social distancing are effective in combating the spread of coronavirus, UV-C light disinfection is emerging as an efficacious method to prevent airborne transmission.
Companies in the UV air purifiers market are scurrying to leverage incremental opportunities in severe cold weather areas where such devices are in demand, since recommendations for socializing outdoors is not practical. An increasing number of COVID-19 positive cases after first dose of vaccine is another driver of the UV air purifiers for indoor air sterilization.
You will get Custom Report at Syndicated Report price, Buy Now
Medical Grade HEPA Filtration Solves Issues of Low UV Dosage, Interference
Despite many advantages of UV air purifiers, these devices are under scrutiny by the United States Centers for Disease Control and Prevention (CDC) for their practical efficacy in the killing of pathogens and viruses including COVID-19. Issues such as low dosage due to bulb coatings and too much interference with the HEPA (High-efficiency Particulate Air) filter result in the germs to stay unaffected by the device. Such problems have led to the adoption of medical grade HEPA filtration as a safe alternative.
The UV air purifiers market is expected to reach US$ 2.5 Bn by the end of 2031. Manufacturers are increasing their R&D efforts to combine UV light with medical grade HEPA filtration to gain approval by the CDC for future UV air purifiers.
To understand how our report can bring difference to your business strategy, Ask for a brochure
UV Air Purifiers Market: Overview
According to Transparency Market Research's latest research report on the global UV air purifiers market for the historical period of 2017–2019 and the forecast period of 2021–2031, rise in demand for air care and increase in concern over indoor air quality have led to high demand for UV air purifiers worldwide
UV air purifiers are air purification devices and utilize UV-C light to deactivate the microbes and filter the air in an enclosed space. The device uses UV lamps that can potentially alter the DNA of microorganisms and deactivate or destroy them. UV air purifiers are available in different sizes, price range, capacity, and weight across the world.
In terms of revenue, the global UV air purifiers market is estimated to exceed the value of US$ 2.5 Bn by 2031, expanding at a CAGR of ~8% during the forecast period
Get More Press Releases by TMR: https://www.prnewswire.com/news-releases/incidents-of-irreparable-damage-in-world-scale-sporting-events-underscores-growth-in-sports-protective-equipment-market-tmr-301264205.html
UV with HEPA Filter Air Purifiers Work More Effectively than Conventional Devices
Online reviews of UV air purifiers are playing an instrumental role in sales opportunities for manufacturers. These devices are being highly publicized in India, as researchers are emphasizing that UV with HEPA filter air purifiers work more effectively when the UV light is on as compared to conventional devices. Some of popular devices are GermGuardian AC5250PT, EnviroKlenz Mobile UV, and InvisiClean Aura II that are grabbing consumer attention through online sales and eCommerce.
The UV air purifiers market is estimated to grow at a robust CAGR of ~8% during the assessment period. Manufacturers in the UV air purifiers market are increasing efforts to incorporate a 3-stage filtration system involving pre-filter and charcoal filter that traps large particles such as dust and pet hair.
Development of Multi-functional UV Air Purifiers a Key Trend in Global Air Purifiers Market
Rising population and large number of middle class families in emerging countries with increasing disposable income influence consumers to invest in home care and personal care products. Moreover, end users tend to use UV air purifiers for protection against allergens and contaminants that directly affect breathing efficiency.
Air pollution causes health hazards such as severe asthma, throat irritation, burning sensation in eyes, bronchitis, and allergic respiratory disorders. Therefore, it is vital to maintain clean and healthy air in residential and commercial environments. This is likely to boost the demand for UV air purifiers.
Rapid urbanization and industrialization is anticipated to adversely affect air quality, thereby affecting the health of people. It is projected to augment the need for UV air purifiers across the globe.