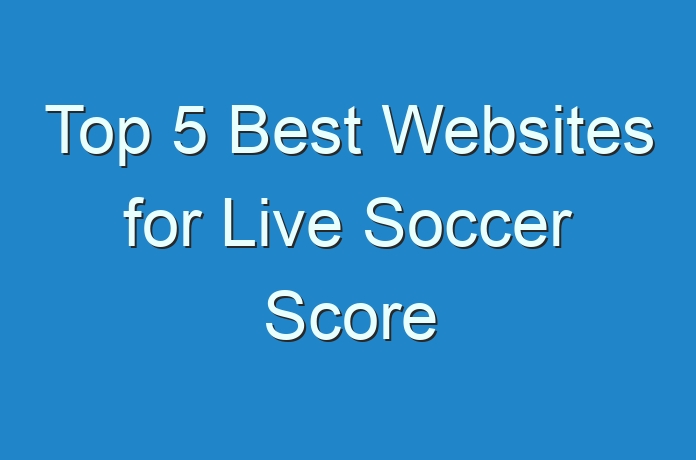 Football is a sport that is known to enjoy unbiased support from people of all social statuses and ages. Soccer also remains one of the most-watched sport in the world with a fan following of more than half of the world's population. It is a dream come true to watch your favourite team or the player in the game live at a stadium but often we are home watching fantastic goals being scored at home in front of our televisions.
Unfortunately, not everyone gets the luxury to watch the game live on TV as they have work and responsibilities. But the passion for the sport doesn't stop us from making sure we get an update of every minute of a match through live score websites. There are dozens of sports websites that provide real-time scores, but our favourites are these five.
Top 5 Websites for Real-Time Soccer Scores
There is no competing the largest sporting brand in the world, ESPN. The website is a mammoth of sports websites and brings you real-time score not just for soccer but for every imaginable sport on the planet. The website's cutting-edge dashboard allows you to keep an easy track if tournaments, leagues, cups and local matches. Commentaries, sports highlights, live scores, breaking news and every other related information about soccer can be found on ESPN.
The problem fans seldom face when following live soccer score on ESPN.com is that due to its vast size the website can be sluggish and slow at times that can delay live scores. Nevertheless, you can install the ESPN app on your mobiles and keep up with soccer on the go.
Soccer24 enjoys a cult following because of being able to cover every football tournament, cup and league from most countries and bring it to the common platform for fans. The website provides you accurate real-time football scores from over 1000 football leagues and cups along with information like standings, fixtures, red cards, yellow cards and goal scorers. Soccer24.com is one of the best websites for live soccer score to get involved with the sport from anywhere in the world.
To keep fans updates, there is also a native app available that works on all android and IOS devices. You no longer have to look for websites for in-game statistics, all the information will be delivered on your phone instantly.
The ultimate destination for live soccer scores, Oddsmax.com brings you real-time scores for thousands of soccer events being played across the globe. The highly-responsive and fully secured website is designed to work on devices seamlessly. The website allows users to search for live games based on tournament and country as well.
The intuitive UI design enables you to stay updated with the live score on your laptops, phones and tablets. Additionally, soccer odds comparison service is also available on OddsMax that makes it easier for punters to bet on live soccer matches. Furthermore, there is a selection of other sports as well that you can follow on the site for live scores and odds comparison.
Streaming games and real-time scores from over 100 football leagues, tournaments and clubs, FlashScore remains one of the best websites for live football scores. On the site, you have the option to activate the notification for live scores, which means you can continue with your work and still not miss any of the live score updates. Tables, goal scorers, video highlights, red cards and yellow cards and all the related information offered to you by a single site. Whether it's a goal by your favourite player or a red card issued, you will always remain in the loop just as the live audience with FlashScore.
You can carry your game with you on your mobile as the website also boasts of an app available for Android, IOS and KaiOS. Just follow your favourite team and player on FlashScore.com and sync them across all your devices.
This one is a platform that provides live coverage of matches as well as real-time score updates for football from all over the world. There is a premium live-score service offered by SoccerScore that allows fans to get the most accurate live football score updates fastest. All the games are covered in great detail on the site breaking down each game to the basics such as starting with line-ups, and substitutions.
Along with the live score, fans can also read soccer news and have in-depth statistics of the fixture. Like other top soccer live score websites on the list, SoccerScore also has an intuitive app for mobiles.