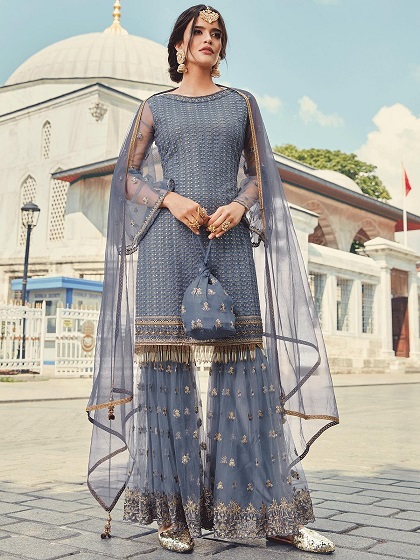 The USA has always been a strong believer in celebrating everyone's ethnicities and cultures. And it's no different when it comes to social gatherings and religious events. As the festivities are right around the corner, it's the perfect time to plan your outfit for the celebrations. And the Pakistani salwar kameez is the right outfit for you. The Pakistani salwar kameez has been a favorite among women for decades and continues to be popular apparel in India and Pakistan. But not all the brick and mortar stores have a great selection for you to choose from but you can always go on the internet, as there is a wide arrangement of options to pick.
If you're looking for some much-needed inspiration to buy a Pakistani salwar kameez online in the USA, then here are 6 interesting facts that will definitely convince you to give it a shot!
Versatile
The traditional Pakistani salwar kameez is a long tunic or kurta on a straight cut trouser (kameez). This is a common traditional outfit in India and Pakistan. It is known for its comfort and elegance, and it can be worn both for work, casual events, and festivities. Over the years, the traditional salwar kameez has evolved to cater to all age groups. Recently, the dupatta or the traditional shawl that is worn on the salwar has garnered a lot of attention with women who prefer a heavily embroidered dupatta with zari work to be worn on a simplistic monotone salwar and kameez.
Even the kameez has evolved to include a variety of styles. From a straight cut to a dhoti style kameez, the Pakistani salwar kameez is a versatile piece of apparel.
Varieties & styles
There is a plethora of varieties of Pakistani salwar kameez, and some of it includes:
The anarkali suit, which is a long flared kurta on a straight cut or tight trouser. This is an extremely flattering combination and is perfect for festivities. You can opt for a silk or georgette anarkalis for weddings and traditional get-togethers. The sharara is a variant of the Pakistani salwar kameez.
From the high neck salwar to floor-length salwar suits, you can opt for any cut and design to suit your body type. Some of the traditional salwar kameez options include the Patiala style trouser on a short kurta which later evolved to a dhoti style kameez. The dhoti style salwar kameez gives an edgier look that has been popularised by Indian and Pakistani TV soap operas and is slowly being adopted by women across India and Pakistan. Other styles include the Afghani salwar kameez, which is mostly a kaftan and a trouser. The kaftan is a breezy kurta and is comfortable as casual wear.
Cultural significance
The importance of Pakistani salwar kameez has increased in recent decades, as it became an important and convenient piece of clothing for working women who stepped out from their traditional roles. It was seen as an easy alternative to a saree and was quickly noticed by the fashion industry and Bollywood, which led to its evolution to a more fashionable option among the younger generation too.
Fabric
The Pakistani salwar can be made from an array of materials from cotton, georgette, chiffon to silk. Moreover, it can be worn for any occasion, depending on the material. A cotton salwar kameez is perfect for work or casual wear, especially in the summers and is light on the skin. A silk or a georgette salwar kameez with ornate and zari work is perfect for big events and festivities. A designer Pakistani salwar kameez that is well-embroidered is an elegant look that is simplistic yet effective.
Accessories galore
Another aspect of the Pakistani salwar kameez that adds to its aura is the flexibility to accessorize the outfit with a wide plethora of traditional Indian jewelry. From traditional silver and brass jewelry like jhumkas, bracelets, bangles to chokers. The options are never-ending and only seem to be growing with the demand.
An intricately crafted choker on a boat neck or a wide neck salwar is simplistic yet an effective look to sport for traditional events. Heavy silver or gold jhumkas are another common accessories that blends with salwar suits. Accessorizing your salwar suit is crucial, especially if you're wearing it for a big event. You can give a twist to your overall outfit with an elaborate and long jacket; this will especially work wonders if your salwar kameez is a monotone. If you don't have one, you can always find a nice fitting Pakistani salwar suit online for a good price.
Also, a lot of women experiment with belts on their traditional wear and salwar kameez is the newest addition to this list. Depending on the cut of your salwar, you can complement it with a belt. A belt can be a lifesaver if your salwar is too breezy or loose.
Pricing
Another interesting factor of the salwar kameez is that you can choose from a wide variety of price ranges. From a basic salwar kameez set to a designer set, the price range is flexible to cater to any budget. While looking for Pakistani partywear suits, you can browse through online stores for a variety of options; you can also get your suit custom made. Many e-commerce stores also have exclusive categories for designer salwar kameez.
If you're willing to spend a little more, and then there are dedicated online boutiques that offer designer salwar kameez suits at a price. Another favorite among Indian women is to emulate the outfits worn by their favorite Bollywood celebrities, these exclusive salwar suits can also be found on several online stores.
To put it into perspective, the Pakistani salwar kameez is an evergreen outfit that has stood the test of time and fashion and has never ceased to evolve. This is why it is still one of the most preferred pieces of clothing for women in India and Pakistan. While you can choose a salwar kameez for its comfort or style, there is a salwar kameez for every woman out there! So it is highly recommended that you invest in a few decadent salwar suits for casual and party wear, and you will not be disappointed. If you're having trouble finding the right one, you can always search for Pakistani designer salwar kameez online in the USA. There are plenty of options on the internet for salwar kameez, so don't wait and start shopping!