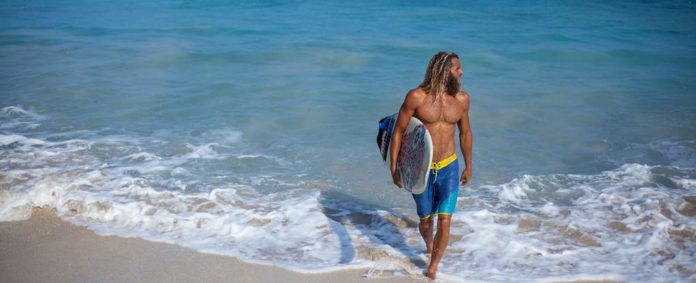 Wearing the proper gear makes surfing all the more enjoyable. Like any other sport, there are specially designed outfits for a surfer's optimum mobility and comfort. Those planning their next trip to the beach have a wide range of surf clothing options to choose from, so surfers can stay warm, safe, and rash-free as they spend the whole day riding the waves.
Wetsuits
Wetsuits are a special type of garment for people who spend a lot of time in the water, such as divers, swimmers, and of course, surfers. It provided thermal protection to its user by trapping a thin layer of water between its fabric and the wearer's body. The body warms the water while the suit traps the heat inside, keeping the wearer warm and comfortable. A good wetsuit should fit snugly but not too constricting.
Wetsuits come in different styles, coverage, and thicknesses. The Full Suit is a bodysuit covering the arms and legs, while the Spring Suit cuts at the elbows and knees. The former is worn for colder weather, while the latter is usually used in the spring or fall seasons. There is also the Short John and Long John, both sleeveless with a short and long leg cover. These types are popular for longboarders who need full freedom at the arms for paddling and protection for the legs.
Rash Guard
Rash guards are athletic shirts made of a stretchy material like spandex, nylon, or polyester. It protects the wearer from sunburn from long exposures under the sun and rashes caused by abrasion, especially with the wax on the surfboards. They come in short and long sleeves and are fitted or loose. The fitted or skin-tight type is better for surfing because it provides less resistance in the water. It clings to the body as well, so it will not get in the way of the surfer's mobility. A loose fit rash guard is more comfortable for sun protection for those out of the waves.
Neoprene Vest or Jacket
Neoprene tops are like wearing half of a wetsuit. Vests are uninhibited at the arms but provide warmth at the chest, while the jacket covers the arms fully. These surf clothing types protect the wearer from cold weather and wind chill and can be used whether dry or wet. Neoprene vests can be worn underneath wetsuits for additional protection, while the neoprene jacket can protect surfers from getting rashes.
Board Shorts
Board shorts are knee-length shorts made of quick-drying material, such as nylon or polyester. They are sometimes referred to as surf trunks since they are a staple piece of clothing among surfers and a popular choice for other sports. These shorts are durable and offer a range of motion, allowing complex movements to surfers. Many beach-goers wear board shorts over their bikini bottoms, swim trunks, and other swimsuits.
Swimsuits
Surfers wear swimsuits as they are or underneath their wetsuits. Surfers wear tight swimsuits, have solid straps, and ample support, especially for women. Men prefer wearing comfortable swim trunks paired with a rash guard or board shorts. Popular styles for women include racerbacks and suits with criss-cross straps for a better cling to the body. Many women also prefer one-piece suits or long-sleeve tops to protect their stomach and arms from surf rash as they maneuver their boards.
Author Bio:
Zoya Marium is a freelance writer and extremely fond of anything related to Digital Marketing and Business. She is writing Technologies as well as fiction, like good music, loves her cat, and eats too much. More than anything, She loves to share the knowledge of Technology.