Repeat Purchases of Plant-based Products to Drive Global Texturized Vegetable Protein Market
Changing consumer preferences are leaving scope for innovations in the texturized vegetable protein market. Currently, manufacturers are opting for calculated risks by introducing products that strike the right balance between indulgence and health. This new trend has been instrumental in achieving repeat purchases for plant-based products.
On the other hand, manufacturers in the texturized vegetable protein market are focusing on protein claims for packaging and other marketing strategies. In order to enhance consumer experience, companies are increasing R&D activities to find the right mix of protein with natural flavors and textures to boost product uptake. Apart from meat substitutes and snacks, manufacturers are generating incremental opportunities through the sales of nutritional supplements, bakery products, and beverages. Since the share of regional and local players is higher in the texturized vegetable protein market, tie-ups with local farmers to obtain high-quality produce will be prominent in the coming years.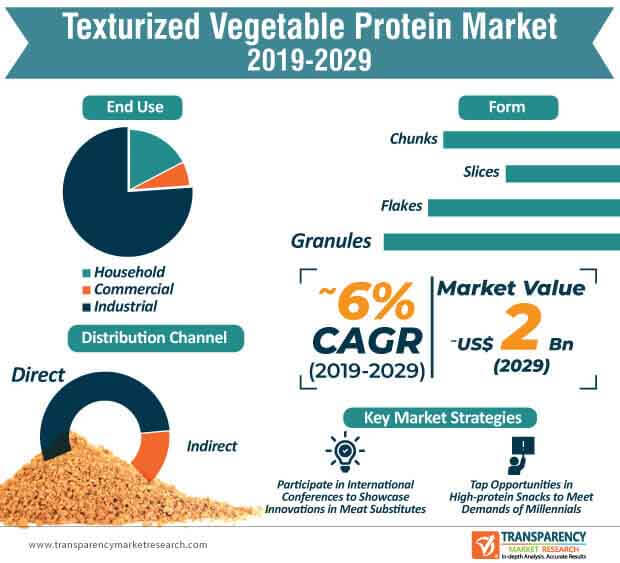 Request a sample to get extensive insights into the Texturized Vegetable Protein Market  
Frozen Meals and Dairy Items Promise Long-term Growth of Manufacturers
The concept of clean label is intensifying competition in the market for texturized vegetable protein. Hence, manufacturers are increasing efforts to obtain clean label for their products to bolster their credibility credentials in the global market landscape. On the other hand, companies are leveraging opportunities by making available texturized vegetable protein for manufacturers of nutritional beverages, frozen meals, and dairy items. Convenience food is another key driver, which is boosting the uptake of plant-based foods, by fulfilling the demand for 'ready-to-eat' meals.
To understand how our report can bring difference to your business strategy, Ask for a brochure
Analysts of Transparency Market Research opine that apart from snacks, there are high growth opportunities in frozen breakfast items, such as plant-based sausage patties and waffles. Manufacturers in the texturized vegetable protein market are introducing new dairy items to capitalize on the growing plant-based food trend. Moreover, calorie-conscious consumers are the key target audience for manufacturers, since plant-based protein helps in the production of low-calorie food products and lower sugar levels.
Increase in Demand for High-protein Snacks among Millennials
Consumers are growing increasingly conscious about the advantages of plant-based foods. Awareness about how the meat industry has led to environmental stress has accelerated the uptake of texturized vegetable protein, especially in the food & beverage industry and households, among others. Manufacturers in the texturized vegetable protein market are increasingly innovating in soy protein. As such, soy protein product type segment of the texturized vegetable protein market is estimated to reach an output of ~715,800 metric tons by the end of 2029. Hence, leading manufacturers, such as DuPont – an innovator in food ingredients and chemicals is expanding its portfolio in plant protein nuggets by including soy and pea protein made products.
Manufacturers are increasing the production of texturized vegetable protein to meet the growing demand for snacks among the millennial population. It is found that millennials have high preference for high-protein snacks, as compared to any other age group. Hence, ingredient manufacturers are launching nutritional bars to cater to 'on-the-go' snacking requirements of consumers.
Meat-based Alternatives Accelerate Texturized Vegetable Protein Market
Veganism and vegetarianism are some of the key drivers that are driving the demand for texturized vegetable protein. Moreover, prevention from various diseases, such as cardiovascular diseases is also creating a demand for meat substitutes. According to the Good Food Institute – a non-profit organization that promotes plant-based alternatives, the sales of plant-based food and beverages have witnessed a significant rise in the U.S. in recent years. As such, new trends in the U.S. are contributing toward the overall growth of the North America texturized vegetable protein market.
The texturized vegetable protein market is largely fragmented with leading players accounting to only ~14% of the total market share. However, the challenge of producing meat substitutes without compromising on the taste poses as a restraint for manufacturers. Hence, manufacturers are increasing efforts to create blends of different plant proteins. For instance, Beyond Meat – a Los Angeles-based producer of plant-based meat substitutes introduced its innovative product 'Beyond Beef' – a ground beef alternative, which is made from mung, pea, and rice protein.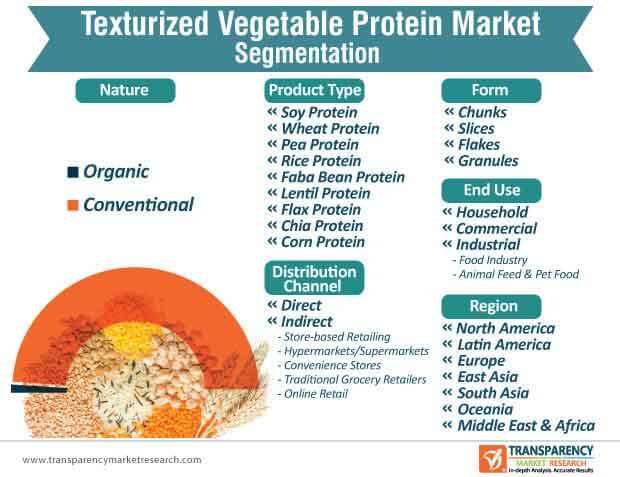 Stuck in a neck-to-neck competition with other brands? Request a custom report on Texturized Vegetable Protein Market 
Analysts' Viewpoint
Regional and local players in the texturized vegetable protein market are expected to collaborate with local farmers to secure supply of high-quality grains. This trend is likely to boost sales of cereal bars and snack drinks, owing to exceptional multi-sensory properties of premium-quality grains.
However, delivering the desired taste and texture in plant-based items poses as a challenge for manufacturers, since consumers have high expectations, with a predefined perception that plant-based foods are healthy. Hence, manufacturers should aim toward striking the right blend of proteins involving pea and rice to deliver the right amount of amino acids, which eventually taste good in plant-based products.
Texturized Vegetable Protein Market: Overview
TMR has conducted a research on the texturized vegetable protein market. According to the report, the market is likely to be ~ US$ 1.1 Bn in 2019, and is anticipated to reach ~US$ 2 Bn by 2029, at a CAGR of ~6% between 2019 and 2029.
Increase in demand for processed food products is attributable to rising purchasing power of consumers and economic across the world. Texturized vegetable protein is in high demand as a flavor enhancer and thickener in sauces, soups, snacks, ready-to-eat food, and others.
For instance, to capitalize on prevailing opportunity, Exter B.V., a Dutch company, along with Thai Theparos, a local food company has announced the establishment of a modern production facility for reaction flavors and vacuum oven dried texturized vegetable protein
Texturized Vegetable Protein: Market Frontrunners
Demand for vegetarian dishes is increasing at a rapid rate, with rising vegetarian and vegan population across the globe bolstering the growth of the texturized vegetable protein market
Conventional textured vegetable protein holds the maximum share of the market. Recent entrants in the market have started providing organic textured vegetable protein.
In terms of product type, the soy protein segment holds a major share of the texturized vegetable protein market and is anticipated to grow significantly during the forecast period. Other than soy and pea, proteins such as faba bean texturized vegetable protein, lentil texturized vegetable protein, and corn texturized vegetable protein were also recently launched in the market.
Europe and North America have large number of companies. A majority of companies are focusing on offering non-GMO products, which are processed using the extrusion-based technology, with enhanced functional properties so that their products can comply with strict requirements of clean label products. Texturized vegetable protein can be further used in various food & beverage applications accompanied by novel R&D improvisation in order to help manufacturers manage protein costs with on-trend plant protein. New products can make up for the low score of texturized vegetable protein opposed to animal/dairy proteins such as whey and meat.
More Trending Reports by Transparency Market Research – https://www.prnewswire.com/news-releases/tmr-forecasts-strong-growth-for-dehydrated-potato-products-market-organic-food-trend-and-potato-flakes-to-drive-5-0-cagr-during-2019-2029–301019666.html
Texturized Vegetable Protein Market: Trends
The Union of Concerned Scientists lists meat eating as one of the biggest environmental hazards. Land, water, and crops are utilized for raising animals and their untreated waste pollutes rivers streams. Worldwide animal agriculture is majorly responsible for greenhouse gases. This environmental impact is supporting the growth of texturized vegetable protein market, as consumers are sensitive to protect environment and turning vegan.
There are multiple government committees and authorities recommending daily values of protein intake. Different measurements of protein quality are used around the world, including the PDCAAS (Protein Digestibility-Corrected Amino Acid Score), DIAAS (Digestible Indispensable Amino Acid Score), and the PER (Protein Efficiency Ratio). Governments not only recommend, but at times, invests in projects for welfare of their citizens.
According to RIVM, the Netherlands National Institute for Public Health and the Environment, the average Dutch person consumes 78 grams of protein per day. In order to return to the 40% animal protein consumption of the 1960s, this average must be reduced to 31 grams. The remaining protein should come from plants.
Such support from government positively propel the growth of texturized vegetable protein market
Today's scientists are expanding beyond by breaking down the structural components of meat and other animal sources of protein and are turning to plants. They are utilizing computing power to find viable combinations and replicas that result in a product that tastes, smells, and feels like the real product with improved nutritional value from plant protein, such as texturized vegetable protein.
Large corporations involved in the meat industry are now investing in innovative meat substitutes as a form of outsourced R&D. Food-trading giant Cargill participated in Memphis Meats' Series A round, while Nestle, which owns a number of frozen food brands that incorporate meat products and acquired vegan foods producer, Sweet Earth in September 2017.
Request for covid19 Impact Analysis – https://www.transparencymarketresearch.com/sample/sample.php?flag=covid19&rep_id=75215
Texturized Vegetable Protein Market: Players
Key players operating in the texturized vegetable protein market, as profiled in the study, include

Archer Daniels Midland Company
Cargill Inc.
CHS Inc.
Vestkron A/S
Roquette Frères
Wilmar International Ltd.
Gushen Biotechnology Group Co., Ltd.
MGP Ingredients
Puris Proteins
LLC
Sotexpro SA
Crown Soya Protein Group
Beneo GmbH and others