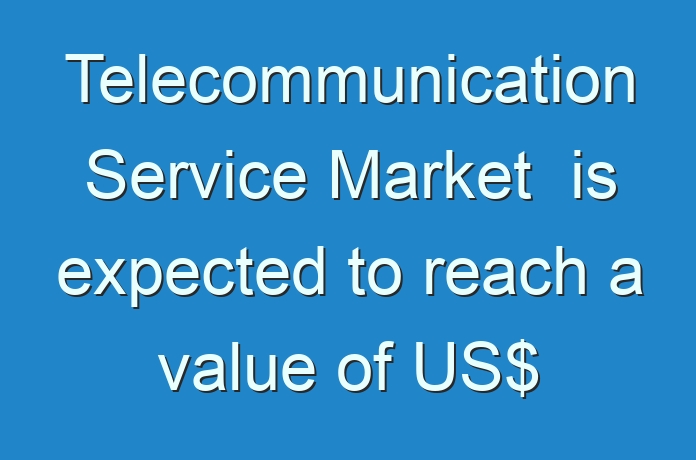 As per the new market report published by Transparency Market Research titled "Telecommunication Services Market [By Package Type (Double Play, Triple Play and Quad Play), By End-use Vertical (Residential and Commercial)] – Global Industry Analysis, Size, Share, Growth, Trends and Forecast, 2019 – 2027," is expected to reach a value of US$ 1,750.62 Bn by 2027. The study projects the global telecom enterprise services market to expand at a CAGR of 7.4% during the period from 2017 to 2027.
Some of the factors driving the growth of telecommunication services market are surge in demand for telecommunication service market in coming years with the expansion of Micro, Small, and Medium Enterprises (MSMEs) across the world and high industrial activity. Also, these enterprises are increasingly adopting IT and networking technology solutions to improve productivity, drive operational and capex efficiencies, and enable convergence across multiple devices. The other factor which is accelerating the growth of telecommunication service is growing technological advancements across the world. In addition to it, rise in investments by major players in emerging markets such as Asia Pacific (APAC), coupled with increase in enterprise IT spending across the industries is expected to drive the market growth.
The telecommunication industry is one of the fastest growing industries in the business world. Telecommunication service providers offer telecommunication services for receiving and sending data through electronic devices. Telecommunication services include email, text, television, fax, radio and Internet access. Telecommunication services are beneficial for businesses as they enable effective communication with customers and help in establishing a healthy relationship with them. These services are also beneficial for employees of enterprises as these services provide flexibility & efficiency and enable easy transmission of data.
For More Details, Request A Sample [email protected] https://www.transparencymarketresearch.com/sample/sample.php?flag=S&rep_id=38324
Key Growth Drivers of the Telecommunication Service Market
A smartphone is one of the key application of mobile telecommunication service which includes extensive range of functions and applications. Different types of mobile services are networking for home, Internet, networking for business, television, phone etc. Internet and phone are one of the fastest growing mobile telecommunication services. Some of the disadvantages allied to telecommunication services market are equipment expenses and security issues among others. Factors enhancing growth of telecommunication services are advancement in technology, investment in new telecommunication technologies like satellite and wireless communication, innovative services like e-agriculture and e-education and growing demand for high speed data processing and high speed Internet. However, factors restraining the growth of telecommunication services are non-awareness among consumers and high cost of value added services.
On the other hand, penetration of Internet of Things (IoT) technology is creating growth opportunities for telecommunication services market. IoT technology enables telecom operators to monitor and plan maintenance more efficiently, enhance bandwidth and coverage to improve download times, and enhance customer service by reducing dropped calls and service delay times.
Regional Analysis of the Global Telecommunication Services Market
Asia-Pacific dominated the telecommunication services market in 2019, with majority share of revenue and is expected to continue its dominance over the forecast period from 2019 to 2027 followed by North America. Within North America, the U.S. and Canada are anticipated to drive the growth of market. This is due to the advanced technology adoption in the region. The increasing need for cloud computing, data center and Gigabit connectivity solutions to support entire IP infrastructure has significantly magnified the adoption of telecommunication services in the North America region. Also, the need for reduction in costs and customized solutions for SMEs, has prompted the operators to come out with scalable solutions that would enable growth of the business. It is noteworthy that traditional telecommunication services such as voice based solutions are expected to remain largest contributor to global telecommunication services market during the forecast period while wireless/mobility and data/internet service are expected to outperform the voice solution market in terms of growth.