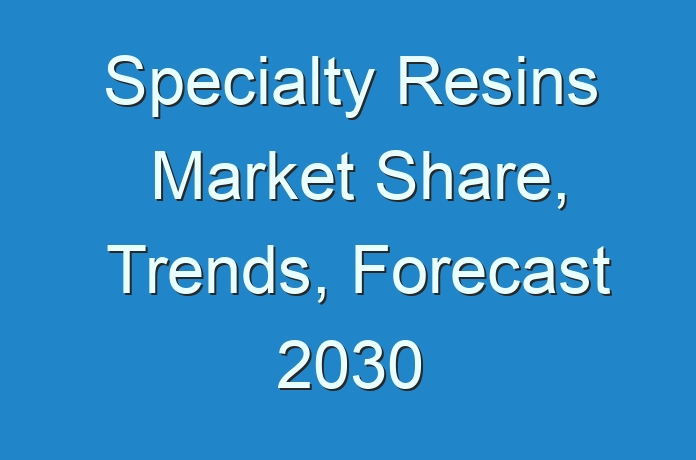 Closed Loop Epoxy Resin Systems Reduce Composite Material Waste Volumes
Recyclable epoxy resin systems are proving as a game changer in the production of water sports components. For instance, Cobra International— an OEM manufacturer of composite products announced to collaborate with Aditya Birla Chemicals, a leader in agriculture and insulating solutions in India, to introduce a closed loop recycling process in collaboration with the Starboard and Maui Fin Company. Such unique recycling systems are gaining recognition in the global specialty resins market, where the market is estimated to reach an output of 2,500 kilo tons by the end of 2030.
Strategic collaborations have led to the increase in sustainability projects. This has led to innovations in the development of recyclable epoxy resins that can be used to produce water sports components. As such, the revenue of epoxy resins is projected for exponential growth in the specialty resins market. Closed loop specialty resins are being used to reduce composite material waste volumes.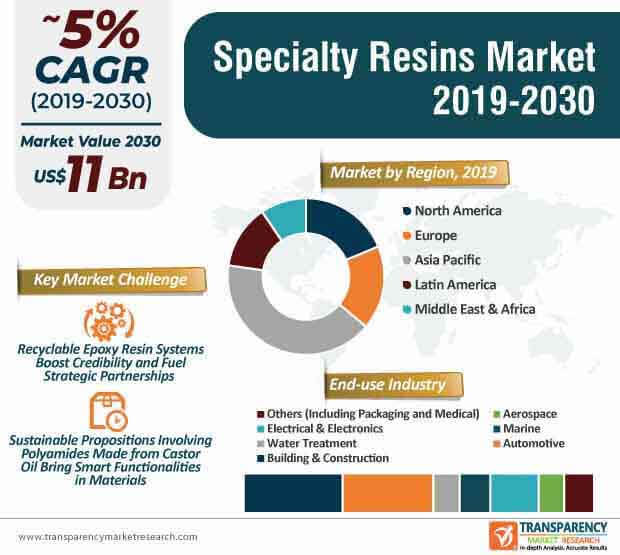 To gauge the scope of customization in our reports Ask for a Sample
Strategic Alliances Spark Innovations in Polyamide Resins Reinforced with Glass Fibers
Sustainable propositions are becoming increasingly commonplace in the specialty resins market. For instance, a business unit of DowDuPont Specialty Products Division has showcased its bio-based material, DuPont Zytel RS polyamide, which is made from castor oil. Such innovations are boosting the revenue of specialty resins market, where the market is estimated to reach a value of ~US$ 11 Bn by the end of 2030. As such, companies are tapping into opportunities in new material technologies in the market for specialty resins.
Get an idea about the offerings of our report from Report Brochure
On the other hand, companies in the market for specialty resins are entering into partnerships to capitalize on value-grab opportunities associated with polyamide innovations. For instance, in August 2019, Toray Advanced Composites— a producer of advanced thermoplastic and thermoset composite materials joined forces with BASF, a world leader in the production of chemicals, to sign a manufacturing and supply agreement, which is focused on innovations in thermoplastics. As such, polyamide specialty resins are being reinforced with either glass fiber or carbon fiber to offer superior performance in various end-use cases.
Improved Understanding of Employment Ratio Enable Successful Catalyzation of Products
Though epoxy resins dictate the highest revenue among all specialty resins in the market, common problems associated with its hardening properties after specified time are likely to slow down market growth. This explains why the specialty resins market is estimated to progress at a modest CAGR of 5% during the assessment period. Hence, companies are increasing their research in employment ratio to strike appropriate combinations that could otherwise compromise the catalyzation of the product. Likewise, it is advised that producers need not add excess amount of hardeners while making products.
Greener specialty resin solutions are boosting the credibility of companies in the specialty resins market. For instance, GRP Solutions— a fiberglass supplier in England announced to collaborate with Ineos Composites, a provider of fabricated composite products to introduce new plastic waste reducing resins. This has fueled innovations in unsaturated polyester resins that are made from recycled PET (polyethylene terephthalate).
Top Tier Companies Experience Less Severe Impact on Supply Chains amidst COVID-19 Pandemic
The novel coronavirus (COVID-19) is changing the world. As such, companies in the specialty resins market have made health and well-being of its employees and workers as one of the top most priorities. They are increasing efforts to inhibit the growth of the coronavirus and protect the health of contactors, visitors, and communities in which they operate. As of now, there have not been any severe supply chain disruptions in North America of top tier companies in the specialty resins market. Contractors in the market for specialty resins are maintaining close contacts with logistics service providers to avoid potential interruptions in supply chains.
Stakeholders are adopting preventive and hygienic measures for workers and employees at production sites to inhibit potential chains of the infection. They are increasing efforts to comply with regulations issued by local authorities and follow instructions given by officials in the communities they operate.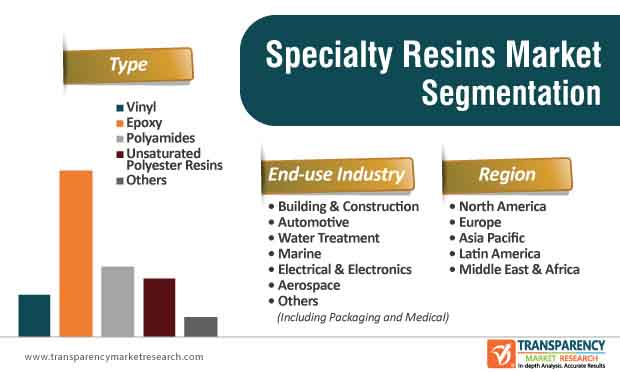 Looking for Regional Analysis or Competitive Landscape in Specialty Resins Market , ask for a customized report 
Analysts' Viewpoint
Top tier companies in the specialty resins market have limited their business trip to only business-critical activities during the coronavirus pandemic. Manufacturers are scaling the roadmap of a circular economy to boost their credibility credentials in the global market landscape.
Innovative epoxy resin formulations have many advantages as compared to traditional cement. However, few limitations such as temperature sensitivity affect the speed of the reaction of the epoxy resin with other curing agents. Hence, companies should design polymer resins as per specific downhole conditions. There is a demand for innovative, lightweight, and sustainable composite material technologies for automotive applications.
Specialty Resins Market: Overview
Specialty resins are types of resins that have special properties and are used in a variety of applications. Due to their advanced properties, specialty resins are costlier than conventional resins.
Specialty resins offer excellent chemical resistance, water resistance, and excellent performance at extreme temperatures. Specialty resins are key ingredients used in the processing of various types of paints and coatings, which are then employed in a variety of end-use industries.
Specialty resins are widely used in industries such as building & construction, automotive, marine, furniture, and electronics. These resins are also employed in the aerospace industry for processing of aircraft composites.
Growth Drivers of Specialty Resins Market
Versatile properties of specialty resins make them a material of choice for use in the building & construction industry, as these resins have excellent thermal resistance, high chemical resistance, high hardness, and high UV resistance. The outlook for the global construction industry appears positive. This is boosting the demand for specialty resins. Building & construction is one of the rapidly expanding industries in the Asia Pacific. Usage of specialty resins in adhesives, sealants, and coatings (architectural, decorative, and protective coatings) is essential to meet quality requirements of the building & construction sector in Asia Pacific.
Improvement in the standards of living, rise in the disposable income of consumers, and increase in urbanization are major factors fueling construction activities across the globe. Specialty resins offer high resistance to temperature and chemicals. Hence, a large amount of resins is anticipated to be used in construction of infrastructure projects as well as residential and non-residential buildings in the near future. Heat-resistant adhesives processed out of specialty resins (especially, epoxy, and amino resins) make the structural lumber used in commercial buildings an attractive alternative for concrete and steel. China accounted for a leading share of the construction sector in Asia Pacific in 2019.
More Trending Reports by Transparency Market Research – https://www.prnewswire.co.uk/news-releases/versatile-properties-of-calcium-carbonate-to-paint-strokes-of-growth-global-calcium-carbonate-market-to-expand-at-cagr-of-6-percent-from-2019-to-2027-opines-tmr-811483427.html
Key Challenges for Specialty Resins Market
Raw material prices have been increasing in the chemical commodities industry. This has further led to increase in prices of specialty resins.
The most commonly used epoxy specialty resins are based on bisphenol A (BPA) and bisphenol F (BPF). Epoxy resins with high functionality are often required to improve product performance in challenging applications. Specialty resins are specifically designed for composite, coating, and electronic and electric laminating applications. Styrene, maleic anhydride, and phthalic anhydride are important raw materials utilized in the manufacture of unsaturated polyester specialty resins. Prices of these materials have increased considerably.
Thus, rising need for production of specialty resins with additional features, such as strength and resistance, has significantly fueled the overall production cost of specialty resins
The factors mentioned above have been adversely affecting the global specialty resins market over the past few years
Lucrative Opportunities for Companies in Specialty Resins Market
The global water & wastewater treatment industry has been expanding significantly over the past few years. Only 60% of the industrial waste water is treated, while approximately 40% of the treated water does not conform to the prescribed standards. The situation is grave in case of sewage treatment, as water treatment facilities in the urban sector have capacity to treat only 37% of the sewage generated.
Ion exchange resins play an important role in water treatment. These are usually manufactured from acrylic acid and divinyl benzene (DVB), which is a crosslinking agent. Certain manufacturers produce ion exchange resins from methacrylic acid or its derivatives. They are widely used in demineralization plants for de-alkalization of water.
Request for covid19 Impact Analysis – https://www.transparencymarketresearch.com/sample/sample.php?flag=covid19&rep_id=46233
Asia Pacific Dominates Specialty Resins Market
Asia Pacific is the leading consumer of specialty resins across the globe. The region is expected to lead the global specialty resins market, in terms of both volume and value, during the forecast period. Rapid urbanization is boosting the demand for specialty resins in Asia Pacific.
China, India, and Japan are major consumers of specialty resins in Asia Pacific. The region is also a leading producer of paints and coatings, plastics, and adhesives. Furthermore, the automotive industry in Asia Pacific has been expanding significantly over the past few years.
Leading Players in Specialty Resins Market
Major manufacturers of specialty resins include

Purolite
Mitsubishi Chemical Holding Corporation
Huntsman International LLC.

These companies offer various types of specialty resins such as vinyl, epoxy, polyamides, and unsaturated polyester resins (UPRs)