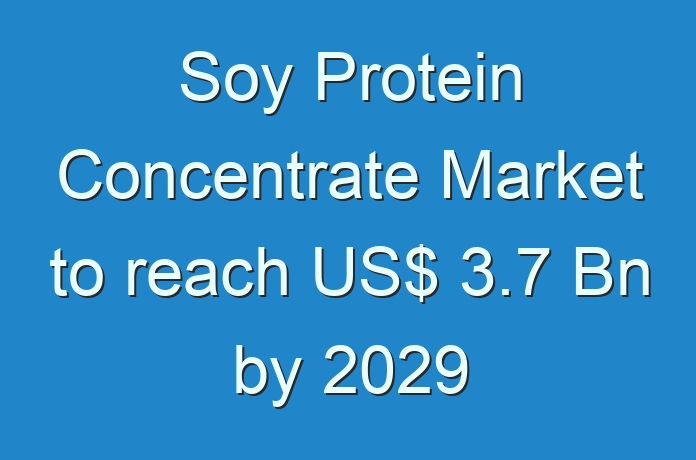 Soy Protein Concentrate Market – Shift towards Plant-based Protein Sources to Unlock Lucrative Opportunities
As consumers never seem to lose their appetite when it comes to experiencing new flavors and ingredients, stakeholders in the food and beverage industry operate under constant pressure to bring novelty to the plates. To add to that, a radical shift of perspective regarding unhealthy food products further sets the range of innovation for the introduction of new products in the industry.
Soy protein concentrates are one such distinguished offering, resonating with consumers who seek a healthy lifestyle. According to a report published by Transparency Market Research (TMR), the soy protein concentrate market will advance at an average CAGR of ~5% during 2019-2029. The popularity of the 'Paleo diet' is found increasing, given the influence of social media platforms, which will drive consumers towards protein-rich diets. In addition, a drastic increase in the number of vegan and vegetarian followers is highly likely to resort to plant-based sources to suffice their daily protein needs.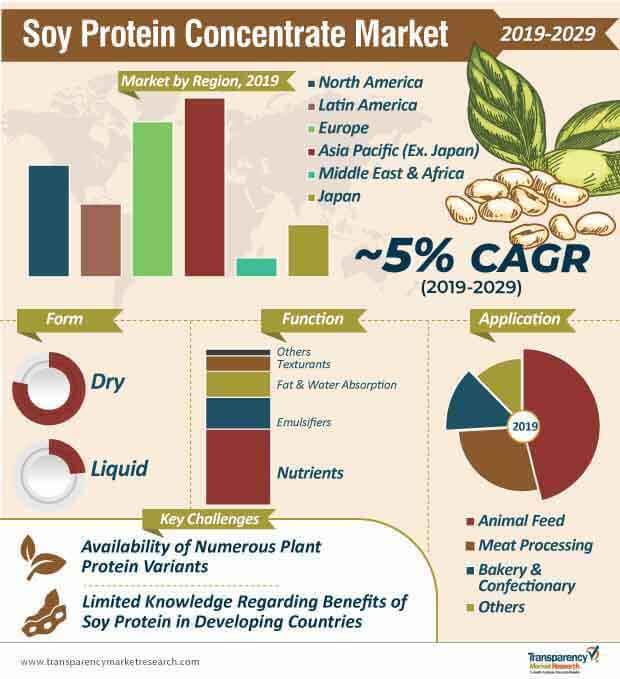 Request a sample to get extensive insights into the Soy Protein Concentrate Market 
Animal Feeds – A New Growth Catalyzer for Market
Though a huge scope of the soy protein concentrate market is dedicated towards catering to human protein needs, growing focus on the quality of animal food products to improve the food chain is extending frontiers towards animal feed. Being identified as the leading sector in agriculture, aquaculture producers are likely to make huge investments in the soy protein concentrate market. With soy protein concentrate-based feeds, the dependence on naturally-available fishmeal decreases, and aquaculture producers can maximize yield. Besides aquaculture producers, livestock farmers are found to appreciate the health benefits offered by the addition of soy protein concentrate to animal feeds, which is likely to catalyze revenue in the soy protein concentrate market during the forecast period.
Soy Protein Concentrate Market: Nutrients to Remain Popular Choice
Consumers, especially in developed countries, are observed favoring animal-free protein sources, which primarily shifts the focus on dairy products. However, allergies associated with lactose intolerance as well as from the consumption of gluten-based protein narrow down the options for proteins among the vegan and vegetarian populace, which is projected to augur well for the soy protein concentrate landscape.
To understand how our report can bring difference to your business strategy, Ask for a brochure
Producers in the bakery & confectionery and meat processing industries prefer the dried form of soy protein concentrate, as it offers better texture to food products. In addition, its longer shelf life and transportation ease further makes it convenient for stakeholders and end-users as compared to the liquid form.
According to the study, soy protein concentrate is used as an emulsifier, texturant, fat and water-absorbing agent, and to enhance the nutritional value of food products. Among these functions, the adoption of soy protein concentrates as nutrients has been growing, on account of their increasing adoption in the animal feed industry. That being said, the sales of these concentrates as nutritional additives are projected to close at ~US$ 2 Bn by the end of 2029.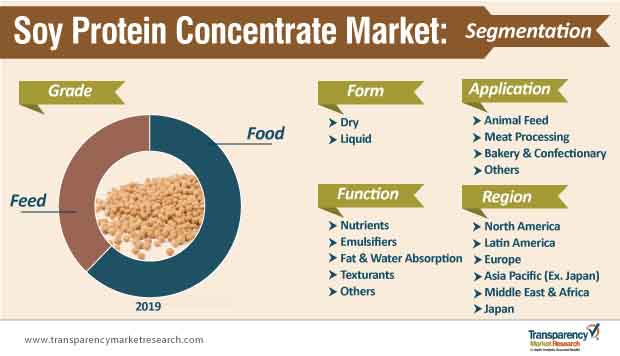 Stuck in a neck-to-neck competition with other brands? Request a custom report on Soy Protein Concentrate Market  
Analysts' View on Soy Protein Concentrate Market
Authors of the TMR study opine that, the soy protein concentrate market will grow from ~US$ 2 Bn in 2018 to ~US$ 3.7 Bn by 2029, and a lot of this growth will be on account of the growing interest of consumers towards healthy diets. Given the influence of diets based on the high consumption of protein, manufacturers in the food and beverage industry are coming up with flavorful, yet healthy bakery and confectionery products to acquire a wide clientele base. Despite the confined boundaries to add value to soy protein concentrates, market players tend to establish their prowess with a diversification strategy, by offering soy protein concentrates in the liquid as well as dry forms. Analysts of the study also portend that, an undivided focus on research & development activities will aid in unlocking new avenues for players in the soy protein concentrate market. 
Soy Protein Concentrate Market: Overview
According to Transparency Market Research's latest market report on the soy protein concentrate market for the historical period of 2014-2018 and forecast period of 2019-2029, globally, revenue generated by the global soy protein concentrate market has been estimated to be ~US$ 2.2 Bn in 2019, and is forecasted to reach ~US$ 3.7 Bn in 2029, expanding at a CAGR of ~5% over the said period.
Processed soybean is primarily available in three forms – soy flour with approximately 50% protein, soy protein concentrate with approximately 70% protein, and soy protein isolate comprising 90% protein.
Soy protein concentrate is primarily defatted soy flour devoid of water-soluble carbohydrates, and comprises 70% soy protein. Soy protein concentrate is prepared by eliminating soluble sugars from defatted and dehulled soybeans. Soy protein concentrate retains a majority of the fiber content of the original soybeans. 
More Trending Reports by Transparency Market Research – https://www.prnewswire.co.uk/news-releases/global-adaptogens-market-to-expand-as-ancient-lines-of-medical-treatment-gain-traction-tmr-851676748.html
Soy Protein Concentrate Market: Demand to Gain Momentum as an Economical & Highly Nutritious Food Product
With consumers becoming better informed about nutrition, the food processing industry has adopted formulas/recipes that meet the changing marketplace demands. In addition to tackling issues concerning the provision of nutrition-rich food, manufacturers are also emphasizing on their products' appearance, texture, and taste.
The number of health- and diet-conscious consumers is most likely to increase in the near future, resulting into increased demand for calorie-controlled & tailored nutritional foods. This will further accelerate demand in the soy protein concentrate market as an economical and highly nutritious food product.
In light of its texture-forming and better functional properties, there is no doubt in soy protein concentrate's pivotal role in this modern world of restructured food technology.
Food processors across the globe are focusing on new product innovations such as GMO-free soy protein concentrate with the aid of product formulation changes, which, in turn, has resulted into increased consumer demand as far as the soy protein concentrate market is concerned.
The fast-paced lifestyles of people in developed and developing regions have resulted into a rise in the demand for ready-to-eat nutrition-rich food products, and availability of such soy protein products will further lead towards their market expansion. In addition, the demand for soy protein concentrate is significantly high in several food industries such as functional foods, bakery & confectionery, and infant foods. 
Soy Protein Concentrate Market: Increasing Consumer Awareness towards Preventative Healthcare
A majority of the population is health conscious and aware about the benefits of preventive healthcare. Various online forums and magazines such as bodybuilding.com, Livestrong.com, Shape magazine, and Men's Health magazines offer diet and lifestyle information, and provide regular updates in this regard.
The traction of soy protein concentrate is increasing among gym-goers and bodybuilders, as soy protein isolate provides essential amino acids for human nutrition. Soy proteins are an important ingredient for vegetarians and vegans, due to their high protein content in comparison to other plant-based proteins.
Soy protein concentrate is the best alternative for animal protein as it is rich in fibers, iron, calcium, amino acids, lecithin, magnesium and vitamins. Soy protein isolate, due to its characteristics, is used as a gel, binder, thickener, stabilizer, and emulsifier by various food and beverage industries. 
APEJ the Largest Soy Protein Concentrate Market
Asia-Pacific excluding Japan (APEJ) will continue to be the largest soy protein concentrate market, with sales estimated to reach approximately ~US$ 1 Bn by 2029-end.
Growth of the APEJ soy protein concentrate market can be highly attributed to the increasing demand for clean label products, and rising awareness about plant-based & healthy food products in the region, particularly in China and India. Between Europe and North America, the former will account for a larger market revenue share, whereas, the latter will register a relatively faster expansion in the global soy protein concentrate market throughout the forecast period.
Animal feed is expected to remain the most lucrative application of soy protein concentrate. Revenue from the sales of soy protein concentrate for animal feed is likely to account for over two-fifth share of the soy protein concentrate market by 2029-end. The application of soy protein concentrate in meat processing will register a robust expansion in the soy protein concentrate market through to 2029.
Fat & Water Absorption Function to Reflect Substantial Growth in Soy Protein Concentrate Market
Based on function, the fat & water absorption segment is projected to reflect the highest CAGR in the soy protein concentrate market through to 2029. However, nutrients and emulsifiers will account for a relatively larger revenue share of the market during the forecast period. In contrast, texturants will account for the smallest revenue share of the soy protein concentrate market during 2017 to 2029.
On the basis of form, the liquid soy protein concentrate segment is expected to exhibit relatively faster expansion than the dry soy protein concentrate segment through to 2029, although the former will remain more lucrative than the latter. 
Request for covid19 Impact Analysis – https://www.transparencymarketresearch.com/sample/sample.php?flag=covid19&rep_id=35105
Soy Protein Concentrate Market: Competition Tracking
Key market players profiled in TMR's report on the soy protein concentrate market include

Archer Daniels Midland
Cargill Inc.
Wirmal International
Batory Foods
Nordic Soy Oy
Nutra Food Ingredients LLC
Food Chem International Corporation
Gremount International Company Limited
Euroduna Food Ingredients
CHS Inc.