Slewing Drives – Modern Incarnations Driving Force Transition Improvements
Drive mechanisms have been a crucial area of focus in the heavy duty equipment and power generation industries. The integration of modern drive mechanisms and large-scale renewables for carbon reduction has meant that key components of the power value chain have gained higher emphasis.
A slewing drive is one such integral component where new developments have come to the fore, improving force transition over standard designs via more efficient meshing with radial gears. While the radical mechanism behind slewing drives is not new, modern incarnations of this essential industrial component feature many recent operational improvements – rotational smoothness, survivability load, and positioning accuracy.
Sensing the potential of the slewing drives landscape, Transparency Market Research (TMR), in its recent analytical study, covers key imperatives and dynamics for the manufacturers of drive mechanisms in general, and slewing drives in particular.
Purchase our Premium Research Report At:https://www.transparencymarketresearch.com/checkout.php?rep_id=59133&ltype=S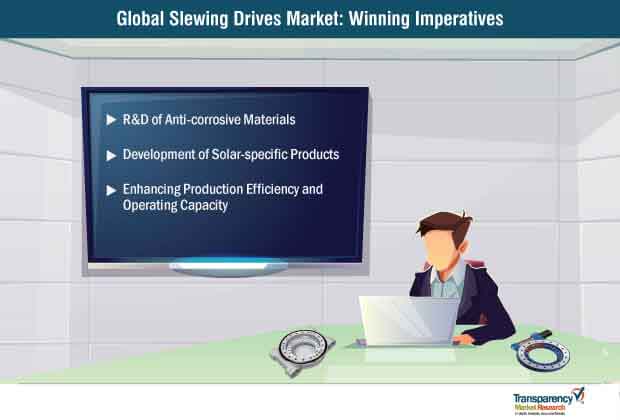 The Step toward High-Precision & Non-Standard Customization
Stakeholders in the slewing drives market saw a marked rise in new OEM customers, complementing business margins, and driving investments in new production lines and capacity expansions. According to TMR's study, ~800 thousand units of slewing drives were sold in 2018, and the market is estimated to record ~ 4% CAGR through to 2027.
From the perspective of demand-side dynamics, as the construction machinery gets caught up in the new maintenance cycle abreast surging infrastructure development activities, there is huge requirement for load transmission components such as slewing drives. Additionally, structural adjustments in the manufacturing sector have led to a rise in new facilities, including automation and energy, which has driven the demand for high-quality slewing drives with emphasis on high-precision and non-standard customization.
Low-Maintenance and Performance Versatility – Key Focus Areas
In response to the growing demand from a wide range of applications, including wind turbines, solar tracker, and cranes, key players in the slewing drives market are focusing on the development of low-maintenance drives, engineered to ebb the on-field labor cost and offer greater protection. Environmental protection remains the prime focus to offset any corrosive damages, using robust enclosures that prevent operational hazards due to particles such as sand, dust, dirt, and even water.
Versatility in performance is another key aspect that has been gaining the attention of slewing drive manufacturers, devoid of the component's mechanism – vertical or horizontal. Slewing drives that offer a wide spectrum of torque have been introduced by established manufacturers to suit the various performance requirements of end users. Hourglass technology used in slewing drives have also witnessed significant advancements to cope up with the low-maintenance and performance versatility needs of customers. The focus on greater strength and accuracy has led manufacturers to focus on increased tooth engagement, which has consequentially complemented offering high torque in confined spaces.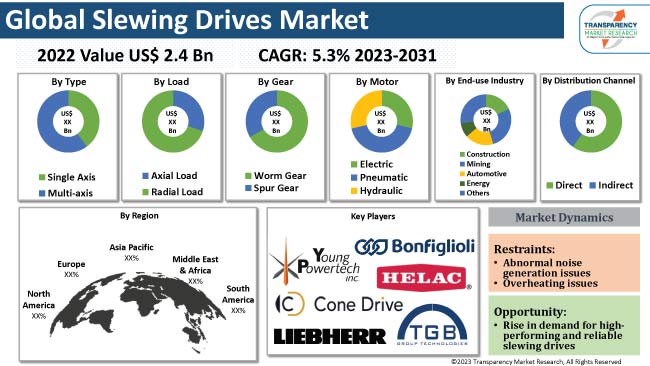 Want to know the obstructions to your company's growth in future? Request a PDF sample here
Slewing Drives Market – Winning Imperatives for Stakeholders
R&D of Anti-corrosive Materials
Key market stakeholders have strengthened their focus toward improving the reliability and lifecycle of slewing drives, and add to their application versatility. The R&D of new materials needed for slewing drives, and the R&D of auxiliary processes & materials do not meet the urging requirements for quality and performance level. This has further led manufacturers to emphasize more stringent internal standards that enable improved geometry, increased depth of hardened layer, and enhanced service life.
The research efforts of slewing drive manufacturers toward anti-corrosive materials to promote their application scope has resulted in the adoption of computer simulation technology to validate the load bearing capacity, while molding the product structure into the size of the optimized design.
Development of Solar-specific Products
There has been a marked rise in the application of slewing drives in solar tracking systems, such as single-axis and dual-axis trackers. Slewing drives have facilitated the operations of key solar tracking-relevant components, including linear Fresnel, solar dishes, and solar towers. Stakeholders in the slewing drives market, with their cutting-edge precision motion control solutions dedicated for multi-industry applications, have been focusing on the development of slewing drives for solar power trackers.
Customized slewing drives for efficient and cost-effective harnessing of solar power are coming to the fore, enabling a robust static and dynamic torque load capacity in compact packages. Key players have come up with the double-enveloping drive technology that offers precision and accuracy, along with an absolute zero backlash.
Focus on Production Efficiency and Operation Capacity
After gradual recovery of the slewing support landscape in recent years, it has been witnessed that, the demand for slewing drives is expected to maintain a steady momentum of growth. This ephemeral to the pervasive recovery stage of the slewing drives landscape, alongside growing infrastructure development activities and rise of renewable power generation plants, has been auguring well for market growth.
Leading players in the market are focusing on enhancing their production efficiency and operation capacity to cater to the growing demand, abreast the increasing number of manufacturing industries, which range from industrial automation and energy to amusement equipment. These capacity expansions by stakeholders are primarily focused toward manufacturing high-quality, high-precision, and to a certain extent – non-standard customized slewing drives.
Contact us:
Transparency Market Research
State Tower,
90 State Street, Suite 700,
Albany NY – 12207,
United States
Tel: +1-518-618-1030 Email: [email protected]
Website: https://www.transparencymarketresearch.com
https://todaysmarkettrends.wordpress.com