Process Safety Services Market – Snapshot
Process safety refers to the protection of property and people from catastrophic and episodic incidents that may result from unexpected or unplanned deviations in process conditions. Process safety services help customers in meeting their health, safety, and environmental compliance needs in a systematic manner. Major services offered by the process safety services market include consulting, auditing, training, and certification. Process safety service providers offer a mechanism for understanding and controlling the risks associated with processes as well as assistance in increasing productivity and reliability, improving safety and security, and enhancing overall business performance. The process manufacturing segment is expected to account for a significant share of the process safety services market over the forecast period. The global process safety services market is currently driven by increasing global awareness regarding employee and process safety.
Planning to lay down future strategy? Perfect your plan with our report sample here https://www.transparencymarketresearch.com/sample/sample.php?flag=S&rep_id=64362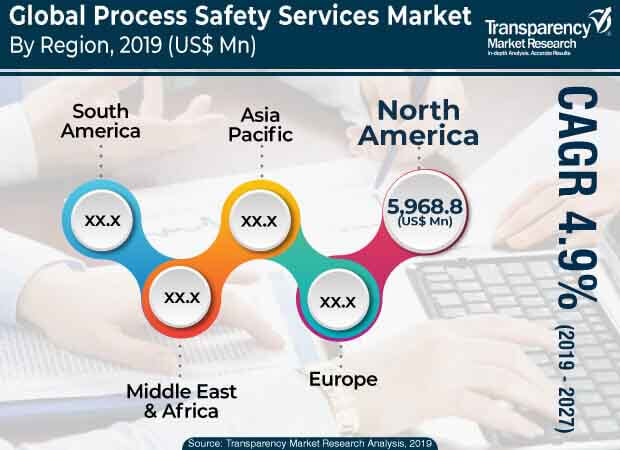 The global process safety services market was valued at US$ 18,337.7 Mn in 2018 and is expected to expand at a CAGR of 4.9% during the forecast period.
Growing safety demands in the oil & gas and chemical industry is expected to drive the process safety services market. However, operational silos, budget allocation models, and lack of skilled labor are some of the major factors restraining the market. Budget allocated by small and mid-size industries specifically for primary safety does not cover allocation for precise and on time monitoring of incidents. Thus, the budget scope may not address the safety of information, technology, and workplace health adequately, leading to competing priorities and lack of collaboration. Shifting focus toward safety in APAC is anticipated to present significant opportunities for the process safety services market. In the Asia Pacific (APAC) region, attitude toward process safety has been of some concern especially in emerging economies such as India and China. A replacement worker is easily available in case of injury or accident in the region due to low labor cost and a fast growing population. Moreover, serious incidents in the past in the region such as the Bhopal Gas Tragedy, and the Fukushima earthquake have raised concerns about process hazards.
The global process safety services market is expected to be driven by significant growth in Asia Pacific. The region is projected to constitute a significant market share during the forecast period, with China, Japan, and India contributing most to the region's revenue. The process safety services market in Asia Pacific is mainly driven by growing adoption of new technologies by emerging countries such as China, India, and Malaysia. As the manufacturing environment continues to change, process safety services are also evolving to fulfill new technology expectations and demands. Growing requirement to drive manufacturing management and production efficiency is one of the major factors that accelerates the demand for process safety services in the manufacturing sector. Moreover, adoption of Dust Hazard Analysis (DHA) solutions is expected to see high penetration in the Asia Pacific region.The market in Asia Pacific is estimated to expand at a rapid CAGR of 5.8% from 2019 to 2027. Growing consulting services for better project management and claims management is driving the process safety market in Europe. Moreover, regulations and policies in Europe are very stringent and industry verticals are bound to follow these rules. Awareness and safety related to the company, processes, and assets is high in this region. Europe has dominance in the mechanical integrity industry due to dominance of the manufacturing industry vertical in this region. Europe has the world's best car manufacturing industry especially in Germany and France. This domination in the mechanical sector is driving the process safety service market in this region.
Looking for exclusive market insights from business experts? Buy Now Report here https://www.transparencymarketresearch.com/checkout.php?rep_id=64362&ltype=S
Major players operating in the process safety services market include Honeywell Process Solutions, RRC International, ABB Ltd., Bureau Veritas S.A., HIMA Paul Hildebrandt GmbH + Co KG, Intertek Group PLC, SGS Group, Rockwell Automation, Inc., TUV SUD, SOCOTEC Certification International, DEKRA, Smith & Burgess Process Safety Consulting, Process Engineering Associates, LLC, ioKinetic, LLC., and Ingenero, Inc.