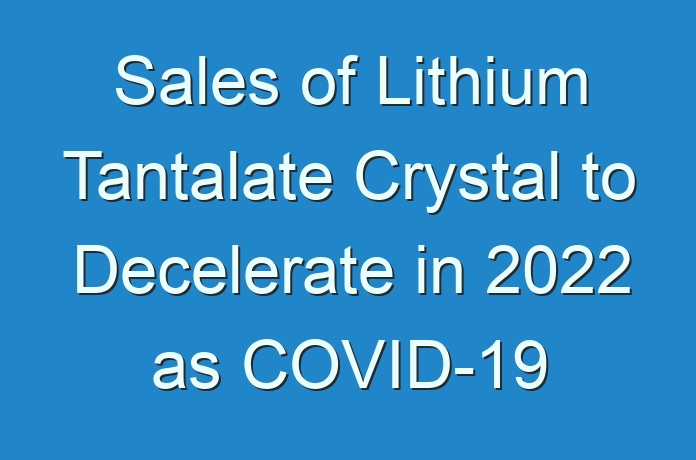 Lithium Tantalate Crystal Market – 'Need for Speed' to Create Huge Opportunities in the Telecommunication Industry
New applications on the horizon for lithium tantalate crystal, meaning new revenue streams!
According to the findings of a recently published research report by Transparency Market Research (TMR), the global lithium tantalate crystal market is progressively gaining sheen by getting a hold of the traditional applications of quartz and lithium niobate. Lithium tantalate crystals will take over the telecommunication world due to the ever-growing need for increased bandwidth to facilitate cloud computing, data transfer, and data storage.
Growth will also unfold from the pronounced trend of using lithium tantalate crystals in acoustic wave devices for the manufacturing of electrical components. Zoomed in focus towards energy harvesting is likely to spectate high reliance on lithium tantalate crystals. However, it may be interesting to know that, despite the first synthesizing of lithium tantalate crystals being done in Russia, Asia Pacific will hold on to a massive slice of the market share, with the high demand for these crystals in numerous applications in the electronics and telecommunication industry.
Though the lithium tantalate crystal market holds a steady growth potential, the complex production process incurring high costs is likely to pose as a challenge. All in all, the lithium tantalate crystal market is all set to record a compound annual growth rate of 5.5% during the forecast period of 2019-2027, with the telecommunication industry being the key revenue pocket for this market.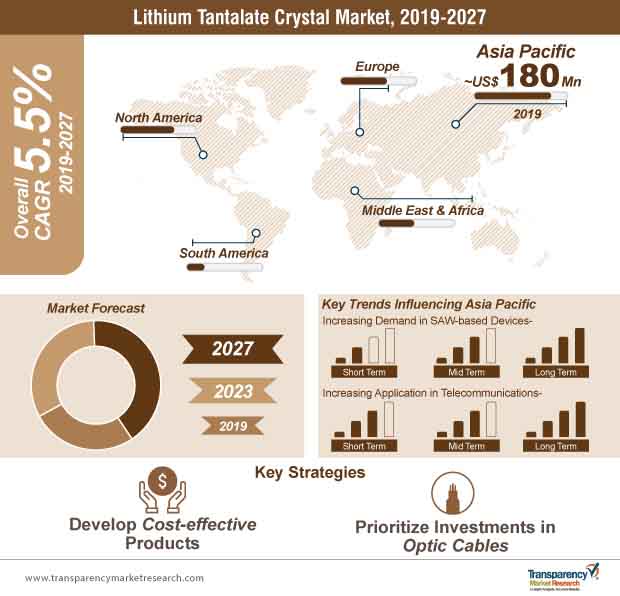 Planning to lay down future strategy? Perfect your plan with our report brochure here https://www.transparencymarketresearch.com/sample/sample.php?flag=B&rep_id=36380
What Sets Lithium Tantalate Crystals Apart from the Pack
While quartz has been the default crystal for the optical, telecommunication, semiconductor, construction, and electronics industries for a long time, growing focus on lithium tantalate crystals can be highly attributed to their distinguishing characteristics. When compared to quartz, lithium tantalate crystals possess larger electro-mechanical coupling, as they exhibit useful cuts for longitudinal and shear wave mode transducers. Since the telecommunication industry demands broad bandwidth, lithium tantalate crystals are gaining the attention of manufacturers for the development of acoustic resonator filters.
Another crystal exhibiting near-LiTaO3-like properties is lithium niobate (LiNbO3). Both, lithium tantalate crystals and lithium niobate crystals are developed using the Czochralski method for yielding large and high-quality single crystals. However, lithium tantalate crystals are fast replacing lithium niobate crystals, in light of their unique electro-optical, pyroelectric, and piezoelectric properties with a high optical damage threshold. This makes LiTaO3 highly suitable for the development of surface acoustic wave (SAW) substrates, optical waveguides, pyroelectric detectors, and electro-optical modulators, among others.
In Focus: Surface Acoustic Wave (SAW) Devices and Asia Pacific
Manufacturers in the electronics and telecommunication industries are striving to position their products in prominent light, with speedy transmission, storage, and receiving of data being the key attractive proposition. As the need for integrating a better non-linear optical material with higher efficiency in electronic circuits and transmission channels increases, the lithium tantalate crystal industry is likely to be at the center of these innovative devices. However, a significant share of the market will be routed from the growing applications of surface acoustic wave (SAW) devices.
Currently, acoustic wave devices account for ~ 55% share of lithium tantalate crystal sales, as manufacturers of consumer electronics seek materials with versatile characteristics for fluid measurements, geophysics, televisions, laptops, and similar smart devices. As the effectiveness of optical communication gains traction, lithium tantalate crystals are exploited as substrates for the development of electro-optical devices such as directional couplers, scanners, modulators, Q switches, and spatial light modulators. The demand for electro-optical devices is likely to increase exponentially, approaching a lucrative juncture for the lithium crystal devices market during the forecast period of 2019-2027.
The increasing demand for high-end electronic devices in Asia Pacific will offer a fillip to the growing lithium tantalate crystal industry. Increasing focus on offering cutting-edge smartphones, tablets, desktops, and laptops has enthused manufacturers to move past the limited efficiency of quartz towards lithium tantalate crystals, which hold the potential to unlock revenue streams from the semiconductor industry during the coming years, and, in turn, revamp the future opportunities for the telecommunication industry.
Looking for exclusive market insights from business experts? Request a Custom Report here https://www.transparencymarketresearch.com/sample/sample.php?flag=CR&rep_id=36380
High Internet Bandwidth Requirements to Speed Up Market Growth
As the 'need for speed' in the telecommunication industry drives a shift towards effective materials, the future of the lithium tantalate crystal landscape seems propitious with the growing demand for high-speed Internet for small and large-scale applications, and Internet of Things (IoT) technology making its debut in consumers' space. A perpetual rise in the demand for communication networks with broad bandwidths will uphold the demand for lithium tantalate crystals in base stations. The rollout of 5G networks, in turn, holds the key to enormous sales for the landscape. Initiatives taken by governments to digitalize cities under 'Smart City' projects are leading to an uptick in the deployment of broadband networks.
As the world looks at the emergence of optical fibers as a revolution to communication systems with minimum data loss, futuristic applications of lithium tantalate crystals will revolve around the development of optical cables. Overall, the lithium tantalate crystal market is likely to record a value of ~ US$ 790 million in 2027.
According to Transparency Market Research's latest market report on the global lithium tantalate crystal market for the historical year 2017 and the forecast period of 2019–2027, the rising demand for lithium tantalate crystals in the telecommunications sector and the increasing use of electro-optical devices are expected to drive the global lithium tantalate crystal market during the forecast period.
In terms of revenue, the global lithium tantalate crystal market is estimated to reach a value of ~ US$ 510 Mn by the end of 2019, expanding at a CAGR of 5.5% throughout the forecast period.
More Trending Reports by Transparency Market Research –
1. https://www.prnewswire.com/news-releases/heat-shrink-tubing-market-to-spread-its-wings-with-us2-7-bn-valuation-by-2027–says-transparency-market-research-301009742.html
2. https://www.prnewswire.com/news-releases/network-attached-storage-solutions-market-is-set-to-rise-at-4-cagr-during-2019-to-2027-need-to-secure-large-amount-of-data-powers-the-growth–tmr-301009683.html
Contact
Transparency Market Research
90 Sate Street, Suite 700
Albany, NY 12207
Tel: +1-518-618-1030
USA – Canada Toll Free: 866-552-3453
Email: [email protected]
Website: https://www.transparencymarketresearch.com/