Intense competition between HID USA., Atmel Corp., NXP Semiconductors N.V., and Invengo Information Technology Ltd. Co. characterizes the business landscape of the U.S. RFID tags market. This competition is expected to heat up further over the coming years, thanks to their continuous efforts towards expanding their businesses.
Be it the organic route of product development and portfolio diversification or the inorganic way to mergers, acquisitions, and alliances, these players are keeping no stone unturned to gain an edge over each other. For instance, Invengo recently introduced LinTRAK-Slim, a new generation linen tag, which is the thinnest UHF RFID tag to be used in the laundry and textile services industry, until now. Other prominent players in the U.S. RFID tags market are Omni- ID Ltd., AMS AG, Alien Technology, Impinj Inc., Confidex Ltd., and RF Code Inc.
Transparency Market Research (TMR), a leading market research and intelligence firm, has recently published a report on the U.S. RFID tags market. According to the report, this market was worth US$0.80 bn in 2016. Expanding at a healthy CAGR of 8.50% over the period from 2017 to 2025, the U.S. RFID tags market is estimated to reach US$1.67 bn by the end of the forecast period.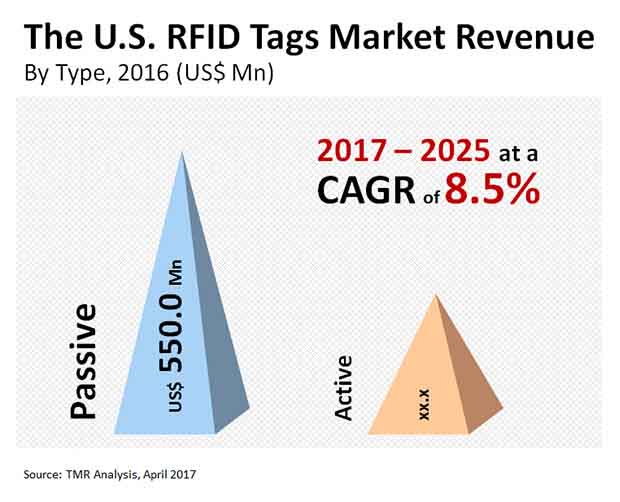 Request a Sample –https://www.transparencymarketresearch.com/sample/sample.php?flag=S&rep_id=24536
Rising Application of RFID Tags in Various Industries to Boost Market Growth
The U.S. RFID tags market is gaining considerably from the efforts made by manufacturing companies to deepen their supply chain and enhance their visibility. An analyst at TMR stated, "RFID tags are increasingly being adopted in various industries, such as automotive, retail, healthcare, livestock, IT, and transportation. Other sectors, where RFID is finding considerable application, are wildlife, telemetry, and sports." "The increasing efforts by leading organizations in these industries to attain greater operational efficacy has resulted in increased application of RFID tags," he added. Since RFID tags bring about efficient and timely delivery of goods, experts believe the increasing usage of them will lead to greater sales and decreased labor cost in the long run.
In terms of end-user industry, the market has been classified into healthcare, retail, automotive, logistics and transportation, surveillance and security and others such as sports, wildlife, livestock, and IT amongst others. In 2016, the largest market share is accumulated by logistics and transportation industry   and is expected to grow considerably during the forecast period.
In this sector, RFID-based technologies are extensively implemented to improve transportation security and safety, thus increasing the efficiency of the transportation system and improving the way of living of the citizens. In 2025, the logistics and transportation segment is projected to dominate the market revenue share followed by retail and healthcare sector.
Request For Customization [email protected] 
https://www.transparencymarketresearch.com/sample/sample.php?flag=CR&rep_id=24536
Some of the leading players operating in the U.S. RFID tags market are AMS AG, Atmel Corporation, Impinj Inc., Alien Technology, Confidex LTD., HID USA Corporation, Invengo Information Technology Co., Ltd., Omni- ID Ltd., NXP Semiconductors N.V., and RF Code Inc.