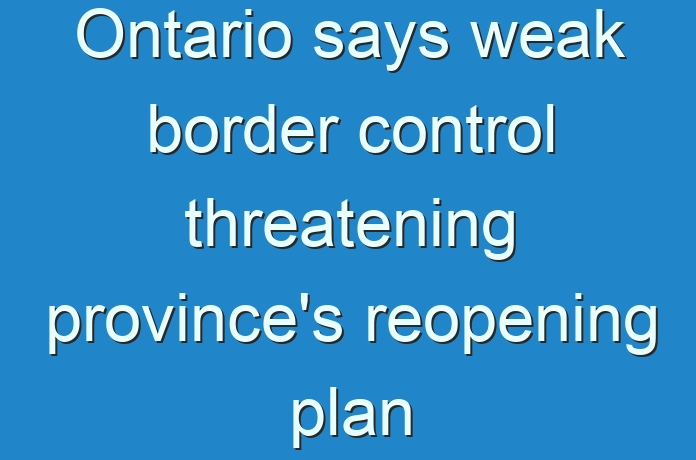 Ontario is again asking the federal government to strengthen border enforcement, saying more infectious COVID-19 variants are threatening the province's reopening plan.
In a letter to their federal counterparts, Health Minister Christine Elliott and Solicitor General Sylvia Jones outlined the province's concerns about the risks of international travel during the third wave of the pandemic.
They called for a federal requirement that fully vaccinated international travellers present proof of immunization and take a COVID-19 test on arrival.
For international travellers who have not been vaccinated against COVID-19 a stronger quarantine regime should be in place, they wrote.
"Ontario is committed to working with you to do whatever it takes to protect Canadians from the variant pandemic and future variants," the ministers wrote.
"We urge you to heed these concerns and act now to finally secure our borders."
The letter came as more people became eligible to book second COVID-19 vaccine doses ahead of schedule.
Starting Friday, those aged 70 and older and people who received an mRNA vaccine on or before April 18 can book second doses at pharmacies or primary care settings.
They can also book shots starting Monday through the provincial booking system.
The province said it's making the change as it expects a bump in vaccine supply in the coming months, and the schedule could accelerate further.
People had initially been booked to receive their vaccine shots four months apart but the province has recently been moving up the schedule.
Those aged 80 and older were able to start booking accelerated second shots earlier this week.
Elliott said this week the province is aiming to accelerate the second-dose schedule amid growing concern about the more infectious Delta variant, first detected in India, that's gaining prevalence in Ontario.
The province's top doctor has said the variant can transmit between people with one dose of COVID-19 vaccine, though its full characteristics are still being studied.
Also on Friday, Ontarians who received a first dose of the Oxford-AstraZeneca vaccine had the choice to book a second dose of the same vaccine or an mRNA vaccine like Pfizer-BioNTech or Moderna.
Second-dose bookings are available at pharmacies for people who received an AstraZeneca vaccine 12 weeks ago.
People can book AstraZeneca second doses by contacting the pharmacy or primary care provider where they received their first shot. Those opting for an mRNA vaccine can schedule through a participating pharmacy offering Pfizer or Moderna vaccines.
AstraZeneca recipients can book second shots of a Pfizer or Moderna vaccine through the provincial booking system or local health units starting next week.
Ontario reported 914 new cases of COVID-19 and 19 more deaths linked to the virus.
The province said 687 people were hospitalized with the virus on Friday, including 522 people intensive care and 357 patients on ventilators.
https://events.ajc.com/event/southern-fried-gaming-expo-juwytq3ckk
https://events.ajc.com/event/mayweather-vs-logan-paul-live-34f1srkq5f