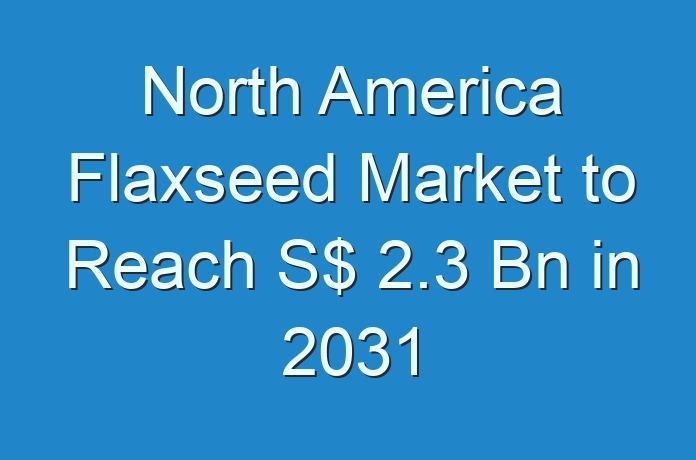 North America Flaxseed Market: Introduction
A recent study published by Transparency Market Research on the North America flaxseed market includes the U.S. and Canada industry analysis and opportunity assessment for 2022-2031. The revenue generated from the U.S. flaxseed market is estimated to be value over US$ 900 Mn in 2022, which is estimated to rise at a CAGR of ~4.2%, to reach US$ 1.4 Bn by 2031.
Download PDF Brochure – https://www.transparencymarketresearch.com/sample/sample.php?flag=B&rep_id=82250

Shifting Consumer Preferences for Plant-based Protein in North America to Benefit Flaxseed Market
There is a growing demand for plant-based protein with various reasons such as health problems, obesity, diabetes, and others that are involved in driving customers toward plant-based proteins. Obesity is among the major concerns in most of the consumers today; they are consuming a wide range of protein alternatives in the hope of losing weight, as plant-based products are associated with weight loss properties.
Proteins derived from plants have low-level calories and fat than animal-based proteins. Plant-based protein also contains essential nutrients and fiber, thus, attracting health-conscious consumers to plant-based protein diet. Consumers are minimizing meat consumption and following food safety reasons, as the tendency of catching up allergies or disease from animals is high. Many factors, including cleanliness, hygiene, and moral reasons are contributing to the growing demand for plant-based proteins, and as flaxseeds are a rich source of plant-based proteins, the demand for flaxseeds is expected to increase.
More Trending Reports by Transparency Market Research – https://www.prnewswire.com/news-releases/global-pet-food-market-to-show-an-impressive-cagr-of-6-from-2019-to-2029-with-valuation-expected-to-reach-us-168-3-bn-finds-tmr-300999294.html
Potential Health Benefits of Flaxseeds to Drive Sales
The growing customer preference for healthy lifestyle is a major factor influencing the growth of the flaxseed market, as it is associated with a number of health benefits. Flaxseed is a rich source of essential Omega-3 fatty acids; it also contains a small amount of alpha-linolenic acid (ALA) per tablespoon, which are considered as the richest vegetable source for these acids. Flaxseed contains around 40% to 50% of oil, a large portion of which comprises polyunsaturated fatty acids. It also contains ALA, which helps lessen the chance of sudden cardiac death in people with heart disease.
Flaxseed is a rich source of lignans, it provides up to 800 times more lignans as compared to other food products. The consumption of lignans is good for protection against cancer and other diseases. Benefits such as lower cholesterol levels, lower risk of heart disease, and improved digestive health are driving the sales of the flaxseed market in the region.
Buy Now – https://www.transparencymarketresearch.com/checkout.php?rep_id=82250<ype=S
Customers Prefer Gluten-free Products for Better Health
Food products with ingredients such as grains and pulses that add fiber, vitamins, and other health attributes and are gluten-free are gaining prominence. The gluten-free diet is gaining popularity among consumers, owing to various health benefits such as building immunity, increased energy, and weight loss. Consumers suffering from celiac disease that cannot consume products such as wheat and other grains are driving the demand for gluten-free products. Flaxseed is naturally gluten-free for catering the consumers opting for gluten-free products.
Customer preferences are largely influenced by the ongoing trend and options available. There is a growing rate of diseases caused due to the consumption of gluten, such as, infertility, celiac, and neurological disorder. The consumption of gluten-free food items is rising and thus, benefiting the growth for flaxseed-based products.
Request for covid19 Impact Analysis – https://www.transparencymarketresearch.com/sample/sample.php?flag=covid19&rep_id=82250