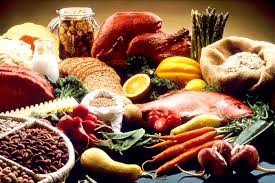 Premiumization of Tequila Giving Rise to New Trends in the Mezcal Market
The changing tastes and preferences of consumers have caught the attention of manufacturers, as they are aiming to diversify their offerings in organic and natural ingredients in food and beverages. Similarly, producers operating in the mezcal market are creating awareness regarding natural products, and that their types can offer rich variety in taste and flavor.
A well-established trend that is circulating in the mezcal market is that of premiumization. Although tequila is highly consumed as a shot form drink, stakeholders are creating awareness by communicating that tequila is a spirit that can be savored and sipped instead of being consumed in record time. Thus, global trends regarding tequila are being driven by the change in consumer behavior, who are shifting focus from a price-centric point of view to opting for super-premium and luxury-priced products.
Likewise, the mezcal market is showing a significant rise in the demand for quality standard 100%-agave tequila. Premium product introductions by stakeholders have led to the on-boarding of new customers. Also, celebrity endorsements are helping leverage the product image of tequila by gaining a positive reputation and helps stakeholders sustain their business even during the price fluctuations of agave.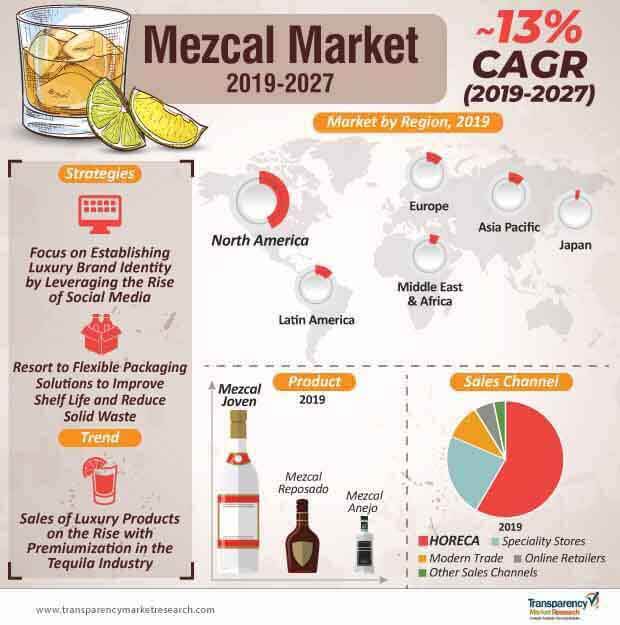 To get glimpse of what our report offers, ask for a report brochure here
Younger Generation Basks in New Flavors and Craft Spirits in the Mezcal Market
Stakeholders are noticing a shift in the common misconception among consumers that tequila and mezcal are the same. As consumers are becoming more aware about the transparent labeling of ingredients, and are using smart technologies such as mobile apps that scan QR (quick response) codes to ensure the authenticity of a product, this shift in the perspective of consumers has led to awareness about how mezcal is produced with the help of a traditional method using in-ground pits, whereas, tequila is produced using a specialized procedure.
REQUEST FOR COVID19 IMPACT ANALYSIS –
https://www.transparencymarketresearch.com/sample/sample.php?flag=covid19&rep_id=57489
The mezcal market is currently valued at ~US$ 242 million, and is expected to grow at a healthy rate and be valued at ~US$ 738 million by 2027. After the rise in the demand for premium tequila, consumers are now turning towards the golden age of mezcal. The mezcal market has a strong presence in the U.S.; the U.S. mezcal market is estimated to experience high growth in the future. One of the reasons for the increasing demand for mezcal stems from the fact that, the younger generation is on the pry for authentic flavors and small batch spirits.
Since mezcal is slightly on the expensive side as compared to most other alcoholic drinks, bartenders in hotels, restaurants, and cafes are luring consumers by combining the newly introduced floral and delicate notes of mezcal with tequila to lower the price bracket. Thus, stakeholders can target luxury hotels, resto-bars, and cafes to boost the sales of mezcal and create a new identity for mezcal amongst the young generation as well as upmarket consumers.
Looking for Customized Insights to build your business for future, ask for a sample report here
Mezcal Market: Stakeholders Invest in Sustainability for Ethical Production Process
The complex and smoky flavor of mezcal, which is a parent to the more popular tequila, is an obscure and hard-to-fetch liquor, which is driving demand from connoisseurs and the youth. Likewise, stakeholders are planning innovative product launches to maximize business out of the growing popularity of mezcal. However, the increased consumption of mezcal has led to a significant agave shortage, which is creating pressure on local farmers and mezcal producers to increase their production outputs.
Subsequently, stakeholders are evolving business operations right from the plantation of agave to the process of burning wood to intensify the smoky flavor of mezcal. Thus, ongoing efforts by stakeholders are marching towards the adoption of sustainable operations in the production of agave and the bottling of mezcal. Stakeholders are aiming to achieve the benchmark of hundred percent production of sustainable agave by collaborating with local farmers and producers to generate in-house seed banks, backed by continuous maintenance of the plantations and harvest.
Experts in the mezcal market landscape have suggested a restriction on harvesting wild agave, thus minimizing the strain on natural production. Also, reforestation initiatives will help fulfill the rising demand for timber, since the burning of wood to offer a smoky flavor to mezcal creates a strain on timber producers. Similarly, consumers are also becoming aware brands that incorporate sustainable operations, who are making huge investments in sustainability by incorporating comprehensive inventory systems to track agave supplies, and are increasing research & development to strategize on efficient waste management initiatives.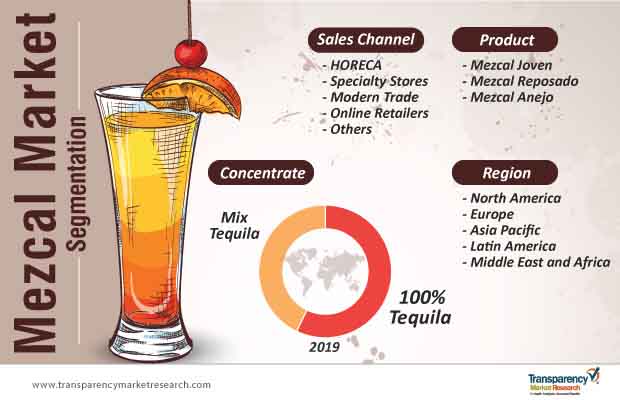 To get a bird's eye view of Mezcal Market? forecasts, ask for a Custom Report
Conforming to Stringent Regulations Remains Primary Focus
The mezcal market is dominated by a relatively low number of industry players who control a large market share. This restricts the entry of new market players, as the mezcal market is highly consolidated, with these few plays already having a stronghold over the limited regions that permit the production of mezcal. However, new regulations on the production of mezcal may create a strain on stakeholders to keep up with the rising demand for mezcal as well as balancing it with sustainable business operations.
REQUEST FOR COVID19 IMPACT ANALYSIS –
https://www.transparencymarketresearch.com/sample/sample.php?flag=covid19&rep_id=57489
New regulations outline how mezcal is to be made and how agave should be used in the production process in Mexican state of Oaxaca. However, these regulations are either unclear for other states or do not account for, thus creating further strain on stakeholders, as these regulations permit only a few states to sell mezcal. Stakeholders operating in other Mexican states are making ongoing efforts to expand their export business in the U.S. and Europe, but those from Oaxaca are against this, since they dictate ~90% of the commercially produced mezcal. Also, the concern whether market players can make it big with feasible business operations is still debatable.
However, brands such as Mezcales de Leyenda are still complying the traditional and feasible way of producing mezcal. Despite the regulations imposed on the production of mezcal, celebrity backing, marketing, and promotional strategies are opening up new opportunities for stakeholders to penetrate the market to efficaciously reach their target consumers. For instance, Casamigos – a tequila company founded by Hollywood celebrity George Clooney and American entertainment industry businessman Rande Gerber, was sold to Diageo – a leading British multinational alcoholic beverage company. This company launched Casamigos Mezcal in February 2018, which created quite the buzz in the mezcal market space.
Analysts' Viewpoint
Analysts of the study on the mezcal market anticipate that, the market is likely to grow at a healthy CAGR of ~13% over the forecast period. The mezcal market enjoys a high presence in North America as compared to other regions. Premiumization of tequila and increased awareness about craft spirits are influencing the increased demand for mezcal, especially among younger consumers. However, stringent regulations regarding the production and sale of mezcal are likely to slow down exports to the U.S and Europe. As such, by adopting sustainable business operations, stakeholders can efficiently comply with these regulations. Also, celebrity endorsements are helping stakeholders further boost their business of mezcal and create opportunities for innovative marketing campaigns.
Mezcal Market: Overview
The global mezcal market was valued at ~US$ 242 Mn in 2018. The market is expected to grow at a CAGR of ~13% during the forecast period of 2019-2027, to reach ~USS 738 Mn by 2027.
The rising demand for alcoholic drinks owing to changing lifestyles and social media impact is anticipated to drive the demand for mezcal during the forecast period of 2019-2027.
APEJ is expected to account for a substantial revenue share in the mezcal industry by the end of 2027. APEJ is expected to account for the chief intake of mezcal during the forecast period, due to the growing middle-income group and popularity of online sales channels in the regions. Moreover, India is projected to exhibit significant CAGR in terms of value during the forecast period.
The variety in flavours introduced in the mezcal market is anticipated to increase its demand during the forecast period.
Many alcoholic beverage players are looking forward to adding mezcal into their product portfolios, as has become very popular among the new generation over a very short span of time.
Mezcal is also known to help with digestion, and also helps in controlling and maintaining blood sugar levels in the body. Mezcal also keeps a check over the body's cholesterol levels and inhibits cancerous tumour growth.
The property of mezcal that differentiates it from other drinks is that, the raw material used to make mezcal is first roasted in firewood, which gives the drink its particularly pleasant flavour.
Key Factors Influencing the Mezcal Market
Mezcal as an Organic Alcoholic Beverage
Mezcal is made from 100% distilled agave, which makes it fully plant-based and additive-free.
Moreover, to go with the flow of trends, mezcal made from organic agave is being launched, as people are shifting towards the organic trend in recent years.
The drink is claimed to be 100% organic, and consumers that were turning their backs to alcoholic drinks are now featuring on the mezcal consumer's list.
Increasing Club Culture
Over the past few years, population inclination towards the club culture has led to the increased frequency of night parties. This culture increased to a much larger extent because of the increasing time spent on the Internet and social networks. Moreover, people today are very much influenced by Western culture, which is the main reason why many clubs, lounges, and bars are starting, particularly in developing countries. All this leads to the increased consumption of mescal.
Gluten-free Nature of Mezcal
Mezcal is made from a plant named agave, and is free from any grains that contain gluten. Hence, its consumption does not cause any allergies to humans.
Also, the absence of gluten in the drink opens new doors for consumers that are allergic to gluten and have been restricted from consuming alcoholic drinks.
Mezcal ensures that there is something new for everyone, which helps add more consumers into its consumption list.
Mezcal Market: Structure Analysis
The overall market of mezcal across the globe is facing fairly high competition, and a majority of market players are still in this market due to their keen focus on spreading in the market and to mark their business footprint across the globe.
The mezcal market is still in its growing phase, which makes the market more attractive, and is the key reason for increasing investments in this market.
As the market in its growing phase, many of the properties of mezcal are still unknown to the public, which is the reason why big manufacturers are spending large sums of money and prioritizing R&D.
Extending their product portfolios by providing varieties of products and making the product usable in different sectors is one of the major strategies that is being embraced by manufacturers these days.
Apart from all these strategies adopted by the manufacturers, acquisitions and mergers remain the most preferable one.