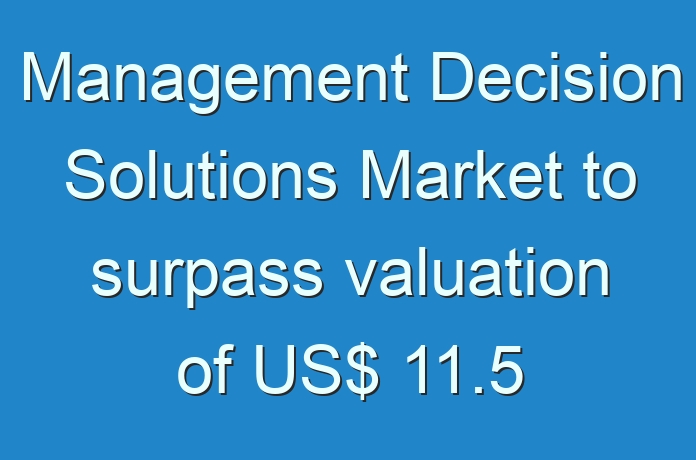 Government leaders are empowering decision makers with data management software during the coronavirus pandemic. However, orchestrating change requires executive advocacy, along with the participation and alignment from a broad set of cross-functional participants to ensure the needs of the organization. As such, companies in the management decision solutions market are taking advantage of the fact that government leaders are taking decisions based on data and not intuition.
The upfront cost of adopting management decision solutions during the COVID-19 crisis can be an uphill task. Hence, stakeholders in the management decision solutions market are focusing on essential industries such as government organizations, BFSI, and healthcare to keep economies running. As such, end-use industries are realizing the need to deploy organizational transformation by prioritizing facts over intuition.
Request a sample to get extensive insights into the Management Decision Solutions Market
Difficulty in Quantifying Data, System Design Failure Inhibiting Market Growth
The management decision solutions market is expected to expand at a robust CAGR of ~11% during the assessment period. However, limitations of this software such as difficulty in quantifying all data and system design failure are inhibiting market growth. Hence, companies should increase their R&D efforts to develop user-friendly software solutions.
While every year witnesses some fraudulent activities that make headlines, companies in the management decision solutions market are capitalizing on this opportunity to offer fraud detection software. ClearSale is gaining recognition for the same by offering its comprehensive eCommerce fraud prevention solution built on the technology of artificial intelligence.
To understand how our report can bring difference to your business strategy, Ask for a brochure
Coherent, Fast, Flexible Pricing Software Streamlining Retail Workflows
There is a need for automated pricing management for omni-channel, mono-, and multi-brand retailers. The Competera Pricing Platform is being highly publicized as a cloud-based pricing software that suits omni-channel enterprise retailers from any industry. This explains why the management decision solutions market is projected to surpass US$ 11.5 Bn by 2030.
Competitor-centric pricing influenced by market fluctuations has triggered the demand for cloud-based pricing software. Intelligent pricing software are eliminating the need for regular re-pricing, constant manual check, and data dependence. Software developers in the management decision solutions market are increasing the availability for coherent, fast, and flexible pricing software that enable defined workflows and a transparent cause & effect analysis of every price change. Elasticity-based price setting driven by volatile demand patterns is being taken into consideration while developing pricing software.
Buy Now:
https://www.transparencymarketresearch.com/checkout.php?rep_id=43916&ltype=S
Real-time Data Visualizations Growing Popular in Business Intelligence Software
Business intelligence software solutions are gaining prominence in the BFSI sector. TrustBankCBS is providing its business intelligence (BI) software solution that offers various analytics techniques and creates real-time data visualizations. Such software are eliminating challenges of multiple disparate systems and tedious task of integrating disparate systems, whilst maintaining uniform data repository. Companies in the management decision solutions market are increasing the availability of business intelligence platforms that identify patterns and analyze trends from historical data in the BFSI sector.
Easy-to-use interfaces, pre-configured scenarios, and domain-based practices are forming the foundation of business intelligence software for BFSI.
TMR's Latest News Publication –
https://www.prnewswire.com/news-releases/enormous-benefits-of-voice-command-gesture-recognition-to-improve-vehicle-safety-several-times-to-open-tremendous-opportunities-in-automotive-human-machine-interface-market-explains-projected-valuation-at-us-26-bn-by-2031—tmr-301298885.html