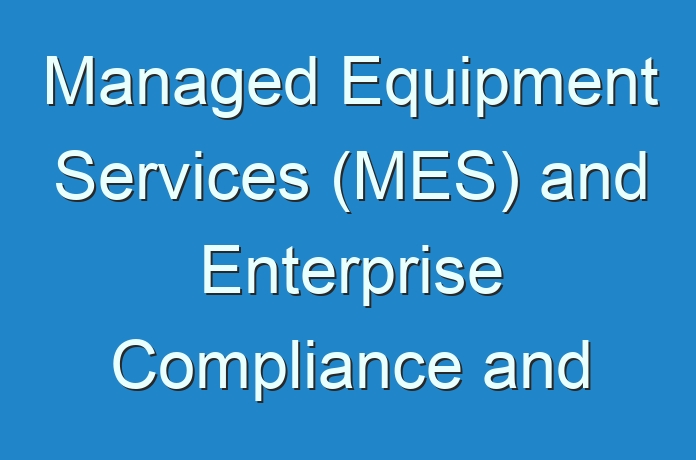 Managed Equipment Services (MES)
and Enterprise Compliance and Quality Management (ECQM) are software and programs that deal with streamlining data in organizations. These programs are used for identifying and preventing high risk events through integration, automation and collaboration. Most ECQM software target FDA compliance in the healthcare sector to deliver information at the right places whenever required. The softwares also perform risk analysis across all value chains along with a trend analysis which is essential in preventing future quality and compliance problems. In industries such as pharmaceuticals and medical devices, maintaining the highest quality levels, and a strict state of control and regulatory compliance not only affects the bottom line and in many cases is a matter of life and death.
Ask for brochure:
The surging demand for medical devices, pharmaceuticals and research of these industries is driving the demand for MES and ECQM. Increasing governmental regulations and stringent quality control guidelines established by regulatory authorities will compel the healthcare industry to opt for strong support programs if they are to sustain in the market. With large volumes of data from medical research, patient medical history and other areas such as clinical trials and biotechnology, manufacturers have increasing found it challenging to continue expansion. The greatest challenge for the MES and ECQM market is the low awareness and reluctance of these programs in the developing regions of the world. North America and Europe remain the highes t adopters of these softwares with an aggregate share of over 65%. Asia-Pacific is observing a reluctant acceptance within its otherwise family-held private healthcare business sectors. The market for MES is also increasing due to rising energy costs and the softwares assist significantly in reducing ambient costs for manufacturers.
Request for a sample:
In terms of market players, the industry is highly fragmented with hundreds of global and regional players vying to garner respectable revenue generation. Some of the companies offering these programs are Assurx, SpartaSystems, PilgrimSoftware, IBS-US (Siemens), ETQ, GEHealthcare, Syniverse, SAP, Invensys and Infosys.
This research report analyzes this market depending on its market segments, major geographies, and current market trends. Geographies analyzed under this research report include