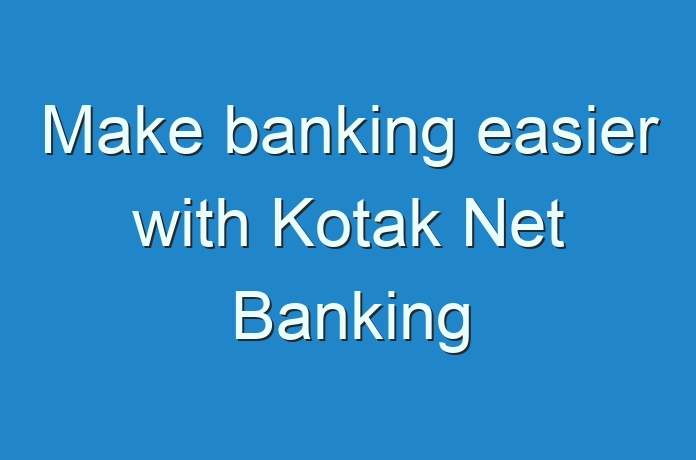 Indian private banks are gaining the name in the filed of digital banking. These banks facilitate almost all banking services and offers through simple and convenient use of a banking app. Users can manager their money digitally and can track all the information associate with their account.  So, now the banking can be done anytime, anywhere. Kotak Mahindra Bank a.k.a Kotak is the known private bank and also awarded as the bank of the youth. The popularity of the bank is increasing day by day as it provides best net banking service from the rest. Kotak Net Banking consists with various services and best offers which includes: high interest rates saving account, low interest rate for personal account, credit card with attractive offers and a lot more.
If you don't want to stand in the long queue and wants to do banking by sitting at home then Kotak Net Banking is made for you. So, choose it today and go digital through mobile banking. You can check the current status of your account, can track the use of your expenses and even check your passbook. Featuring the best offers which is given by kotak bank.
List of amazing features of Kotak Net Banking:-
1- Personal Loan: the bank gives you the personal loan as per the financial need. One can apply for the loan and get clearance and verification in the shortest possible time by the bank.
2- Platinum Credit Card: getting a platinum credit card is everyone dream and through Kotak it can be done easily. It gives you 10% savings on the departmental and grocery stores and amaze you with lot more.
3- Manage Your Money: by using the app one can manage their money anytime and from anywhere by a simple tap.
4- Timely Alerts: security is the main concern for all when it comes to banking to make sure and manage your security major. It notifies us instant whenever found any security outreach. If there is any ferudent activity found it gives notification immediately.
5- Banking and chatting together: ever heard about the chatting option in any banking app, well Kotak makes it possible and gives you a live chat option. So, the user can present their concern through chat option as well.