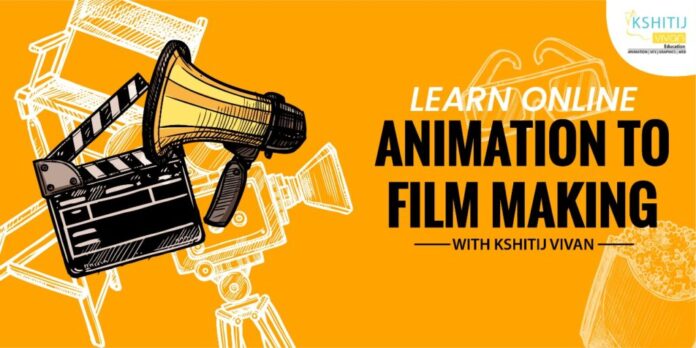 Animation & Film making industries are growing rapidly and provides vast career opportunities. This is the era where animation is a part of many industries like education, medical science, multimedia, Internet, simulation and filmmaking; there is a lot of scope for students looking for a career in this field. Many Animation industries started tutoring in India like Walt Disney, Pixar Studios and Turner Entertainment, making animated films, ads and games. From advertising to medical industry animation & film making are plays important role.
When we think about Animation, it is restricted to television and reaches the world with different industries like education, real-estate, medical, and so more. If you are creative or want to make career in TV, film, gaming and simulations, a course in animation and filmmaking is the very first step. It does not require high qualification; one can pursue the course after 12th.
An animation and filmmaking course combines 2D & 3D animation, pre-production (planning, strategy), Post-production (Compilation, mapping), sound effect, visual effects and filmmaking. Duration for the course varies from six months to about three years. After completing certification or advanced course, diploma or degree course students can work in many industries as animators, digital designers, effects (FX) artists, lighting artists and rigging artists.
Students have many scope and opportunities to work in film production studios, television channels, big production houses, advertising agencies, and the most popular gaming companies. Students can also work in different fields like print media, communication, 3-D motion painting, multimedia companies, Web design companies, medical industries and many other prominent industries with a handsome amount of money.
Animation & Film Making- What to learn
Animation and Filmmaking combine cinematography, stop motion, compositing, character setup, pre-production, postproduction and sound editing. When we talk, all tasks include lighting and rendering, storyboarding, digital design, modelling and texturing, and character animation is also a significant part of this course. The concepts of animation, editing and filmmaking are usually covered as well, along with the pre-production process.
Scripting with film language, animation, photographic technique, digital sketching are the main part of this course. With this, 2D, 3D and classical animation, editing, clay animation, preproduction, and postproduction process of film making, an overview of VFX and television knowledge is also covered. Many different software and tools are part of both courses as if Adobe Photoshop, Adobe Premiere, Adobe after Effects, Adobe Illustrator and Autodesk 3dsmax are some of the most popular tools that are the part of the course.
The Diploma in Animation Engineering (DAE), Certification Course in Animation & Film Making, Advanced Certification Course in Animation & Film Making, and Diploma in Animation Film Making (DAFM) and Short-term course program in Animation & Film Making are highly scalable and good courses, which is good for students,and students generally prefer to pursue. Subjects and course curriculum can vary between institutes. While choosing between institutes courses, curriculum, fees structure, and duration can be kept in mind.
Why Learn Online:- Online courses have become very popular nowadays and demand the courses increases day by day. Nowadays, students prefer online courses instead of institutes and all. Online courses are very beneficial as students can learn from video or recorded lectures according to the suitable time. In terms of convenience and comfort online courses are best. Apart from this one can pursue many courses with online courses.
So here are some of the reasons why one should learn online:-
Comfort & Convenience:- Online courses are more convenient as compared to traditional courses. Student can attend the classes from home or office according to their suitability.
Learn with Experts:- Online courses are suitable as industry experts teach different advanced courses like animation, film making, VFX, and so more. Teachers provide various assignments and tests so that students can learn from scratch to advance.
Great way to maximize your knowledge:- This is also one of the essential factors to consider online courses. More than one course is possible with online courses. One can learn and expand the knowledge with different courses.
Customize your learning path:- Combine different courses at the same time. For example, if we talk about traditional courses, you have to stick to one course or program, but with online courses, one can pursue many courses.
Efficient & Helps to build portfolio:- Learn with different programs and make the advance portfolio. This is a great way to pursue short-term courses.
Why choose KshitijVivan to learn Animation & Film Making Course:- Animation and film industries are overgrowing, and the vast career options are available for both. Online learning allows you to learn the best courses with experts around the world. Taking online courses from KshitijVivan Institute is beneficial and helps you to build a strong portfolio. Institute believes that quality education is essential for students' growth, so online courses are a good advantage for students.
We provide live events and seminars in animation and film making for students to understand the curriculum clearly. This practical on live projects also provides so students can learn about tools and techniques.
There are many reasons to pursue Animation & Film Making course from KshitijVivan. Some of them are:-
Get a professional environment to learn.
At the Institute, Faculties are trained by experts.
Institutes provide good opportunities or placement to deserving students.
The detailed curriculum includes practical training in animation, graphics, VFX & multimedia.
Studios, industry visits, workshops, regular projects, online courses, seminars, and professional work portfolio.
Live events and workshops for students so students can gain more knowledge about any course.
All facilities, from online classes to events, podcasts, short-term courses and many more.
Read More:- Free Animation Courses for Beginners
Conclusion: – Animation & Film making industries are growing rapidly and provide a great career option as industries are demanding both fields. If you are passionate about making a career in animation & film making, all you need is gain some knowledge about tools and techniques. One can pursue the course from Best Animation & Filmmaking Institute and become a master in both fields.