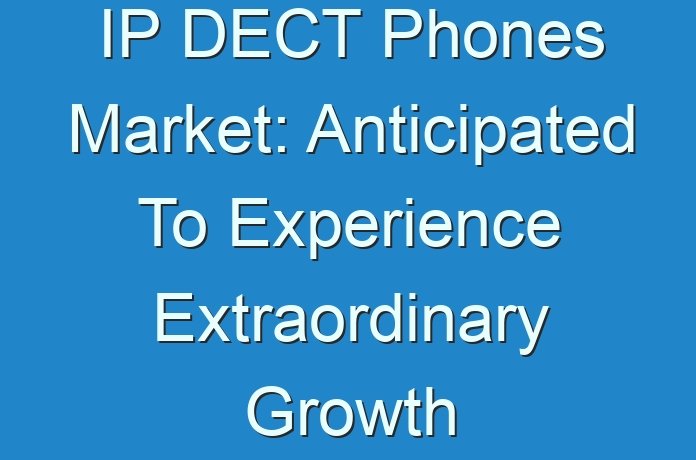 Coronavirus Crisis Fuels Demand for High-tech IP DECT Phones in Hospitals
Due to the surging number of COVID-19 (coronavirus) patients, especially in the U.S. and Europe, there is a growing demand for high-tech IP DECT phones in hospitals. As such, the healthcare industry is predicted to generate the second-highest revenue in the IP DECT phones market by the end of 2027, where the market is estimated to grow at a volume CAGR of ~7% during the forecast period.
Frontline healthcare workers in the current COVID-19 crisis are benefitting from the introduction of novel handsets that deliver voice communications. For instance, leading voice over internet protocol (VoIP) company, Snom Technology GmbH, offers Snom M325 DECT base station and handset, which operates on a separate frequency to deploy voice communications. Thus, by capitalizing on the urgent situation amidst the coronavirus outbreak, companies in the IP DECT phones market are increasing the availability of reliable DECT phones that eliminate the need of Wi-Fi bandwidth in order to keep voice connections running clearly.
Free Customization as per your requirement, Buy Now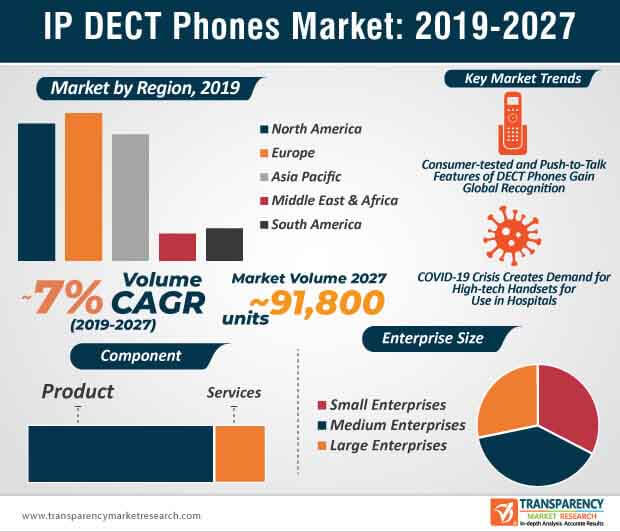 Users Mobilize VoIP Technology in Enterprises and Retail Stores
Consumer-tested and cordless IP DECT phone solutions are gaining global recognition in the market landscape. For instance, in August 2019, TMC Labs— a technology marketing corporation announced that the new DP series of Grandstream Networks Inc., a global supplier of communication products, are being highly publicized in the IP DECT phones market, owing to the disruptive innovation in the wireless telecom sector. High-tech handsets are allowing users to mobilize their VoIP networks in small and large enterprises, warehouses, and retail stores, among others. Moreover, the revenue of small enterprises is predicted for exponential growth in the global IP DECT phones market, which is estimated to reach a volume of ~91,800 units by the end of 2027.
To understand how our report can bring difference to your business strategy, Ask for a brochure
Increase in product launches is bolstering the expansion of the IP DECT phones market. Innovative push-to-talk features for instant communication are grabbing the attention of users in residential environments. Companies in the market for IP DECT phones are increasing their R&D efforts to introduce built-in accelerometers in products to meet safety concerns.
Pre-enabled VoIP Devices Overcome Limitations of Connectivity in DECT Handsets
The IP DECT phones market is expected to reach a revenue of US$ 6.5 Bn by the end of 2027. Direct cost savings and increased accessibility due to cloud-based VoIP services are revolutionizing the market landscape. However, latency and jitter due to poor Internet connectivity are likely to inhibit market growth. Another drawback that is stalling the growth of the IP DECT phones market is insufficiency of Ethernet cables, since lower cables are unable to support high speeds.
Get More Press Releases by TMR:prnewswire.com/news-releases/plastic-corrugated-packaging-market-expands-scope-of-businesses-in-ecommerce-industry-to-deliver-sustainable-packaging-solutions-tmr-301200091.htmll
In order to overcome these drawbacks, companies are increasing awareness about jitter buffering to solve connectivity issues. For instance, Nextiva— a supplier of high-end business phone systems in the U.S., helps users enable jitter buffering by increasing the availability of pre-enabled VoIP devices. As such, North America is estimated to dominate the highest revenue among all regions in the market for IP DECT phones. Companies are encouraging users to purchase Cat-5e or Cat-6 Ethernet cables to deploy high speeds in IP DECT phones.
Multiplatform Firmware Versions of Devices Integrated with Approved Third-party UCaaS Providers
Though the IP DECT phones market is fragmented with emerging players accounting for ~72% of the revenue stake, the market is continuously growing due to the innovations deployed by leading players. For instance, California-based market research company, Frost and Sullivan has highlighted best practices of Cisco's IP hardware communications series, namely the Cisco IP DECT 6800, which has added to the company's portfolio of six different corded and cordless models.
Are you a start-up willing to make it big in the business? Grab an exclusive, PDF Brochure of this report
Leading companies in the IP DECT phones market are increasing their production capabilities to introduce headsets that integrate with phones to deliver simpler user experiences. They are increasing efforts to allow users to customize headset audio settings with novel IP DECT phones. Apart from on-premises and cloud solutions, companies are increasing their efficacy in multiplatform firmware versions of devices that can be integrated with approved third-party UCaaS (Unified Communications as a Service) providers.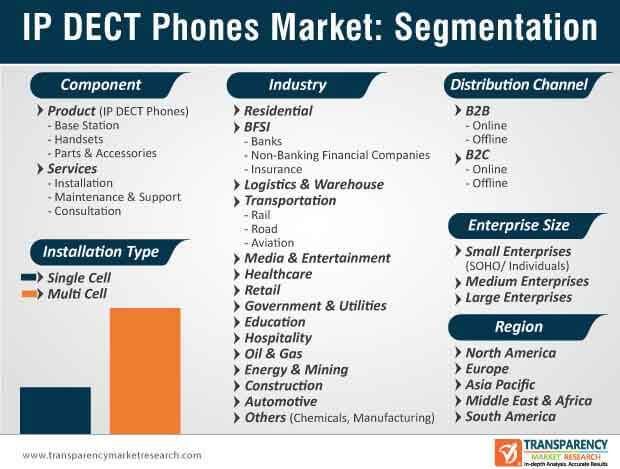 IP DECT Phones Market: Overview
The global IP DECT phones market is expected to expand at a CAGR of ~5% during the forecast period; volume of IP DECT phones is expected to rise at a CAGR of ~7%, primarily driven by the increasing demand for adoption of mobility solutions as users can make and take calls from anywhere with internet access
Europe remains a prominent market for IP DECT phones globally, and the market in the region is estimated to be valued at US$ 1,931.9 Mn by the end of 2027 with volume of 25,817 Thousand Units. Regulatory compliance, technology enhancement, design innovation, and fast service delivery processes are the major factors responsible for the expansion of the advanced IP DECT phones market in Europe. Growing competition and need for innovation are likely to drive the growth of the European IP DECT phones market.
The IP DECT phones market report provides analysis of the global IP DECT phones market for the period 2017 – 2027, wherein 2018 is the base year and 2019 to 2027 is the forecast period. Data for 2017 has been included as historical information.
In this report, we analyze the growth drivers that enhance the value of the IP DECT phones market and various opportunities prevailing in the market
IP DECT phone providers are focusing on developing innovative and unique communication solutions to serve specific requirements of end users in cordless phone systems, which is expected to drive the demand in the coming years