In order to address the coronavirus situation, Big Data and Artificial Intelligence (AI) are being successfully used.  The AI is being leveraged to monitor cases, identify disease clusters, and predict future outbreaks. Such trends are creating incremental opportunities for companies in the artificial intelligence market. Stakeholders are taking efforts to develop early warning systems by extracting information from social media platforms and news sites to provide useful information about vulnerable regions.
AI-based triage systems are being provided by companies in the artificial intelligence market. However, a relatively small amount of buyers is opting for such technologies. Thus, companies are focusing mainly on AI-based mobile health apps, smart watches, cameras, and wearable devices to revive market growth.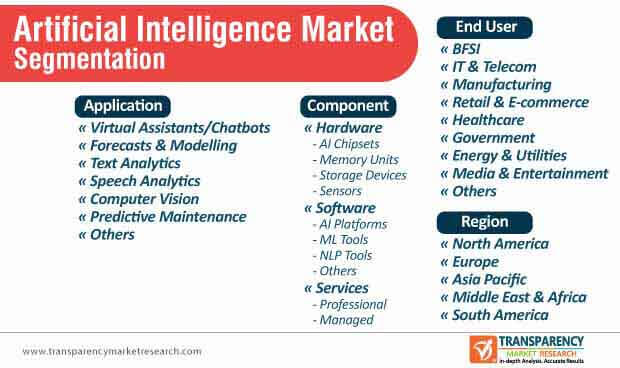 Request a sample to get extensive insights into the Artificial Intelligence Market
Educational Tools Help Avoid AI Singularity, Promote Productive Applications
The artificial intelligence market is expected to advance at an explosive CAGR of ~29% during the assessment period. However, high costs, lack of creativity in bots, and absence of ethics in the AI technology are raising concerns that AI could grow uncontrollably, leading to the well-known concept of AI singularity. Hence, companies are catering to productive applications for healthcare and education in order to use the technology for constructive purposes.
Companies are establishing stable business streams in AI-based educational tools to develop skills and testing systems. AI has the potential to drive efficiency, personalization, and streamline admin tasks to allow teachers the time and freedom to provide an understanding of complex learning concepts and adaptability in students.
To understand how our report can bring difference to your business strategy, Ask for a brochure
AI-enhanced Banking Security, Compliance Generate Revenue Opportunities for Companies
Banks are most likely to benefit from AI, as banking stakeholders are gaining opportunity to rethink approaches toward people and various processes. Chatbots or digital personal assistant are among the most popular AI software in the banking sector, which helps to answer FAQs (Frequently Asked Questions) of customers. Companies in the artificial intelligence market are providing AI-enhanced security since bank data is a goldmine of personal and confidential information.
On the other hand, banking compliance and financial forecasting, with the help of AI, are creating value grab opportunities for companies in the artificial intelligence market. Automating manual compliance in cases of Know Your Customer and Anti-Money Laundering (AML) are becoming customary in banking services.
Self-driving Cars, Retail Drive Computer Vision Technology
Computer vision, a subset of AI, is being used in self-driving automobiles. A recent and popular example of this is Elon Musk's Tesla, which is exploiting computer vision at unprecedented levels for not only analyzing images but also individual pixels within the images. Carmakers are anticipated to use computer vision to conduct tests that validate a car's ability to navigate safely in daily traffic.
Even as computer vision in self-driving cars is anticipated to revolutionize mobility services, the possibility of fatal accidents remains prominent. While establishing continuous R&D in automotive applications, companies in the artificial intelligence market are tapping into incremental opportunities in retail applications such as the Amazon Go checkout-free self-service retail stores.
Buy Now:
https://www.transparencymarketresearch.com/checkout.php?rep_id=4674&ltype=S
Network Monitoring, Data-driven Decisions Help Stakeholders to Unlock Growth via Telecoms
Data-driven decisions and maintenance are being achieved with AI in the telecommunications sector. Companies in the artificial intelligence market are unlocking revenue opportunities in the ever-increasing and ever-evolving telecom sector by helping business leaders take data-driven decisions. AI is benefitting telecom operators to improve and optimize their network and infrastructure. This technology allows telecom companies to support monitoring of equipment, which prevents power outages and network disruptions that ensure productivity of employees.
AI employed with machine learning (ML) has made it easier to implement algorithms that can detect and respond to fraudulent activities in the telecom network. Such trends are contributing toward growth and expansion of the global artificial intelligence market.
Read Our Latest Press Release:
https://www.prnewswire.com/news-releases/wide-application-range-coupled-with-latest-technological-advancements-to-invite-extensive-growth-for-the-immersive-technologies-market-tmr-301314719.html