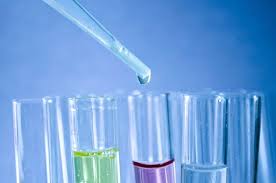 Inorganic Pigments Market – Snapshot
Inorganic pigments are widely employed in paints and coatings, printing inks, plastics, personal care products, and construction materials. They impart color to paints, inks, plastics, papers, cosmetics, rubbers, concrete blocks, tiles, etc. Inorganic pigments impart vibrant colors to substrates, thereby making products look appealing. Inorganic pigment molecules contain electrons that can attain different energy levels when exposed to light. Inorganic pigments possess the ability to reflect or absorb light of specific wavelengths. This results in the appearance of colors.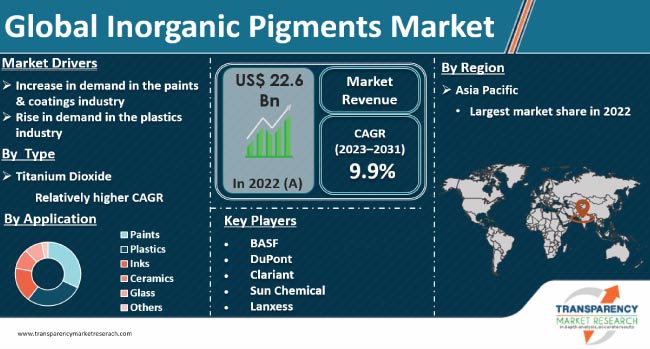 Inorganic pigments are manufactured by using petrochemical sources or natural resources. These are the oldest pigments used across the world. Based on phenomenon of refraction, these pigments provide iridescent effect, complex effect, pearlescent effect, metallic effect, and florescent effect. They possess properties such as good color strength, heat and light stability, opacity, weather and chemical resistance, and durability to substrates. Inorganic pigments are more durable than organic pigments.
Request Brochure @
https://www.transparencymarketresearch.com/sample/sample.php?flag=B&rep_id=2435
They have the capacity to hold color for a longer period of time. Additionally, they can withstand exposure to chemicals and sunlight for a longer period of time, as they contain mineral compounds. Inorganic pigments offer high abrasion resistance. This is driving the demand for these pigments. Furthermore, they have the tendency to become opaque, due to their capability of making the molecule highly rigid. This helps in preventing light from entering objects.\
REQUEST FOR COVID19 IMPACT ANALYSIS –
https://www.transparencymarketresearch.com/sample/sample.php?flag=covid19&rep_id=2435
Based on the product type, inorganic pigment market is classified as titanium dioxide, iron oxide, carbon black, chromium compounds and other products. Among the various types of inorganic pigments titanium dioxide holds the major share owing to its performance characteristics as well as growing demand for white pigments in the painting and coating industry. Iron oxide pigments and carbon black also possess significant shares owing to the increasing demand from the automotive sector. On the basis of end user, inorganic pigment market is classified as paints & coatings, plastics, printing inks, personal care and other applications. Demand for paints and coatings in from the architectural and automotive sectors are on the rise and it is anticipated to provide growth opportunities for the inorganic pigments in the upcoming years
The inorganic pigments market in Asia Pacific is expanding at a rapid pace. This provides immense opportunities to regional as well as global manufacturers. Rapid growth in construction and automotive industries and rise in population in Asia Pacific are factors projected to propel the market in the region during the forecast period. The market in Europe and North America is expanding at a moderate pace. Significant investments in technological advancements and rise in renovation work in the building & construction industry are expected to propel the market in these regions during the forecast period. The market in Latin America and Middle East & Africa is expanding at a sluggish pace compared to that in mature regions. However, increase in automotive production in countries such as Mexico and growth in construction activities in GCC are likely to boost the demand for inorganic pigments during the forecast period.
Global inorganic pigment market is driven by increasing consumption of paints and coatings from various end user industries. Inorganic pigments are preferred in the paints and coatings industry mainly due to the demand for properties such as anti-corrosion, durability and high gloss. Increasing number of construction and infrastructure projects are likely to drive global inorganic pigments market. Demand for decorative and industrial paints is anticipated to increase significantly in the upcoming years due to housing and infrastructure development. Major automotive manufacturers are focusing on strengthening their presence in BRIC nations. Increase in consumer preference for cars with excellent optical effects plays a key role in driving the demand for automotive OEM coatings. Rise in demand for high-quality automotive repair coatings has propelled the demand for inorganic pigments for usage in coatings employed in automotive refinishes.
The global inorganic pigments market is facing stiff competition from substitutes such as organic pigments and specialty pigments. Thus, market leaders may seek to adopt different measures such as strategic pricing and product improvement to strengthen their position. Brand promotions and launch of new products are likely to raise sales of manufacturers in the market. For instance, in 2017, LANXESS, a leading company in the field of specialty chemicals, launched an extensive range of iron oxide red pigments with high chromaticity and tinting strength. Technological breakthrough in the development of nanomaterials has opened new growth avenues for several industries. This is expected to offer lucrative opportunities to the market in the next few years. The usage of nanotechnology in the production of pigments improves their tribological, mechanical, and optical properties. Various companies are investing in the development of nano-pigments, as these pigments offer improved performance and can be used in several industries.
Inorganic Pigments Market to Thrive owing to their Multiple Benefits
Inorganic pigments are extracted from mixed metal oxides. They are made utilizing the process of high temperature calcinations and are not affected in any way by strong oxidizing agents, base and acids. In addition, inorganic pigments are non-warping, non-migratory, and do not bleed. Most of these pigments are able to resist adverse climatic conditions and different temperatures. They are resistant to various chemicals and heat with ability to disperse easily. These qualities are likely to support growth of growth of the global inorganic pigments market in the years to come.
There exists an extensive range of inorganic pigments in the market and are primarily classified on the basis of their source of extraction. Some of these inorganic pigments comprise Cadmiums, Chrome, Irons amongst many others. Cadmium is extracted from cadmium compounds, irons from different oxides of iron, and chrome from lead. Rising application of these pigments from its end users are likely to foster growth of the global inorganic pigments market in the forthcoming years.
Rapid Urbanization and Increased Construction Activities to Shoot Up Demand
The growth of the global inorganic pigments market is likely to be driven by the rapid development of the paints and coating industry. Accelerated pace of urbanization has resulted in increased constructions. Plastics and building materials have also witnessed growth due to growing urbanization. These industries generate augmented demand for paints and coatings, which is likely to bode well for the global inorganic pigments market in the years to come. In the developing countries where urbanization is going on at an accelerated pace are likely to offer ample scope of growth for the global inorganic pigments market in the forthcoming years.
The process of high temperature calcinations are used in deriving inorganic pigments from oxides of mixed metal. In addition to that, no oxidizing agent, strong acids, and base can affect these pigments.