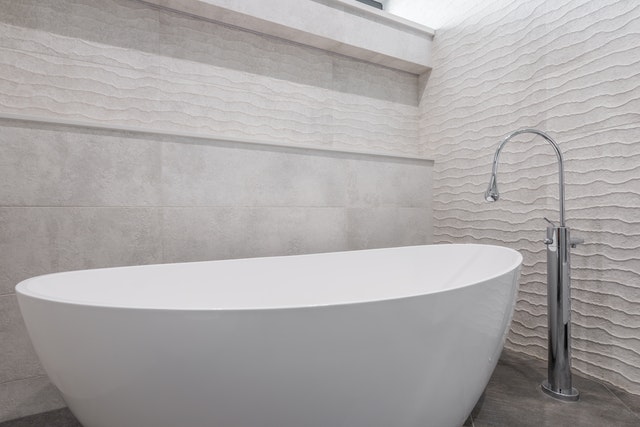 The Australian Psychological Society has reported that 71% of Australians experience stress and its impact on physical health, and 64% experience it impacting their mental health due to the stressful lifestyle. Having a relaxing bath by soaking oneself in essential oils, fragrances in hot crystal and clear water is something everyone looks forward to. Relaxation induced through all five senses can relieve a person's stress, soreness, fatigue and dryness and improve their overall health significantly. Turning the bathroom into a sanctuary of stimuli using running water, bath oils, candles, foam, wine, chocolates is a great way to achieve that. And nothing says elegance, luxury and style like natural stone baths to create the perfect ambience for a bath.
But, like every bath and delicate luxury accessory present at home, a stone bath also requires routine care and maintenance to ensure that it remains in good condition. This article details how one can keep their baths clean and what to do in the event of significant damages and minor scratches.
Routine Stone Bath Care Procedures
Cleaning Routine
Cleaning the bath does not require special agents. One can clean the surfaces using soapy water, solid surface cleaners and ammonia-based cleaners to remove most of the residue and the dirt created by its use. If the stain or the residue is stubborn, then they can use stronger cleaners. Stone baths come in three types of finishes, namely, glossy, semi-glossy and matt. Regular cleaning might result in the surfaces getting glossier and not retain their original finish and colour. One can pick the cleaning agents and methods based on the manufacturer's recommendations or experts to ensure that they work the best with the type of stone material and finishing.
After Use
One of the first things that a person must do after using the stone bath is to rinse and dry its surface using a towel. It prevents the minerals, excess soap, scum and foam from accumulating on the surface, discolouring it and leaving it dirty. They must make sure that there are no stains left on the surfaces, which can turn permanent.
Removing Blotchy Appearances
The new, shiny, smooth, and clean-looking bath might not stay new forever. Over time, over multiple uses, one can notice blotches and scratches on the smooth stone surface. The minerals present in the hard water, especially when they are left to dry on the surface, cause these blotches and films, resulting in the bath losing its attractiveness. To remove them, one must use a mildly abrasive cream cleanser, a damp sponge or a cloth and thoroughly clean the surface. They must rinse the area and wipe it dry to ensure that there are no blotches formed again.
Fixing Scratches and Minor Cuts
As one uses stone baths for an extended period, there are bound to be scratches and cuts on the surface, especially in homes with children. But one need not worry about them as these surfaces are easily renewable. As instructed previously, one must wash the entire surface thoroughly. They can use a sponge scourer to lightly rub the wet surface, in straight-line motion, without pressing too hard. They must continue to do it, periodically switching angles to ninety degrees. Clean and dry the surface extensively and examine if all the areas are sanded and blended. This process will not only fix the scratches but also remove the residue in them.
These routines do not take as much effort and would not cost much when compared to their value and the comfort and elegance they offer to the bathroom.