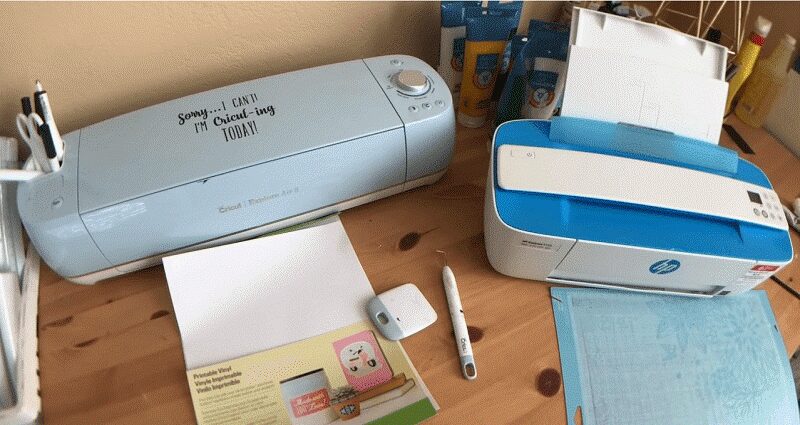 In a nutshell, the Vinyl cutter is a printer-like machine that is operated by a computer. You put the vinyl paper in the machine and press the command, Voila!  Here you have your printed sticker, ready for sale.
Not only stickers, but the vinyl cutter is also used to make patterns, design, label, custom made prints even in paper engineering!
With a small budget, anyone can start her or his own vinyl cutter business from the comfort of home. Many people are making lots of money with it.
So, let's start from the very beginning of the Vinyl Cutter!=
Before making money

Before starting the business you need to set a few things in your mind.
You will not get rich the day after starting your business i.e. not-a-get-rich scheme.
You don't need to invest a big amount of money
We need to have enough patience to start and run a new business.
Then, we can jump for our machine. I guess you have a computer or laptop. In case you don't have one then you need to buy. Other things you need –
A vinyl cutter (Check out the vinyl cutter for a cheap price)
A vinyl cutting software (Don't worry it comes with the machine)
An image editing software. If you have one then it's ok, you can edit with vinyl cutting software or download designs.
Scissors, knife, etc.
If you are planning to buy a vinyl cutter and want to design large stickers then you should buy a machine with a 12-inch cutter area. If not, less than 12 inches would also work.
Go with the flow (trend)
To be a pro in your area, especially when it comes to business, you need to follow the trend. For example, last year when Avengers Endgame was released all everyone could think about was their favorite avenger's character. So selling stickers of Ironman or Thanos is a better decision in 2019 release time than selling Hello Kitty stickers.
Find your customer rather than waiting for them
At the initial time, you indeed have to look for customers. Big or small companies, local markets or events, even your friend's sister's bridal shower can be a big hit.
Event organizers always need specialized goodies for their customers. Search in your locality, spread your word, that you can sell stickers and customized products.
Being good isn't enough, Looking for opportunities will open doors for your business.
Events you should look for –
Company meetings
Conferences
Parties
School, College, University graduation
Weddings
Special Holidays
Be present in online
Using Facebook, Instagram, Pinterest and other social media (based on your targeted audience) help you to promote your product and widen your customer range. Some media provides settings to boost your audience.
Note down everything
Relying on memory can be crucial. So, noting down customers' requirements, preferences, and expenses.  One mistake can create a huge loss.
Use a spreadsheet or notebook. Stay organized.
Don't forget to ask for feedback.
Final Word
If you follow the above-mentioned topics then soon you would be able to make money with a vinyl cutter.
If you have any questions or some points to be added do not hesitate to share your views by dropping a comment.