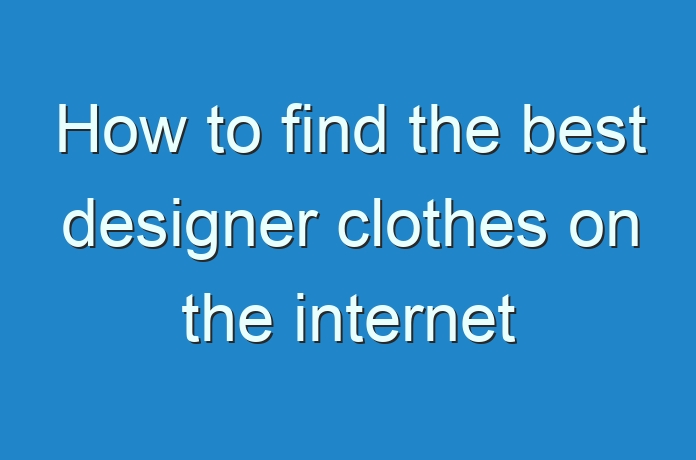 E-commerce has greatly revolutionized ever since we were first introduced to it. Small businesses now have an opportunity to thrive online, which explains the sprout of so many new fashion clothing stores online. Clothes are basic needs, and so you may be faced with the task of upgrading your wardrobe from time to time as you grow. You just need to isolate the best websites where you can shop from, and in no time, you will be faced with so many new fashion brands options to choose from.
Finding new designers clothes online has become even easier than actual shopping in malls and cloth stores. You may have a particular dress or coat in mind that local shops do not have; chances are high that you may find it online and even at lower prices. The shopping is furthermore effortless considering delivery in some states is done to the residential address of the shoppers. Find out below why more people think shopping for designer clothes online is the way to go.
Factors to consider before choosing an online cloth store
The fact that you are looking to buy clothes online implies you barely have time to scout local shops for clothes. Well, that is the convenience that comes with online shopping; however, how do you identify the best sites to shop from? You need to be well prepared before going online to buy clothes; here are some tips that you may need to get started.
Reputation –Some cloth shopping sites have a history of failing to satisfy their clients. Assess how they are rated by their previous clients before making deposits to the independent brandsite. Happy clients also willingly leave good comments, but if negative comments are the only thing you see, move on the next name on your shortlist of potential websites.
Means of delivery – Once payments are done, delivery is the next stage. Find out how long different sites may take for your package to arrive. Issues like return policy and customer care also come in handy should there arise any complications before, during, and after the shipping process.
Discounts and coupons – Saving is a great habit even for an online shopper. You can get coupons through referrals that could help you shop for much less. Clothing sites that offer discounts and bonuses to their clients are much preferred by online shoppers who aim at getting more for less.
Important facts you should know on designer clothing
Forget about the high prices that designer clothes cost people today, have you ever paused to thought how beneficial designer clothes could be to you? Before discrediting branded clothes, research should be done to ascertain their merits and demerits. Here are some facts about designer clothes you need to be aware of.
• They are handmade
You probably did not know, but only a small percentage of branded clothing is made by machines. Talented designers are trained to create fine clothing that meets the demands of the market.
• Are worth every penny spent
Every designer clothes though similar, sends a nice fashion statement when worn. They may be costly, but you cannot go wrong gracing an event clothed in designer fashion.