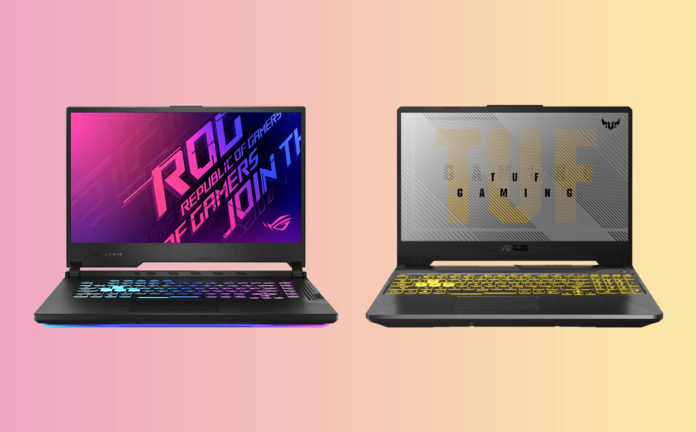 Are you searching for the best gaming laptops under 1500 dollars in 2019? Then look no further and we'll discuss some pros and cons of two of the best current models. Gamers, even very young ones, are some of the savviest consumers when it comes to purchasing laptops. Not just any model will do. You as a gamer know exactly what you need from your laptop and how you need it to perform. A basic run-of-the-mill laptop suitable for everyday computing will probably not get the job done for you, since the graphics and capabilities you use are more complex than average. Plus, as a committed gamer, you put a lot of wear and tear on your machine. It's great that you understand you can't get all the bells and whistles for just a couple of hundred bucks, but you still deserve to get the best deal available for your money. Check these out!
1.     ASUS ROG STRIX GL703GM-WS71 SCAR Edition
This sharp Asus ROG (Republic of Gamers) model will let you take your gaming to the next level, literally. Featuring an Intel Core i7 processor stunning graphics capabilities, it also offers practical additions such as a dual-fan cooling system and quick access keys that allow you to record your gaming at a moment's notice when things get exciting. The large, bright screen has an anti-glare matte finish and the system as a whole will give your desktop model a run for its money.
Also Read: How to Find Online Colleges
As to cons, it's no surprise for a gaming laptop that the audio leaves a little something to be desired. However, even that is not the worst we've ever seen. One pretty cool feature is the way Asus has designed this model with the speakers pointing directly at the user. While they're no match for your gaming headset, they're not bad. Battery life for this laptop is not great, but again, no worse than usual.
2.     Acer Predator Helios 300 17.3″ Gaming Laptop
Though it might look a bit plain right out of the box, power up the Acer Predator Helios 300 and you'll discover a super-vibrant screen, flashy colored keyboard and some enviable features. With 2.2 GHz quad-core Intel Core and a Nvidia GTX 1060M graphics card to begin with, this laptop also features dual antennas which allow you to connect to both 2.5 GHz and 5GHz frequencies, increasing your possible bandwidth.
While the design is quite understated and some might say dull, there are advantages to being able to use your laptop for business without looking like a teenager. Also, even though the Nvidia GTX 1060M graphics card is trailing behind GTX 10 series mobile GPUs, this laptop is still able to perform well on most current games at high to medium settings.
With either model, you can get a well-built, beautifully designed gaming laptop that will fulfill your gaming needs and fit your budget at the same time. Check out the full descriptions and reviews on market place, and with their super-fast shipping, in no time you'll be enjoying one of the best gaming laptops under 1500 pounds in 2021.