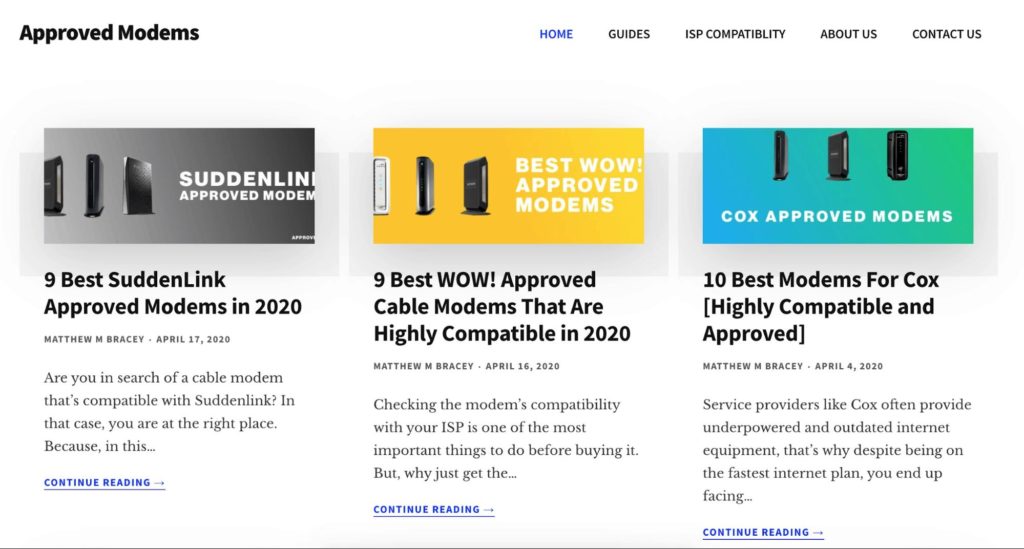 How To Check Cable Modem for Compatibility with ISP Before Buying?
You could have a high-performance modem, but what's the point of having it when you can't use it with your internet provider? These sorts of cases happen a lot, that's why it's very essential to check for compatibility before you buy one. But how?
There are multiple ways to ensure that the modem you are getting is compatible with your cable internet provider. In this article, you'll be guided with different ways to check your internet box for compatibility with your modem. Shall we begin?
1. Best Method: The Approved Modems
Approved Modems is one of the most reliable and trustable websites to find a list of modems that are compatible with your cable internet provider. Unlike official ISP approved modems lists and other modem compatibility websites that just list down the list of modems, this site actually rates the modems by testing them and only includes the devices that provide high-performance or high value for the money spent.
There are a lot of other sites similar to Approved Modems, but none of them have "in-depth buyer guides" and "compatibility lists" like them. Whether it is for known cable internet providers in the US such as Comcast Xfinity, Spectrum, or Cox or less popular providers such as Midco, Suddenlink, etc. You'll be able to find the best-compatible modems for all of them!
We read a few guides posted on the website and felt that the modems reviews were done by actual networking experts. They also have been awarded by authority websites like TechZimo, CableTV for their testing methodology which involves testing a single modem with various plans in various locations, comparing with all the compatible modems, etc.
2. Product Descriptions on eCommerce stores such as Amazon and Best Buy

Another way to check if the modem is compatible with an ISP is by checking the descriptions of modems on popular eCommerce stores like Amazon, BestBuy, Walmart, etc. This is suitable when you know that the modem you're getting is going to be compatible with your ISP.
For instance, if you're checking out the description of the Arris Surfboard SB8200, you'll find the list of ISPs that the modem is compatible with. You'll also be able to find the internet providers this modem won't work with. Additionally, you can find the features of this modem which can help you make an informed purchase decision.
Although, it isn't suggested you to see the description and make a purchase, but also check out the questions asked by other users and read the customer reviews. So that you don't end up buying the device that might suck. In some cases, the product sellers have added "Wrong descriptions" too, that's why it's always suggested to check the Approved Modems site we listed in #1.
3. Approved Lists by Cable Internet Providers
All the ISPs have a list of "Approved modems" that will be compatible with them. For some providers the list shall be very huge and can be confusing too. But this is the official way to find out and check if a modem is compatible with your ISP.
I'm not a fan of checking such lists, but when none of the other options are available or accessible, then this is the only way you can rely on. However, make sure that you read some modem buying guides to get an idea about the factors to consider when getting one. So that you don't get the modem that sucks.
4. Customer Suggestions
Although, Not all customers are networking experts, but they surely might have done some research while buying a modem for their internet needs. If you know someone who has the same internet provider as yours, then it's a good idea to check out their modem. You shall also find out the plan they are subscribed to. If they are on a similar or low-speed plan, then note down their model and see if it's in the list from Approved Modems (Listed in #1.)
5. The Avoid List
The avoid list includes the modems you shouldn't buy. Yeah, you read it right. Such a list didn't exist before 2016, but because of the security flaw in the Intel Chipset Puma 6. Although, there have been multiple firmware updates to remove the issues, but why risk it when you have other options? Also, If you consider checking out the Approved Modems (we've listed in #1) then you won't find any of the models from the "Avoid list" there.
Verdict
Finding a compatible modem is quite easy, but if you want the one that provides "Best possible performance" then it's always suggested to check out the options we've listed here.
Hope that these ways to check for compatibility saves you from getting a modem that isn't compatible with your ISP. Let us know which method works best for you? Also, if there's any other methodology that you follow to check for compatibility, then feel free to comment about it.