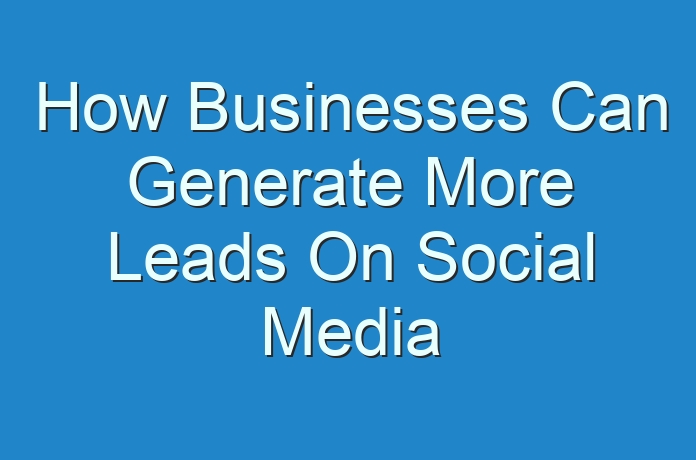 Social media can help businesses attract and retain customers. It can be a great asset to boost business growth.
Why is social media important for businesses?
According to a report, by the end of 2023, 3.09 billion people are expected to be on social media. If you want to reach your target audience, you need to boost your social media presence.
Getting more visibility on social media can also help you find more leads and boost your conversion rate.
Not sure how?
In this article, let's take a look at how you can leverage social media for lead generation.
How to Generate Leads Using Social Media 
The first step for your lead generation strategy should be to pick the right social media channel. Depending on your niche and target audience, the right social media channel for your business will be different.
For instance, if your target audience is mainly gamers, then you should consider Twitch for your marketing efforts. On the other hand, if you want to reach out to business professionals, LinkedIn would be a better pick.
The tactics that you need to employ for lead generation may differ based on the social media channel that you pick. And the strategies you use for lead generation will also vary depending on the social media network you're using.
Let's check out how to generate leads on some of the most popular social media platforms.
How to Attract More Leads on Facebook
Facebook has 2.5 billion monthly active users, making it the biggest social media network around the world. It's evident that Facebook is a huge opportunity for lead generation. As many as 86.3% of US marketers use Facebook to advertise their products.
So, how can you generate leads on Facebook?
For this, there are three main strategies:
Facebook Ads
Marketing your brand on Facebook is now easier than ever with Facebook lead ads. Once a user clicks on an ad, they will see a pre-populated form. It uses information from the user's Facebook account so that it's ready to submit.
When you collect leads through these forms, you can sync them directly to your customer management system (CMS). Alternatively, you can also download it to send it to your sales team.
For lead nurturing, Facebook also offers retargeting tools. To make it easier to track your Facebook leads, you can use the Facebook Pixel. Install it on your site, so you can keep track of how many leads you are attracting and how much they cost you.
Image via Facebook
Facebook Messenger
Do you know which is the most popular app for mobile messaging in the US? No, it's not WhatsApp or Snapchat.
It's Facebook Messenger.
While WhatsApp and Snapchat had 24.35 and 48.91 million users, respectively, as of June 2019, Facebook Messenger had 107.87 million users.
Clearly, Facebook Messenger is a great opportunity for lead generation, right?
One of the best ways to reach out to your target audience is through chat blasts. This strategy enables you to broadcast your message to your audience automatically. To use this feature, you need to send an application for subscription messaging via the "Advanced Messaging Features" option on your Facebook Business Page.
Another great way to attract leads on Facebook Messenger is through Click-to-Messenger ads. In these types of ads, users don't have to click on any given offers. Instead, clicking on the ad redirects them to Messenger.
For instance, when a user clicks on the ad given on the left in the screenshot below, they are redirected to Messenger.
Quality Content
If you want to generate high-quality leads, you need to create engaging content. After all, that's the best way to get the attention of your audience. Also, make sure that you write click-worthy headlines and clear calls-to-action.
To understand the kind of content that resonates with your audience, you can use an AI-powered tool like Cortex. This tool is great to develop a data-driven content strategy. By analyzing multiple data sets, the tool tells you what to post on which social media channels.
How to Attract More Leads on Instagram 
Did you know that over 200 million Instagram users visit at least one Instagram business profile every day? If you are a marketer looking to find new leads on social media, Instagram is a great platform.
Here is how you can leverage Instagram for lead generation:
Instagram Lead Ads
Just like Facebook, Instagram also offers an option to create your own ads. It also creates forms that are partially pre-filled.
All ads on Instagram are connected to Facebook Ads Manager.
Once you set up your Instagram business account, you will be redirected to the Facebook Ads Manager.
From the given options, choose "Lead Generation."
Instagram Live
Instagram Live is a great way to post unique, fresh, and engaging content for your audience. When you go live on Instagram, your followers receive a notification. This makes it easier to get more engagement and visibility. More importantly, it can help you generate more leads.
How?
You can generate warm leads by testing new products. Or you could make an important announcement to create buzz.
Live videos create a sense of urgency that can drive users to engage with you. Be sure to include a call-to-action at the end of the live video.
How to Attract More Leads on Twitter
You're only allowed 280 characters to convey your message on Twitter. But if you employ the right marketing strategies, the character count is more than enough to get more leads.
Here is what you can do to generate leads on Twitter:
Use Hashtags
Hashtags are a great way to get more visibility on Twitter. Find popular hashtags in your industry and use them to get noticed. In addition to this, you can also keep an eye on trending hashtags. If you can find a way to relate your brand or product to something that's topical, you're more likely to get retweets.
Engage With Other Users
Twitter is all about engagement. Respond to the comments that you get on your tweets. Additionally, you can also leave a comment on posts of influencers and other thought leaders in your industry.
To engage your audience, you can also leverage Twitter polls. They are a great way to tap into trending topics and ask for sincere feedback.
Ready to Generate More Leads with Social Media?
For any business owner, getting quality leads is challenging. The good news is that social media is opening up a lot of marketing possibilities.
If you know how to leverage Facebook, Instagram, Twitter, and other social media networks, you can boost your online visibility. This, in turn, can help you generate more leads for your business. Use the strategies mentioned above to take your lead generation strategy to the next level.
Do you have any questions about lead generation on social media or any tips to share? Please let us know in the comments section.