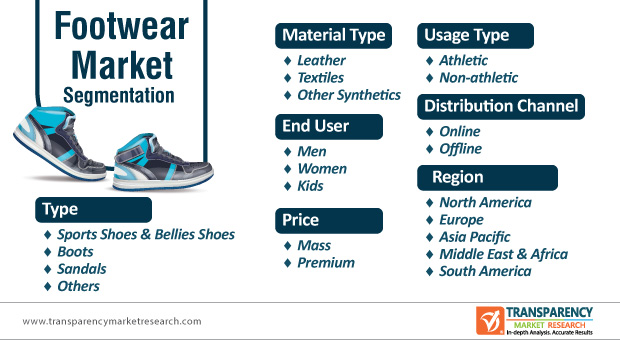 The risk of transmission of the pathogenic coronavirus has sparked innovations in shoe sole sanitizers. A research team from the Industrial Training Institute (ITI) Berhampur, Odisha, India, has developed an affordable ultraviolet-C (UVC) shoe sole sanitizer that was launched during a video conference. As such, COVID-19 has laid great emphasis on the importance of maintaining optimum health. Hence, companies in the footwear market are tapping into business opportunities in eCommerce to meet demands of health conscious individuals.
In addition, the reopening of gyms and other recreational facilities has given an impetus to the growth of the global footwear market during the COVID-19 pandemic. However, this growth is being witnessed gradually, since the global economic crisis has directly affected the spending capacities of individuals.
Upgrade in Technology, Marketing Strategies, and Designs Offsets High Prices of Footwear
The footwear market in India is witnessing an upsurge due to the growing demand for trendy, fancy, and comfortable footwear, especially from the millennial and Gen Z population. However, manufacturers are challenged with high taxes and shortage of skilled labor, which is affecting the overall business cycle. High taxes are difficult to be adjusted in business cycles and ultimately result in additional cost of retail price of footwear paid by the end customer. Hence, Indian manufacturers in the footwear market need to constantly upgrade in terms of technology, changing consumer trends, and marketing styles to stay ahead in the competition and offset the high retail prices of footwear.
Request Sample For More [email protected] https://www.transparencymarketresearch.com/sample/sample.php?flag=S&rep_id=339
Internet First Footwear Brands Pose Stiff Competition to Big Market Players
Apart from the big names in the athletic shoes category such as Nike, Adidas, and Puma, startups in the footwear market are leveraging value-grab opportunities. This is evident since the market is expected to surpass an astonishing revenue of US$ 1.7 Trn by 2030. The trend of Internet first footwear brands is a fast growing phenomena in the footwear market. Startups such as the U.S.-based Allbirds, New York-based Koio, and Tamara Mellon are gaining increased popularity.
Several private label brands are scaling business opportunities through social media and eCommerce sales. The trend of vegan shoes and bags is catering to the niche requirements of buyers.
Sustainable Footwear Manufacturing Lowers Environmental Footprint
The trend of fast fashion has brought manufacturers in the footwear market under the scrutiny of regulatory authorities to lower their environmental footprint. Many individuals are becoming conscious about sustainable and renewable materials used in footwear. Several billion pairs of sneakers are made every year and several million of them end up in landfills. Hence, startups in the footwear market, such as Nothing New, are designing sneakers only made from recycled materials including post-consumer recycled plastic, rubber, fishing nets, and cotton to lower the environmental footprint. As such, the global footwear market is anticipated to surpass the production of ~44,620 million units by the end of 2030.
Read Latest Press Release [email protected] https://www.prnewswire.com/news-releases/demand-from-governments-for-effective-preparation-for-future-calamities-to-drive-valuation-of-weather-monitoring-solutions-and-services-market-to-us1-6-bn-by-2027–tmr-301078500.html
The footwear market is expected to advance at a robust CAGR of ~8% during the assessment period. This signals that manufacturers are upgrading their production and design capabilities. For instance, in August 2023, Germany-based multinational chemical company BASF announced the launch of its first global innovation center in Taiwan to include interactive footwear exhibits, biomechanics lab, and manufacturing facilities to capitalize on business opportunities.
It has been found that companies in the footwear market are collaborating with chemical companies to innovate in material chemistries to include sustainable production materials. The idea of global innovation centers is grabbing the attention of brands that are bringing footwear professionals, manufacturers, and designers under one roof to co-create new generation footwear. Innovation centers are giving rise to immersive environments that help brands to drive footwear transformations.