Standardization of Production Techniques: Winning Imperative for Functional Food Ingredients
The global functional food ingredients market is estimated to reach a production level of ~3,360 metric tons in the year 2029. Due to the high growth potential of this market, manufacturers are innovating on novel probiotic technologies that increase production in cost-efficient ways.
The unique technology involves metabolite agnostics that speed up the fermentation of probiotic strains. This helps reduce the time of the production of the probiotics, and increases yield outcome. Since conventional production methods involve a lengthy fermentation period, manufacturers are adopting new technologies that accelerate the fermentation process and reduce the cost of probiotic products for consumers. This results in a win-win situation for both, manufacturers and consumers.
Manufacturers are also innovating on first-of-its-kind high-protein and high-lutein chilli with decreased levels of pungency. The micro-injection technology enriches protein in chillies, which contributes as a useful addition to functional food ingredients. Also, cross-breeding helps stabilize the formulation, and standardization of the process increases the bioavailability of the phytonutrients for the development of nutraceuticals.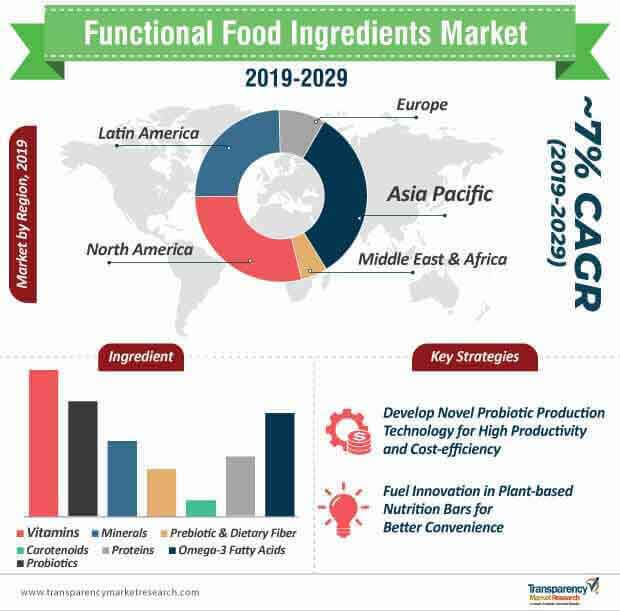 Request a sample to get extensive insights into the Functional Food Ingredients Market?
Manufacturers Innovate on Energy-rich Nutrient Bars for Better Convenience
Convenience and on-the-go foods are driving market growth for functional food ingredients. Likewise, nutritional bars hold intrinsic health value for consumers. The production of vitamin-based ingredients is currently valued at ~156 billion metric tons. This is why manufacturers are adding specific nutrients such as vitamins, minerals, dietary fibers, and prebiotics to cater to the specific functional purposes of consumers.
Consumers demand products that boost energy levels, which is very convenient as far as energy bars are concerned. Since protein is one of the top functional food ingredients, manufacturers are innovating on protein bars that aid in weight management, improved muscle mass, and increased energy. Due to the high demand for natural ingredients without allergens, manufacturers are producing energy bars made with nuts and soy.
For consumers suffering from lactose intolerance, manufacturers are producing plant-based bars using almond butter, cocoa butter, pea protein, sunflower seeds, and the like. With the growing awareness about gluten-free and GMO-free (Genetically Modified Organisms) food products, manufacturers are producing functional food ingredients that are also free from artificial flavors and preservatives.
To understand how our report can bring difference to your business strategy, Ask for a brochure
Efficient Regulation Norms and Consumer Acceptance Streamline NDP
Product development and innovation are important pillars that support market growth for functional food ingredients. However, manufacturers are challenged with the redundant perception of consumers about functional food ingredients. Common misconceptions such as the side effects of food supplements may hamper market growth.
Also, stringent regulations have an influence on the market growth of functional food ingredients. Due to these regulations, companies need to compete for health claims with multiple attempts of clinical trials and approvals from government authorities, which also increases the cost. As such, high investment poses a hurdle for emerging market players that have limited financial resources.
Hence, market players should maximize on consumer acceptance. The success of food supplements and other products with new functional ingredients depends upon the interplay between knowledge management and deployment amongst consumers. Also, consumer-related research prior to new product development (NDP) will help manufacturers understand their needs and increase consumer acceptance for functional food ingredients.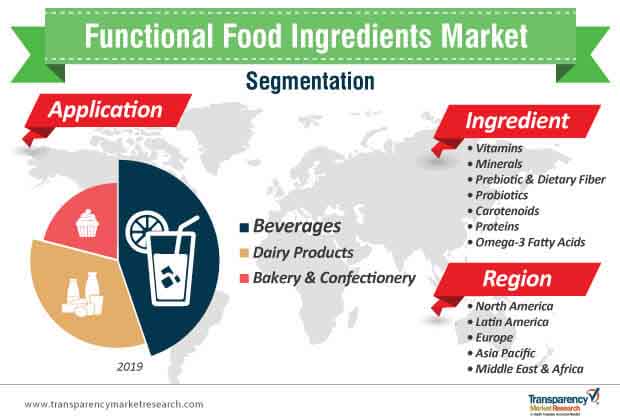 Stuck in a neck-to-neck competition with other brands? Request a custom report on "Functional Food Ingredients Market"
Analysts' Viewpoint
Analysts of the functional food ingredients market anticipate incremental opportunities in beverage and dairy product applications. Companies can profit from shifting consumer preferences in food and beverage products that support digestive wellness. For instance, PepsiCo — a leading American multinational food and beverage corporation, announced the acquisition of KeVita — a producer of probiotic and kombucha drinks, to increase its portfolio in functional food and beverage products. However, manufacturers are challenged by the common misconceptions of consumers and strict regulations in the landscape. Thus, 'clean label' and 'free of additives & preservatives' are defining the freshness of products amongst consumers. Market players should develop advanced technologies with relation to probiotic dietary supplements and tap into opportunities in plant-based products for sports nutrition.
According to Transparency Market Research's latest market report on the functional food ingredients market for the historical period of 2014-2018 and forecast period of 2019-2029, globally, revenue generated by the functional food ingredients market is estimated to be ~US$ 10.5 Bn in 2019, and is expected to expand at a CAGR of ~7% in terms of value throughout the forecast period.
Increased Spending on Health Benefitting Functional Food Ingredients Market
North America stood as the largest market for functional food ingredients in 2015, accounting for ~US$ 7 Bn revenue of the overall market. The region is displaying robust demand for functional foods in comparison to functional beverages, due to their increasing availability in restaurants and eating joints. This is expected to increase the demand for functional food ingredients in North America.
However, the emerging economies of Asia Pacific and Latin America are currently offering tremendous growth opportunities for players in the functional food ingredients market. Countries such as China, India, Brazil, and other nations that are in similar state of intense economic growth, with a growing middle-class population, are spending heftily on nutritional supplements and healthy foods. This is expected to translate into great opportunities for the manufacturers of functional food ingredients. Growth of the functional food ingredients market is also expected due to relatively relaxed regulations in Latin America and Asia Pacific.
Demand for Functional Foods to Remain High Compared to Functional Beverages
The demand for functional foods is expected to outdo the demand for functional beverages. Although beverages have been popular due to ease of manufacturing and can be modified to myriad tastes, functional foods are displaying greater demand due to various health reasons.
The use of functional food ingredients is higher than beverages due to the higher consumption of functional foods. The application of functional food ingredients is in dairy products and bakery and confectionery products.
More Trending Reports by Transparency Market Research – https://www.prnewswire.com/news-releases/tmr-projects-strong-growth-for-gummy-vitamins-market-rising-elderly-population-promises-a-robust-6-0-cagr-during-2019-2029–301017047.html
Stringent Regulations on Functional Food Ingredients Hindering Market Growth
There are stringent regulatory agencies that have a lengthy approval process before functional food ingredients can be made available for commercial sale. These mandates are based on the safety norms in place for foods to be suitable for consumption for varied social demographics and varied age groups.
Accredited agencies such as the UN's FAO and FDA are constantly monitoring the use of colors and chemicals in foods, especially for new markets such as the global functional food ingredients market. As such, functional food ingredient manufacturers are required to obtain approvals prior to manufacture and distribution, which adds up to the time taken for the final product to be available for commercial sale.
Growing Health Awareness among Consumers to Increase Demand
The increasing demand for health benefitting foods that are needed beyond basic nutrition to promote optimal health is currently the cornerstone of the development of functional food ingredients market.
Growing awareness among a large part of the population regarding the consumption of nutritive food rather than only satisfying taste and appeal is providing a strong basis for the growth of players in the functional food ingredients market.
As a result, consumers are opting for nutritive convenience foods and nutritionally fortified foods in place of traditional convenience and junk food. In particular, in developed economies, the changing perception of the food cabinet as a medical cabinet is leading to an increasing number of consumers stocking up on wholesome foods. Hence, functional foods are increasingly becoming a commonality in the kitchens of health-savvy consumers, resulting in the increasing demand for functional food ingredients.
Request for covid19 Impact Analysis – https://www.transparencymarketresearch.com/sample/sample.php?flag=covid19rep_id=10751
Functional Food Ingredients Market: Competitive Landscape
Key manufacturers in the functional food ingredients market are

British Foods PLC
Cargill Incorporated
Archer Daniels Midland Company
BASF SE, DMH Ingredients
Ajinomoto Co. Inc.
Kerry Group PLC
Ingredion Incorporated
E.l. Du Pont De Nemours and Company
Arla Foods
Koninklijke Dsm N.V. and many more.

The functional food ingredients market is a fragmented market, with even the key players having small shares in the market. This is because of the different types of functional food ingredients manufactured by separate manufacturers. However, key functional food ingredient players have a wide global presence.
Functional Food Ingredients Market: Key Developments
Some of the key developments seen in the functional food ingredients market during the past few years are as follows:

In 2018, Abbott Nutrition launched a new product called Ensure Max Protein. This product contains 150-calories; it is a beverage containing a 20g protein serving, and targets consumers that are 50 years old and above, who are not getting enough protein.
In 2019, Urlick and Short launched a range of organic starch and proteins for the bakery sector, which contain functional food ingredients to increase the nutritional content of the food products it is used in.