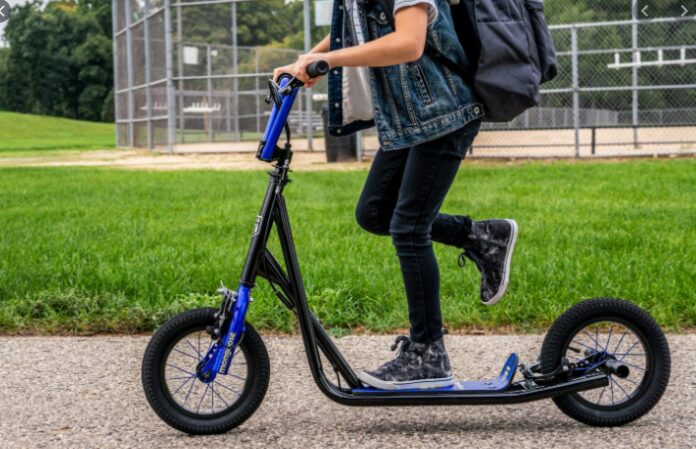 Electric scooters for kids are mostly powered by batteries or motors. Kids can use these scooters because they are comfortable, fun and very fast. Finding a quality electric scooter can be quite hectic because they are amazing and they all come in different features.
1. Razor E300 Electric Scooter
This scooter has the best features like a kickstand and a handbrake. It is driven by a motor which gives it makes it quite powerful. It can go for 15mph. When the battery is fully charged it can be used for 40 minutes or above.
It is heavy enough to withstand 220 pounds. The scooter's tires are large enough so you can have smooth and comfortable rides even over large surfaces. These features make it the best in the market.
2. Gotrax Gks Electric Scooter for Kids
This is an excellent choice. This scooter is popular because of its design and god safety features. It has a safe start technology which ensures the motor will remain still until the kid places the feet perfectly on the scooter's deck. The scooter has rubber wheels, 6inch tall which will ensure a comfortable ride on pavements.
It has a variety of colors so your kid can get one that he prefers. The lighter frame of 17lbs. enables the kid to carry it to places. It can hold all weight up to 154lbs. while the suitable height for riding it is 5ft.
3. Razor Pocket Mod Miniature Euro Electric Scooter.
This electric scooter is best for a 7-year-old kid. It features a nice vintage look but the inner parts are modern. It has a powerful motor that can go up to 15 mph. if the battery has fully charged, the kid can go up to 10 miles with it. That makes it suitable for school rides. It can withstand a weight of up to 170 pounds.
The scooter has one seat so it is more comfortable and there is also a place where you can keep items under the seat.
4. Hoverstar Electric Kick Start Scooter
This scooter is popular because it is perfect for beginners so if your kid has little experience then it is the best. It takes less time to assemble and when it is fully charged, it can last up to 5 miles. Its speed is 6 mph meaning you can move slowly.
It has a variety of colors so the kids can choose their preferred one. You can adjust the height for a perfect fit. Also, the handbrake also makes it easy to ride slow. The scooter is also designed with comfortable rubber grips.
5. Toxozers Adult Citycoco 1000w Scooter
This scooter features 20mph speed making it the fastest electric scooter. It has a four 12V lead-acid battery system which gives you almost 20 miles an hour and charges in about 8 hours. It has huge tires that ensure the kid has an enjoyable ride. It has a cool design that is why it is loved.
Conclusion
These scooters are fun and safe for your child. Choose one that your kid can feel comfortable riding. There are many types of scooters so you have to be vigilant when looking for one.