Faba Beans Market: Introduction
A recent study published by Transparency Market Research on the global faba beans market covers global industry analysis and opportunity assessment for 2022-2030. The complete revenue generated from the global faba beans market is estimated to be ~US$ 52.3 Mn in 2022 that is anticipated to surge at a CAGR of 4.2%, to reach ~US$ 79 Mn by 2030.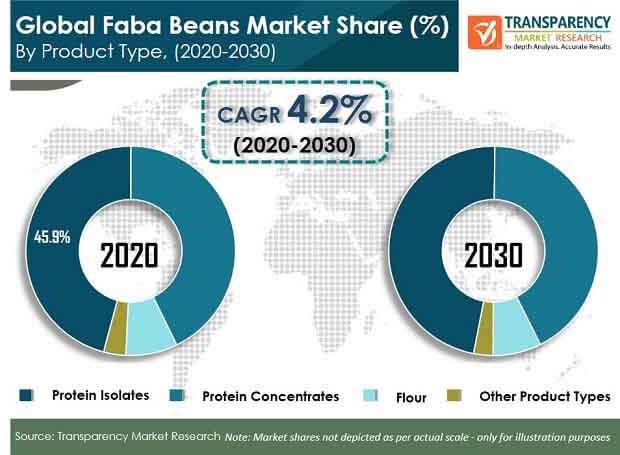 Download PDF Brochure – https://www.transparencymarketresearch.com/sample/sample.php?flag=B&rep_id=79650
Rising Demand for Faba Beans in Aquaculture and Animal Feed
Aquaculture is one of the fastest growing sectors; cultivators of the aquaculture are looking for healthy and nutritive aqua feed products. In addition, various feedstock producers are focusing on the procurement of healthy diet to feed their livestock. Pulses are a cherished stock feed, owing to their high protein content and palatability, and are used as supplements for livestock.
Faba bean is highly digestible in nature and is a metabolisable source of energy for poultry, ruminants, and swine. Faba beans and other legumes eradicate deficits in dry feed or cereal stubbles superior than grains. These are key factors responsible for the rising demand for faba beans in aquaculture, poultry, horse, and swine feed industries, as protein source are also used as substitute to fishmeal, soybean meal, or other animal protein supplements.
More Trending Reports by Transparency Market Research – https://www.prnewswire.com/news-releases/growing-influx-of-technology-in-food-and-beverage-industry-supports-the-growth-of-global-smart-wine-cellar-market—transparency-market-research-301008367.html
Use of Faba Beans as Flavor Enhancer and Moisture Retainer
Faba beans are estimated to witness remarkable growth in use in food, beverages, animal feed, and pet food products, as they improve flavors and texture. Moreover, faba beans are used to enhance moisture retention in meat products to improve taste and avoid shrinking of meat. Hence, it is likely to be used to enhance meat product texture. Moreover, faba beans act as a natural alternative to fat and are free from cholesterol. Thus, they are highly used as hydrolyzed protein in a range of processed food products such as sauces, dressings, soups, seasoned snack food, breakfast cereals, meat products, and meat alternative products. Therefore, with the rising demand for processed meat and meat alternative products with added nutritive contents along with tempting food traits, faba beans producers are anticipated to witness considerable growth in food processing segment during the forecast period.
Request for covid19 Impact Analysis – https://www.transparencymarketresearch.com/sample/sample.php?flag=covid19&rep_id=79650