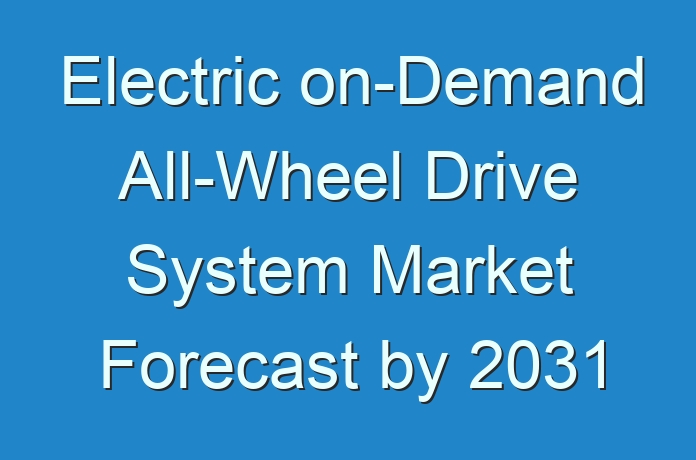 Electric on-Demand All-Wheel Drive System Market: Introduction
Rise in integration of AWD in electric vehicles is likely to drive the global electric on-demand all-wheel drive system market. The front and rear wheels of an electric all-wheel drive (AWD) vehicle are powered by an electric motor. The front and rear wheels may or may not be operated by the same motor. Two motors, one for each axle, can be used in vehicle configuration to divide the torque among all four wheels.
Want to know the obstructions to your company's growth in future? Request a brochure @ https://www.transparencymarketresearch.com/sample/sample.php?flag=S&rep_id=82512
Key Drivers of Electric on-Demand All-Wheel Drive System Market
Rising demand for superior ride handling and traction control is expected to drive the demand for electric on-demand AWD. All-wheel drive systems save energy when vehicle is operating on low load. AWD systems offer better power distribution at the wheels by using two or more motors improves power efficiency. Tesla Model S utilizes two motors to provide AWD. The rear motor is employed for acceleration, while the front motor is used for cruising. Consequently, it offers enhanced ride experience and an efficient drive.
Ongoing technological advancements in EV battery and a surge in the demand for battery have increased the production of EV batteries in large volumes. New battery technologies have lowered the cost of EV batteries in the last decade. This has led to a decrease in electric vehicle ownership cost, as EV batteries are one of the most expensive parts of an electric vehicle. For instance, in 2010, the price of an EV battery was around US$ 1,100 per kWh, which reduced to around US$ 137 in 2022 per kWh. This price is even low in China, i.e. US$ 100 per kWh. This is due to reduction of manufacturing costs of EV batteries, reduced cathode material prices, and greater volumes of production. Therefore, the preference for electric vehicles is increasing, resulting in higher sales volume. Increased adoption of EV performance enhancing technologies such as electric on-demand AWD system coupled with increased trends toward electric vehicles is driving the global electric on-demand all-wheel drive system market.
Electric on-Demand All-Wheel Drive System Market: COVID Impact
In 2022, the production and sales of new vehicles had come to a halt worldwide, as the whole automotive ecosystem had been disrupted due to the outbreak of COVID 19. Automakers and OEM players had to wait until lockdowns were lifted to resume production, which affected their businesses. Hence, vehicle manufacturers had to adjust the production volume. The automotive industry is highly capital-intensive and relies on frequent financing to continue operations. Thus, the production suspension during the initial months of the outbreak and lower demand had an unprecedented impact on EV manufacturers in the initial months of the pandemic.
Manufacturing units around the world were shut down in first half on 2022 and vehicle sales have taken a huge hit. However, the majority of the automakers resumed vehicle production with limited production and necessary measures. Conditions improved in the latter months; however, overall EV manufacturers did not suffer much as demand for zero emission vehicles increased during the latter months of 2022. This led to an overall increase in demand for electric vehicles in the market.
Therefore, an increase in demand for electric vehicles globally is likely to fuel the electric on-demand all-wheel drive system market in 2021
Asia Pacific to account for prominent share of global electric on-demand all-wheel drive system market
In terms of region, the global electric on-demand all-wheel drive system market can be segmented into North America, Europe, Latin America, Asia Pacific, and Middle East & Africa
Asia Pacific dominated the global electric on-demand all-wheel drive system market. China being the world's largest EV producer and user has a dominance in the EV industry in Asia Pacific. The Government of China has taken steps such as subsidies for EV buyers, compulsory laws by which all vehicle manufacturers need to manufacture EV's per number of vehicles manufactured, large support to installation of EV charging points across major cities, and regulations against excessive polluting vehicles.
The EV market in Japan and South Korea has also been expanding for the last few years. Their governments have supported the rise in demand for EVs by installing EV charging stations, enacting stringent emission norms, setting up deadlines for shifting to full or hybrid EVs from ICE vehicles, etc. Additionally, India is likely to witness a boost in the demand for EVs during the forecast period. All these factors showcase the increased demand and production of electric vehicles during forecast period in Asia Pacific. Therefore, Asia Pacific is likely to hold a major share of the global electric on-demand all-wheel drive system market.
Purchase Premium Research Report @ https://www.transparencymarketresearch.com/checkout.php?rep_id=82512&ltype=S
Key Players Operating in Electric on-Demand All-Wheel Drive System Market
The global electric on-demand all-wheel drive system market is concentrated owing to the presence of top manufacturers. A few key players operating in the global electric on-demand all-wheel drive system market are:
AB Volvo
Audi AG
Dr.-Ing. h. c. F. and Porsche AG
GKN Automotive Ltd.
Honda Motor Company Ltd.
Nissan Motor Co., Ltd.
Robert Bosch GmbH
Tesla Inc.
Toyota Motor
Read Our Trending Press Release Below: https://www.prnewswire.com/news-releases/rapid-adoption-of-cloud-based-platforms-to-benefit-companies-in-the-global-tax-software-market-whilst-outbreak-of-covid-19-to-accelerate-use-of-digital-platforms-for-tax-filing-processes-tmr-301249303.html