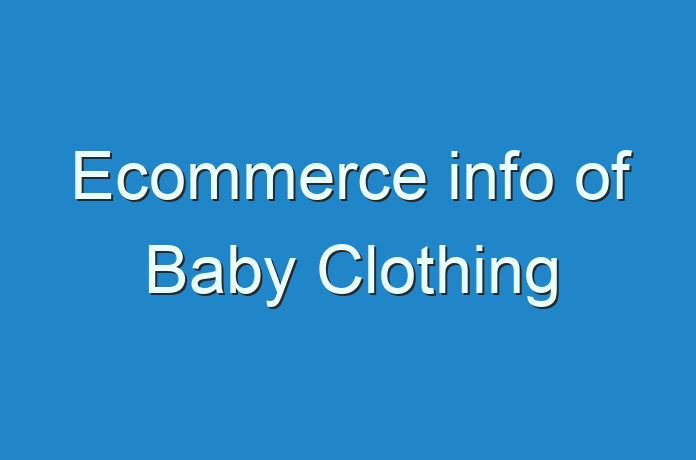 Baby clothing can be defined as the clothing which is designed for children aged between 0 to 3 years. The baby clothing industry is a great platform to start a new business as the demand is increasing at a rapid rate. To get you started, let's look at how the baby clothing industry is thriving.

Why is baby clothing industry growing?
In earlier years, parents used to design and make clothes for their babies. But, as society grows and modernizes, people get more conscious about their baby presentation. Nowadays, every parent wants their baby to stand out among the crowd. Another reason for the growth of the children garment industry is that more and more women are getting employed. As women develop a busier lifestyle, they tend to get ready-made clothes and other baby products for their babies. 
These two factors combined, result in a rapid growth of the baby garment industry. 

Segmentation of the baby clothing market:
The fashion market has been divided into 3 major segments. These 3 segments are clothing materials, types, and distribution channels. 
https://fooos.com/
Clothing materials: The global baby clothing market heavily relies on cotton baby clothing, wool baby clothing, and silk baby clothing. Each one of these clothing materials has different perks that attract babies' parents to buy them.
Cotton baby clothing gained its popularity due to the level of comfort it offers. Wool baby clothing is known to be very warm and especially useful in winters. Silk baby clothing, on the other hand, relies totally on fashion and presentation. As the parents develop a sense of baby presentation and baby fashion, more and more people are attracted to silk baby clothing. Silk baby clothing is also known for its cultural representation. Parents present their babies with different styles of silk clothing for different occasions and festivals.

Types: The baby clothing market can also be segmented on the basis of the type of clothing. These types include innerwear, outerwear, nightwear, tights, socks, and more. Each one of these types could rise up and down in sales depending on different seasons and localities.

Distribution channels: Another way to segment the baby clothing industry is through the type of distribution channel. There are two main distribution channels, i.e., offline distribution channels and online distribution channels. The offline distribution channels can further be classified into supermarkets, hypermarkets, and independent retailers. Online distribution channels have gained a massive update in recent years due to the increased use of the internet and smart mobile devices. As lifestyle modernizes, people tend to use faster and more convenient distribution channels for their needs. Online distribution channels let the parents order the baby clothing of their choice by not even having to leave their homes.

How do baby clothing manufacturers advantage from their business?
As people get increased incomes and tend towards a modern and fashionable lifestyle, parents want to present their babies with modern, unique, and branded baby clothing.
This mindset does help the baby clothing industry by a lot, as we've seen a huge increment in the size of this industry in recent years.
Digital advertisement by baby clothing brands combined with baby clothing representation at supermarkets, also results in the growth of this industry.

Is there nothing negative about the baby clothing industry?
Of course, there is. Everything comes with its pros and cons. As the baby clothing industry grows and thrives, more and more competitors indulge in this industry. More competitors mean tighter competition. As a result, manufacturers have to give out special offers and discounts to attract people to buy their goods instead of their competitors'. It's good for the buyers, but not for the manufacturers, of course. In addition, as the fashion trend keeps changing every once in a while, parents look for baby clothing which is unique and different from what's already being offered. Faster shifts in fashion trends increase the costs of raw materials needed to make baby clothes. This, as a result, increases the overall prices of baby clothing throughout the industry. Manufacturers have to increase their prices, and buyers have to pay more.