New Enzymes to Offer Incremental Opportunities in Dishwasher Application
Manufacturers are creating new ingredients that have led to the introduction of award-winning products. Raw material suppliers in the detergents market are collaborating with major players to reveal new products. For instance, leading German chemical company Henkel, awarded Novozymes – a global biotechnology company for their innovative new enzyme licheninase, which was developed from Henkel's Somat automatic dishwashing detergent line.
The detergents market is witnessing a shift in the development of novel enzymes for the dishwasher application. This trend in automatic dishwashing is an effective solution for dried-in cereals. As such, dishwashers application segment of the detergents market is estimated to reach ~4,800 kilo tons by the end of 2027. Thus, raw material suppliers are strengthening their supply chains, along with major players by increasing research activities in hemicellulose-containing fibrous materials for various dishwasher applications. Manufacturers in the detergents market value chain are developing new enzyme solutions that cater to the demand for laundry and home care technologies. With strategic collaborations, suppliers are gaining access to technologies offered by major players, which will help to address specific problems of end users.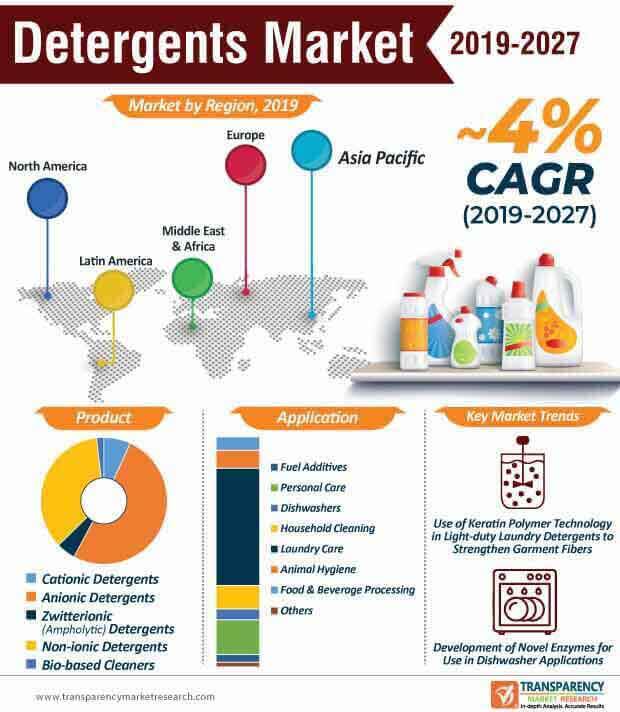 To gauge the scope of customization in our reports Ask for a Sample
Innovations in Home Care Products to Fuel Growth of Liquid and Unit Dose Industries
Among applications, the laundry care segment of the detergents market is expected to reach ~US$ 77.8 Bn by 2027. There is a growing demand for light-duty laundry detergents that are not only effective but also strengthen garment fibers.
Under other conditions, manufacturers are adopting biotechnology to innovate in household care products. As such, household cleaning application segment of the detergents market is projected to reach ~8,900 kilo tons by the end of 2027. On a regional level, manufacturers are increasing R&D to combine surfactants and enzymes for the development of inexpensive detergents to cater to the needs of cost-conscious users in Latin America. Liquid and unit dose industries are driven by the shift in consumer demand for convenience products.
Get an idea about the offerings of our report from Report Brochure
Fragrance and delivery-technology specialist companies in the detergents market supply chain are collaborating to launch novel home care products induced with fragrance. Since detergents are a necessity in all domestic and commercial applications, manufacturers are innovating in the keratin polymer technology to develop new personal care products.
Encapsulation Enables Use of Advanced Bleach Ingredients in Liquid Detergents
The encapsulation method is colonizing the laundry detergents sector. Companies are creating microcapsules that deploy fragrance and other molecules in fabrics. Novel liquid detergents are being increasingly used by end users as a substitute to bleach. However, certain emerging players still use conventional bleaches such as sodium hypochlorite to manufacture liquid detergents. These bleaches lead to unwanted reactions with other ingredients and are not desired by end users. Hence, manufacturers are becoming increasingly conscious about these shortcomings and are streamlining their production to develop liquid detergents using the encapsulation technique.
REQUEST FOR COVID19 IMPACT ANALYSIS –
https://www.transparencymarketresearch.com/sample/sample.php?flag=covid19&rep_id=74654
Encapsulation is fueling the growth of the liquid detergents market, especially in the U.S. Consumers are increasingly adopting liquid detergents over powders in the U.S. Though powders form segment dominate the detergents market in terms of value and volume, liquids/gels segment is anticipated for an exponential growth during the forecast period, with an estimated output of ~19,400 kilo tons by 2027. Efforts are being made to combine bleach with other ingredients to manufacture new cleaning products.
Economic Growth and Premiumization Influence Consumer Preferences in Developed and Developing Countries
Various drivers indicate growth in the detergents market. For instance, the overall economic growth of developing countries are creating incremental opportunities for manufacturers in the detergents market landscape. Likewise, this market in Asia Pacific is expected to grow at a significant rate during the forecast period. Thus, increase in disposable income of consumers in Asia Pacific has proved beneficial for the overall growth of the detergents market.
Online sale is another driver augmenting market growth. The trend of premiumization is gaining importance. Consumers in developed countries are making conscious efforts to buy premium quality products that align with their high lifestyle standards. Moreover, convenient cleaning products are propelling the business of liquid detergents.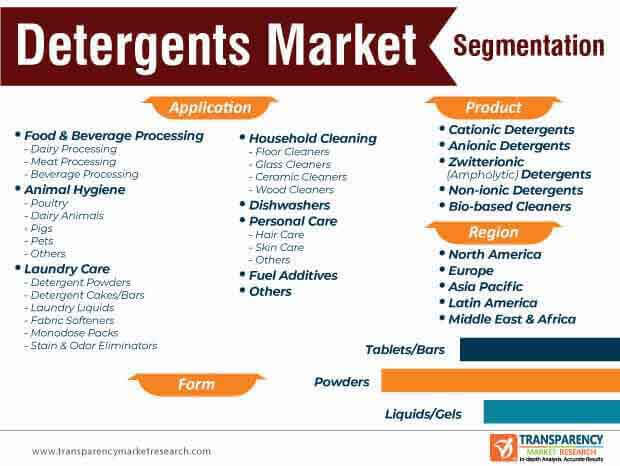 Looking for Regional Analysis or Competitive Landscape in Detergents Market, ask for a customized report 
Analysts' Viewpoint
The detergents market is moderately consolidated with major players accounting to ~40-45% of the total market share. International conferences help product makers and raw material suppliers to procure agreements over prices, logistics, and other details of industrial commerce. Ultraconcentrated pump detergents and single-dose detergents serve convenience quotient of end users. However, chemical laundry detergents impact the environment and lead to increased inorganic waste. Hence, manufacturers should build their credibility credentials by innovating in enzyme-based detergents that replace harmful ingredients of chemical detergents. Companies should increase production capabilities in F&B and animal hygiene applications, as both segments are projected for high growth in the coming years.
Global Detergents Market: Overview
In terms of value, the global detergents market is anticipated to expand at a CAGR of ~4% during the forecast period and reach a value of ~US$ 157 Bn by 2027
In terms of product, the anionic detergents segment held a major share of the detergents market in 2018 due to cost effectiveness and a wide range of applications of anionic detergents in laundry care, personal care, and household cleaning applications. However, rise in popularity of environment-friendly ingredients in consumable products is projected to fuel the demand for bio-based detergents during the forecast period.
Based on form, the powder segment accounted for a significant share of the global detergents market in 2018, owing to cost effectiveness and ease of handling of powder detergents. However, efficient cleaning action and easy application of liquid or gel form of detergents are estimated to make the segment highly lucrative during the forecast period.
Based on application, the laundry care segment constituted key share of the global detergents market in 2018, owing to the higher per capita consumption of laundry care detergents in domestic and commercial usage
Asia Pacific was the leading region of the global detergents market in 2018. The detergents market in the region is estimated to expand at a significant CAGR between 2019 and 2027.
Environment-related concerns pertaining to detergents are anticipated to hamper the global detergents market during the forecast period
Rise in Awareness about Hygiene among End Users to Drive Global Detergents Market
Increase in awareness about cleanliness and significant rise in disposable income of consumers have boosted the consumption of household cleaners, personal care products, and laundry care detergents across the globe
Personal care products such as skin care, hair care, and hand wash contain detergents in the form of surfactants, which offer strong cleaning action. This is augmenting the detergents market, primarily in developing countries of the world.
Several international agencies, with the support of local governments, are implementing hygiene awareness programs, primarily in developing countries, in order to overcome health hazards. As a result, products such as hand sanitizers, hand wash, and floor disinfectants are getting popular in emerging economies such as China, India, Brazil and ASEAN.
Asia Pacific Estimated to Maintain Dominance in Global Detergents Market
In terms of value and volume, Asia Pacific constituted significant share of the global detergents market in 2018. Improvement in lifestyle and rise in population are boosting the consumption of detergents in the region.
Increase in disposable income and rapid urbanization in China, India, and ASEAN have resulted in rapid growth of the FMCG industry in these regions. Furthermore, rise in penetration of washing machines is fueling the demand for laundry care detergents in domestic applications.
Demand for personal care products and household cleaners has been rising in countries such as China, India, and Indonesia, owing to the increase in spending by the young population. Growth in automotive and other manufacturing industries is estimated to propel the demand for industrial cleaners in Asia Pacific. Thus, the detergents market in the region is anticipated to expand at a rapid pace during the forecast period.
North America and Europe also held considerable share of the global detergents market in 2018. Emerging applications of detergents such as animal hygiene are getting popular due to the increase in focus on animal health care. This is a high value segment of the detergents market. The segment is projected to expand at a rapid pace, primarily in North America and Europe, during the forecast period.
Global Detergents Market: Competition Landscape
The report comprises detailed profiles of major players operating in the global detergents market. The report also consists of a comparison matrix of the top eight players operating in the global detergents market, along with application and product mapping for 2018.
Prominent players functioning in the global detergents market are

Huntsman Corporation LLC
Solvay
Evonik Industries AG
BASF SE
Kao Corporation
Clariant AG
Croda International Plc
Tata Chemicals Ltd.
Stepan Company
Oxiteno
Galaxy Surfactants Ltd.
Lion Specialty Chemicals Co., Ltd.
Henkel AG & Co. KGaA
A K ChemTech Co. Ltd
LANXESS
Diversey, Inc.
CID LINES N.V.
Holchem Group Ltd.
Christeyns NV
Ecolab
Kersia Group
Virox Technologies Inc.
DeLava
Neogen Corporation
Theseo Group.

The detergents market is fragmented due to the presence of a large number of global and local players. Key players from North America and Europe are primarily focusing on product development for specific applications of detergents such as food processing and animal hygiene.
Prominent players are adopting strategies such as acquisitions and mergers to diversify their business in modern applications. On June 27, 2018, Kersia Group announced it had completed the acquisition of Kilco, a Scotland-based company that specializes in food safety and animal health.