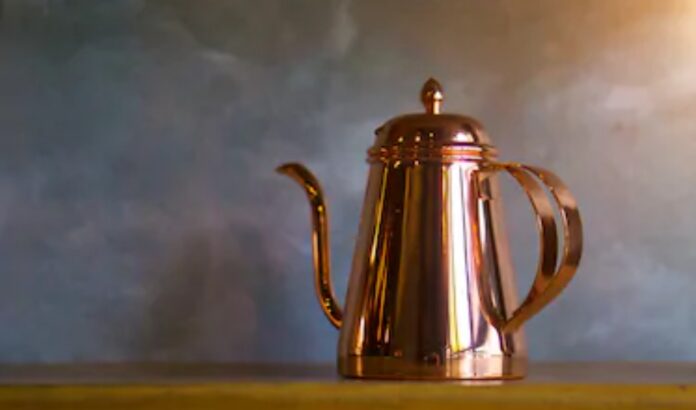 copper kettle have been until the advent of stainless steel kettle one of the most practical solutions at hand, for heating water to make tea. Although they were later replaced (although they are still used today), today they are interesting collectibles.
 copper kettle have been one of the first elements that have been used when heating water. Although the appearance of stainless steel teapots displaced them as a practical implement, they are still used in many places.
This class of kettle have the capacity of copper, which is a great diffuser of heat. But the truth is that after a certain useful life they scorch a lot and their appearance is not the best. But in the past, it was what was within reach and what could be used that's  why it is the best kettle ever.
Then, stainless steel kettle displaced them as a common, economical and practical element when heating water to drink a good cup of tea. But the truth is that they have also found their appreciation: many people look for them as decorative objects and also for collectible purposes. This is how they continue to be relevant.
In any case, if you are the owner of a beautiful copper teapot, you must know how to use it, to take care of it and keep it in good condition.
A copper kettle will beautify your kitchen like no other. Without a doubt, that is one of its main advantages, added to the great capacity of copper to keep heat. However, when using it regularly, you must take into account certain secrets so that your copper teapot does not lose its shine.
How to use a copper teapot?
To prepare the tea, simply fill your kettle approximately halfway and bring to the fire, if possible not too high.
As soon as you whistle, remove and pour over the cups in which you will prepare your tea.
How to polish and shine your copper kettle on the outside?
Prepare a paste with the following ingredients:
a tablespoon of salt
two tablespoons of lemon juice
When you're done using your copper kettle, polish it with this paste. You will make it shine and shine. Then wash it with hot soapy water, drying it last with a clean cloth.
How to clean a copper kettle inside?
If you want to keep your kettle in good condition, you should clean it after each use. To do this, use a sponge with detergent and hot water. Once clean, rinse very well
If there are stains you can remove them with a paste based on salt and vinegar or lemon, which you will leave to act for at least 10 minutes.
Remove the pasta with a damp cloth and rinse.
Fill the kettle half full with clean water and bring to the fire until it boils.
Discard the water so that it drags away any remaining dirt.
Dry very well with a clean cloth.
If your copper kettle has a lacquer coating, it is likely that with use, it will quickly begin to lose it. In this case, you need to know how to completely detach it, so that your kettle recovers its good appearance.
In no case do you use abrasive products for it.
Also avoid using metal sponges that would scratch its surface.
Use baking soda, in the proportion of one tablespoon each liter of water.
Use soft nylon sponges.
If you still can't remove the lacquer completely, try a little acetone.
Ultimately, use a special commercial product to clean the copper.