The increased demand for frozen foods and the growing number of food products that require refrigeration are expected to positively influence the growth of the commercial food refrigeration equipment market. This has led to the need for commercial food refrigeration equipment being used to minimize food wastage at both, production and distribution levels.
Commercial food refrigeration equipment has various end users such as hypermarkets, supermarkets, convenience stores, restaurants, warehouses, and food service industries, and demand is continuing to rise. Furthermore, with the rise in the number of restaurants and other food service outlets triggered by the heightened interest in indulgence, the rapid shift in food consumption patterns are also expected to have a positive impact on the development and evolution of the commercial food refrigeration equipment market.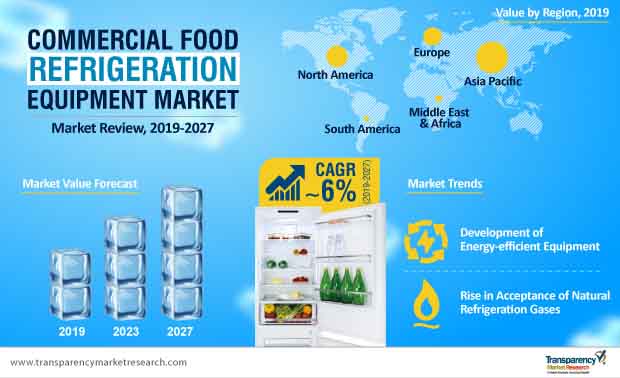 To get glimpse of what our report offers, ask for a report brochure here
Push to Reduce Greenhouse Gases Causes Increased Acceptance of Natural Refrigerants
Rising global concerns about global warming caused by the emission of greenhouse gases have pushed for a global phasedown of hydrofluorocarbons (HFCs). The Kigali Amendment to the Montreal Protocol came into effect in Jan 2019, encouraging both, developing and developed counties to reduce the emission of man-made greenhouse gases. This has had a direct impact on the global refrigeration market, where the use of natural refrigerants is being encouraged in place of HFCs.
Natural refrigerants, which occur naturally in nature, are seen as an alternative to the synthetic refrigerants already in the market. The underlying trend of using these gases so as to employ lower climate impact solutions has already had an impact on the commercial food refrigeration equipment market as well, with manufacturers looking to develop newer solutions for reduced environment impact.
For instance, in December 2018, Carrier, a global leader in heating, air conditioning, and refrigeration solutions, launched Puron Advance – a refrigerant for light commercial products, as its primary lower Global Warming Potential (GWP) solution, replacing R-410A to minimize environment impact. The product has been marketed as a next-generation refrigerant, to surpass all the requirements of anticipated future regulations. It is set to be offered in all carrier products by the beginning of 2023.
Looking for Customized Insights to build your business for future, ask for a sample report here
Stringent Food Safety Protocols to Positively Impact Market
According to the World Health Organization (WHO), 1 in 10 people fall sick from eating contaminated food, and food safety is considered a public health priority. At the storage level, prevention of an outbreak of food-borne diseases happens with the storage of food at wrong temperatures. Food Codes set forth by regulatory bodies such as the Food and Drug Administration (FDA) and Food Safety Standards Authority of India (FSSAI) that monitor the retail and food service industries require food to be stored at optimal temperatures prior to use and serving. Commercial food refrigeration is a critical aspect of ensuring the safety of food products and public health safety.
Read TMR Research Methodology at: https://www.transparencymarketresearch.com/methodology.html
Commercial food refrigeration equipment plays a very important role in the preservation of perishable and semi-perishable foods, and the increasing stringency of these regulations is likely to have a positive impact on the growth of the commercial food refrigeration equipment market.
Read Our Latest Press Release: