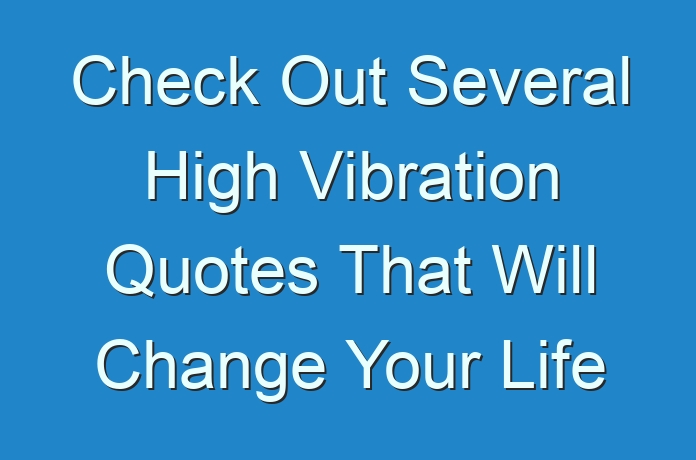 To focus on work, it is necessary to have positive energy and motivation. One can acquire both of the characteristics by reading high vibration quotes. They are composed of a concise sentence that contains meaningful words. May these sentences inspire you to push the limits and walk on the direction of success. To raise the vibration, try to read the motivating quotes daily. It will boost energy and provides a feeling of inner peace.
Generally, motivated and positive quotes are given by famous personalities at the top of success. One can also find these quotes on various spiritual books that are related to religion. The main aim of these quotes is to alter the emotions of the body in the right direction. Reading positive quotes is the best way to find hope in the darkness. It will help a lot in getting rid of negative feelings.
Moving further in the article, let's discuss some of the famous motivating quotes that are given to raise high vibrations. It is not easy to understand the real meaning of quotes. One should need to be the focus while reading. Try to implement the advice of quotes in the real life. Otherwise, it will for no use.
Here are some of the high vibration quotes and its meaning
It is essential to catch the real meaning of the quotes. Generally, they are written to provide advice and motivation to do various work. Let's see some positive and motivating quotes and its meaning.
"If you are not happy in your work, you are a slave."
By decoding the quote, we will reach a conclusion that tells that if you don't love what you do, you should need to quit the work rather than do the slave's job. In contrast, try to find the work that you love to do. The further meaning can be coded as you will never going to get success if you do not love your work. So, try to find out happiness and interest in the work.
"All that we are is a result of what we have thought."
The quote contains a deep meaning. Let's try to decode it in a proper way. The quote tells us that what we think is the leading cause of what we are. That is if you believe in a positive manner, then; as a result, you will come with positive vibrations. By implementing the real meaning of quote in life, one can raise the frequency of positive vibrations. It will help a lot in creating a positive environment.
To get the benefit of reading the quotes, one needs to implement them in real life. Various physiatrist also recommends reading motivating quotes to get rid of anxiety and depression.Reading high vibration quotes is a matter of time. Generally, people read it in a difficult time or when they are feeling depressed. We would recommend you read it on a daily basis so that the implementation of quotes can be done in daily routine.