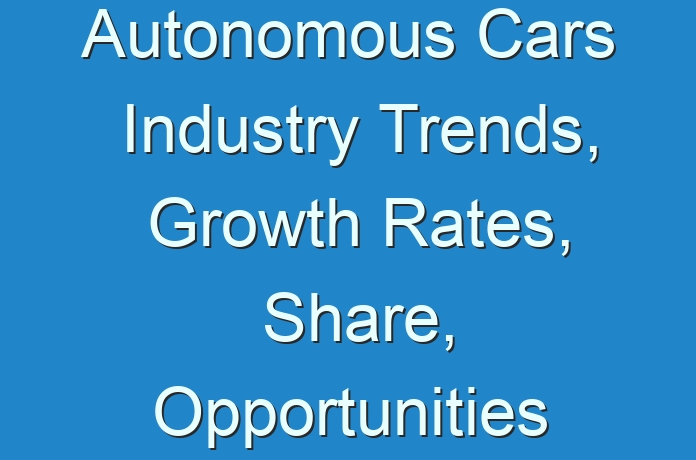 The global autonomous cars market reached a value of nearly $818.6 billion in 2019, having increased at a compound annual growth rate (CAGR) of 12.7% since 2015. The market is expected to decline from $818.6 billion in 2019 to $772.8 billion in 2022 at a rate of -5.6%. The market is then expected to recover and grow at a CAGR of 12.7% from 2022 ad reach $1,191.8 billion in 2023. The market is expected to reach $1,642.9 billion in 2025 growing at a CAGR of 17.4%, and $3,195.0 billion in 2030 growing at a CAGR of 14.2%.
The Business Research Company offers "Autonomous Cars Market Opportunities And Strategies – Global Forecast To 2030" in its research report store. It is the most comprehensive report available on this market and will help gain a truly global perspective as it covers 60 geographies. The regional and country breakdowns section gives an analysis of the market in each geography and the size of the market by region and by country. It also compares the market's historic and forecast growth and highlights important trends and strategies that players in the market can adopt.
The autonomous cars market consists of sales of autonomous cars by entities (organizations, sole traders and partnerships) that manufacture autonomous cars for transporting people and goods.
Some of the key players involved in the autonomous cars market are Toyota Motor Corporation, Ford Motor Company, Daimler AG, General Motors Company, Volkswagen AG.
The countries covered in the global autonomous cars market are Argentina, Australia, Austria, Belgium, Brazil, Canada, Chile, China, Colombia, Czech Republic, Denmark, Egypt, Finland, France, Germany, Hong Kong, India, Indonesia, Ireland, Israel, Italy, Japan, Malaysia, Mexico, Netherlands, New Zealand, Nigeria, Norway, Peru, Philippines, Poland, Portugal, Romania, Russia, Saudi Arabia, Singapore, South Africa, South Korea, Spain, Sweden, Switzerland, Thailand, Turkey, UAE, UK, USA, Venezuela, Vietnam.
The regions covered in the global autonomous cars market are Asia-Pacific, Western Europe, Eastern Europe, North America, South America, Middle East, Africa.
Autonomous Cars Market Segmentation:
1) By Product Type: Semi-Autonomous Cars, Fully-Autonomous Cars
2) By Application: Civil, Offline Taxes, Robo-Taxes, Ride Hailing And Ride Sharing Taxes, Others
A Few Points From The Table Of Content
1. Autonomous Cars Market Executive Summary
2. Table of Contents
3. List of Figures
4. List of Tables
5. Report Structure
6. Introduction
……
21. Key Mergers And Acquisitions In The Autonomous Cars Market
22. Autonomous Cars Market Opportunities And Strategies
23. Autonomous Cars Market, Conclusions And Recommendations
24. Appendix
The report covers the trends and market dynamics of the autonomous cars market in major countries – Australia, Brazil, China, France, Germany, India, Indonesia, Japan, Russia, South Korea, UK, and USA. The report also includes consumer surveys and various future opportunities for the market.