Automotive Seat Belt System Market – Snapshot
The automotive seat belt system is passive safety equipment mounted across the seats to hold the occupant on the seat during a collision or sudden deceleration of the vehicle. Three-point and two-point belt systems are extensively used seat belt types. Moreover, passenger cars are incorporated with three-point seat belts.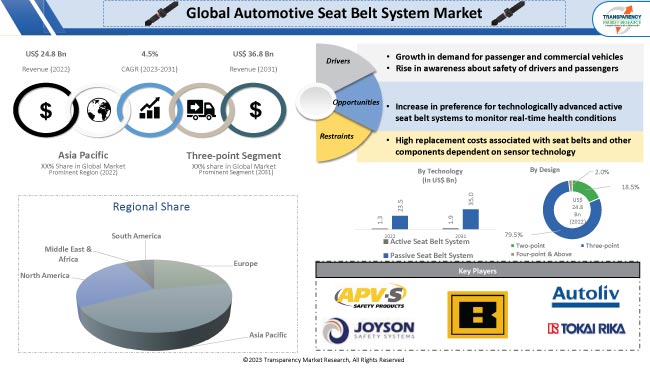 Increase in demand for safety equipment for vehicles has led to the development of advanced technology seat belts. Rising stringency of safety standards and increase in sales of sports utility and performance vehicles are driving the automotive seat belt market. Rise in per capita income in developing countries has led to the emergence of several first-time consumers, thus spurring vehicle production. This, in turn, fuels the demand for automotive seat belt. Government initiatives in India and China to boost vehicle production in these countries is driving the seat belt market in Asia Pacific.
Customization as per your requirement, Buy Now
Emergence of the automotive industry in ASEAN is projected to boost the seat belt market in the sub-region. Increase in demand for occupant safety among consumers is a primary driver of the automotive seat belt market. Buckling up of seat belts effectively reduces the chance of serious injuries during collision, which prompts a high number of consumers to buckle up while driving. Furthermore, significant drop in traffic fatality rates in the U.S. after taking stringent action on driving without seat belt has led to the adoption of similar actions in other countries.
\Get More Press Releases by TMR: https://www.prnewswire.com/news-releases/long-term-health-hazards-loss-of-natural-habitat-of-terrestrial-aquatic-animals-due-to-rise-in-air-pollution-levels-drives-growth-in-air-quality-monitoring-equipment-market-valuation-projected-to-surpass-us-4-7-bn-by-2031–opi-301284496.html
The global market for the seat belts has been segmented based on technology, design, component, seat, sales channel, vehicle, and region.
Based on technology, the passive segment held a major share of the market, as it is a conventional technology and is being preferred for integration in standard class vehicles owing to its high cost-effectiveness. On the other hand, active seat belts system is highly advanced and consists of several intelligent components, which in turn effectively propels the cost of these belts. Moreover, the active seat belt system is integrated in vehicles that are renowned for their safety features, such as Volvo.
Based on design, three-point seat belt systems are highly popular and hence, the three-point segment held a prominent share of seat belt market, owing to its application in most vehicles. Three-point seat belts comprise lap as well as shoulder restraining belts and are considered more effective and easily accessible as compared to the other types. The two-point segment followed the three-point segment and accounted for a notable market share; however, due to the limited application of two-point seat belts, such as in rear mid-seat of passenger cars and passenger seats of buses, the segment held a limited share of the market.
To gauge the scope of customization in our reports, Ask for a Sample
In terms of component, retractor and pretensioner segments held major share of the seat belt system market. Retractors are a key components of seat belt systems and are integrated in almost all three point seat belt systems. Furthermore, the high cost of retractors is a key factor attributed to the prominent share held by the segment of the seat belt system market. On the other hand, pretensioners are mostly integrated within retractors and play a major role in protecting the occupants during a collision. Based on the seat, the rear seat segment held a major share of the market, owing to the presence of a higher number of rear seats in passenger vehicles; while, the number of front seats can be two in most vehicles. Rising demand for sports utility vehicles (SUVs) is likely to play a major role in boosting the rear seat segment, as SUVs contain significantly higher number of rear seats.
Contact us:
Transparency Market Research
State Tower,
90 State Street, Suite 700,
Albany NY – 12207,
United States
Tel: +1-518-618-1030
https://todaysmarkettrends.wordpress.com