Predictive maintenance has significant application in Industry 4.0, which places a premium on proactive maintenance to ensure uninterrupted processes. Predictive maintenance cannot exist without continuous monitoring of machines in normal conditions to ensure their optimal use. It has also impacted the automotive industry, where automotive predictive maintenance finds application in engine performance, exhaust systems, transmission function, and structural stability. The use of automotive predictive maintenance is particularly significant to optimize engine performance, as it monitors and predicts ambient conditions, fuel consumption, and other factors for ideal performance.
Engine performance, as an application, accounts for the most significant share of the overall automotive predictive maintenance market ~US$ 136 Mn by revenue in 2018. It is expected to expand 10X over the forecast period to hit the ~US $ 1.3 Bn mark in 2027, making it the fastest-growing segment in the global automotive predictive maintenance market.
Also growing rapidly is the application of automotive predictive maintenance in transmission function, which is anticipated to reach ~US$ 670 Mn by the end of 2027.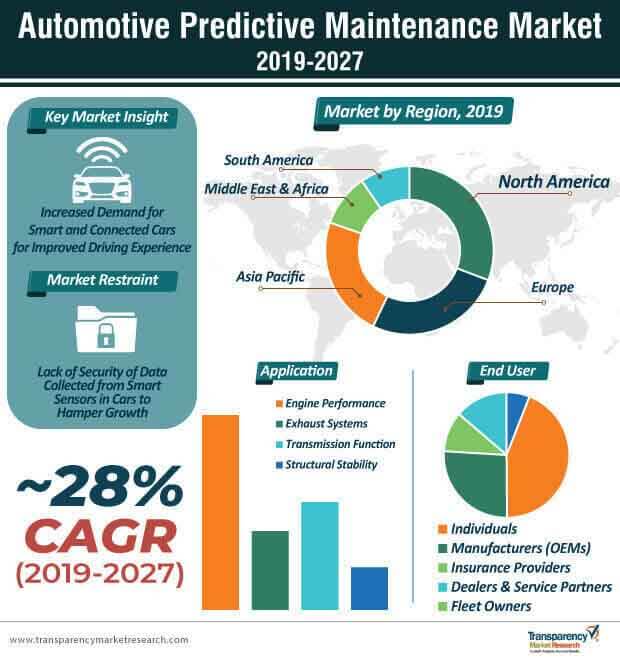 Request a sample to get extensive insights into the Automotive Predictive Maintenance Market 
Integration of Big Data and IoT in Automotive Predictive Maintenance to Manage Downtime
The benefits of automotive predictive maintenance include ideal maintenance time and improvement of machine performance, and as a process, can be made more efficient by networking and connecting vehicles. Automotive predictive maintenance depends on large amounts of data that is collected by sensors placed in vehicles, which has to be analyzed and processed using intelligent algorithms, for the system to work. Players in this market are incorporating big data environments to increase the reliability of the results, and Internet of Things (IoT) for the resultant diagnostic data to be transmitted to service centers and manufacturers, improving the efficiency of the product.
To understand how our report can bring difference to your business strategy, Ask for a brochure
It goes one step further in vehicles, where automotive predictive maintenance opens up avenues into preventive maintenance as well.
Large Fleet Companies to Benefit from Innovation in Automotive Predictive Maintenance
Fleet companies that generally depend upon vehicles for daily operations rely heavily on smooth operations without unscheduled downtime that can impact their bottom line. Players in the automotive predictive maintenance market are focusing on catering to these end-users to build technology that keeps fleets running smoothly. Automotive predictive maintenance offers fleet companies the benefit of more control over the operations of their fleets, scheduling, and inventory, thereby lowering overall costs. As a technology to improve efficiency, fleet owners are increasingly incorporating Big Data and IoT-based solutions to maintain operational efficiency. The fleet owners segment, which accounted for ~10% of the total market share by revenue in 2018, is expected to expand at a value CAGR of ~29% during the forecast period.
Regional Markets of Europe and APAC Expanding at a Rapid Pace
The automotive predictive maintenance market in Europe was estimated at ~US$ 76 Mn in 2018, and is expected to expand at an impressive ~29% value CAGR over the forecast period. This can be attributed to the region being a quick adopter of pollution control measures, which has impacted the way exhaust systems in vehicles are maintained. The application of automotive predictive maintenance in exhaust systems is considered a key factor in the emergence of Europe as a lucrative regional market in the global landscape.
However, growing at a whopping value CAGR of ~30%, APAC is quickly emerging with a plethora of opportunity offerings for players in the automotive predictive maintenance market. This impressive growth can be attributed to the presence of many manufacturers from the automotive industry. To cater to them, there has been a rise in research & development activities by automotive predictive maintenance market players to provide complete solutions for automotive predictive maintenance. In 2018, APAC accounted for less than one-fifth of the total market share by revenue, and is expected to hold ~25% of the share by 2027.
Read TMR Research Methodology at: https://www.transparencymarketresearch.com/methodology.html
Read Our Latest Press Release: