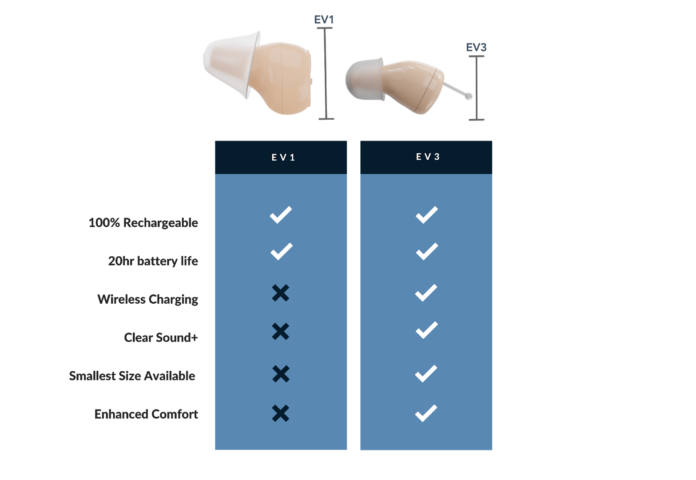 Tired of struggling to hear but can't afford a hearing aid? Audien Hearing is here to help! In most cases, hearing aids the traditional way can cost an average of $5000/pair, but it doesn't have to now, thanks to Audien.
By removing the mark ups behind hearing aids, costs can be lowered to a fraction of the current price. Middlemen like hearing centers, audiologists, sales reps, or customizations keep hearing aid prices high, and while seeing a professional is necessary, their prices just aren't viable for many. For that reason, more than 30 million Americans have hearing loss but can't afford a hearing aid.
To solve the problem at hand, Audien has developed a direct to consumer approach. They sell online, and offer a one size fits all product, removing the need for physical locations, audiologists, or sales reps. This keeps costs low, allowing them to go direct from the factory to the consumer.
Audien products are comfortable, easy to use, affordable, and rechargeable. Their hearing aids are made with similar technology to traditional hearing aids, keeping only vital components. This let's people get products with most of the same functionality of traditional hearing aids, but at costs over 90% lower.
Now, seniors and others with hearing challenges can avoid the grueling and expensive process of the past to improve their hearing. The whole process has been simplified. For that reason, over 100,000 customers have taken advantage of this opportunity for improved hearing, by purchasing hearing aids from Audien Hearing.
Before Audien, most people had to choose between ignoring their hearing loss or spending $3,000, $4,000, or $5,000+ for hearing aids — leading many to avoid treatment altogether due to the high costs. Now, there are options for those who cannot afford to spend thousands on their hearing.
Audien Hearing's mission to give everyone access to affordable, effective, and comfortable hearing aids is being fulfilled. Their rechargeable hearing aids are the best out there for the price. In fact, they are made with similar technology as a $5,000 pair of hearing aids — often, the only difference is digitization and customization. In reality, basic hearing devices do not cost much to manufacture, and Audien Hearing has found a way to cut out the middleman to allow customers to get the best hearing aids at an incredibly low price point.
Audien Hearing provides the following benefits:
Lifetime Support
Superior Audio
Easy to use and Comfortable
Rechargeable
Low prices
Money-back Guarantee
Customers have two product choices
EV1 – Audien's best seller at only $89/pair. It is in-ear, rechargeable, and easy to use.
EV3 – Audien's top of the line starts at $249/pair. It is smaller, sleeker, and more powerful.
Audien Hearing offers the best priced hearing aids on the market. For years, hearing aids have cost $4,600/pair on average. People had to go to audiologists for hearing tests at a hearing center, then get overpriced custom products. Now, people can get a one size fits all approach online — and Audien has hearing aids starting at only $89/pair. They are rechargeable, in-ear devices that are easy to use and come with amazing customer service to boot. You cannot beat the value they provide at this price.
Audien Hearing has made a way for more people to get the hearing aids they need at a sliver of the cost. For many, these simple hearing aids offer help with tinnitus management, auditory processing disorders, and hearing loss. This is a breakthrough for the industry and they are just getting started.
Audien has made it easier for people with hearing loss to get the help that they need at a price they can afford. This is changing the industry to make hearing aids more accessible to those that need it. Audien continues to improve their products and service in their mission to make hearing affordable for everyone.