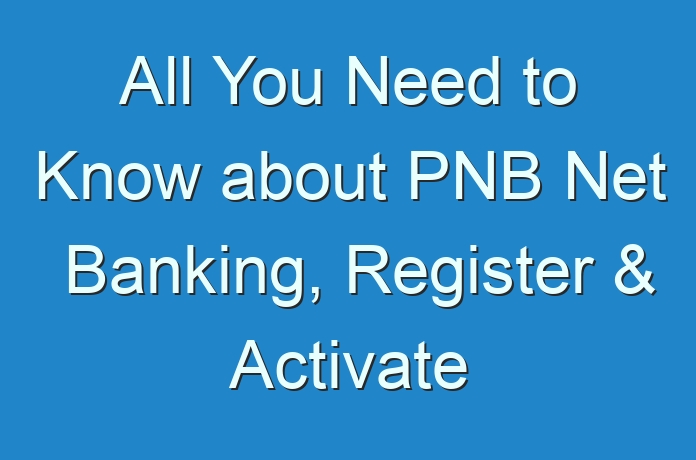 Net banking is not a buzzword now a days when it comes to digital transactions around the world. In Online world, number of payments done through net banking is keep on increasing and in a country like India where government has already taken steps towards making a digital economy. It is very important to have yourself registered for net banking with your bank.
For Punjab National Bank customers either you are a business owner having current account for day to day payments to your clients or a normal savings account holder. Here is the process of registering pnb net banking and its activation. First let's have look on its features and benefits first.
Features & Benefits:
You can use Punjab national banking internet banking services from comfort of your home anytime, anywhere. You don't need to step out and get your bank related works done using it. Below are some important features of pnb net banking
Online Fund Transfer using NEFT, RTGS and IMPS (24*7 service)
Get Account Statement in minutes
Request for Cheque Book
Change Mobile Number
Online Bill Payments
Tax Payments
PAN Registration
Online opening of FD & RD.
Manage credit cards.
How to Register for Punjab National Bank Net Banking?
You can register using online portal, through call, atm and branch visit. Let's have a look one by one.
Online Registration:
First you need to visit netpnb.com
2. Click on Retail Internet Banking.
Hit on New User
Fill your Account Number and choose registering for internet banking.
Put in the OTP received on your registered phone.
Now enter debit card number and your ATM pin.
Now Set login and transactions passwords.
Upon setting up password you will get user id finally. This user id will be used to login in your net banking Save it for your future reference.
Remember login password will be used at login time and transaction password you will need to enter during fund transfer process, making changes in your profile, adding beneficiary into your account.
How to Activate PNB Internet Net Banking?
To activate internet banking in your account, you can just get it activated through your home branch. Just you need to fill a request form and they will share user-id on your registered address. Once you receive user-id, only need is to get password from branch by visiting there.
On successful completion of whole process, you will be able to login online at netpnb.com using login id and password. At first login, you will asked for some details fill them up and go on.
So as of now you know how to register for pnb net banking online or to get it activated by visiting your home branch. Use net banking services and enjoy.