Global air conditioning system market is expected to grow at a significant pace as a result of the requirement to keep healthy indoor air being damaged from thermal environmental factors including temperature, humidity, and air pressure. Majority of the companies are working on energy efficient products as a result of rising consumer awareness towards the requirement of energy conservation. Moreover, concerns associated with air pollution have also spurred the demand for air purifying technologies, a trend that air conditioning systems market has been capitalizing on. The presence of a large number of leading players makes the global air conditioning systems market extremely competitive. This is projected to give the market a significant boost in the coming years, with the opportunity in this market amounting to over US$ 160.3 bn by 2027.
Request a sample to get extensive insights into the Air Conditioning Systems Market
Commercial Segment is expected to grow at a Higher Pace
In term of application, air conditioning system market has been segmented into commercial, residential, automotive, and industrial sectors. Commercial segment accounted for the major application in 2018, with a market share of 40%. This segment is poised to retain its lead through 2027 as a result of increasing usage of air conditioning systems in areas such as construction, hotel and tourism, hospitals, clinics, and healthcare. By volume, however, the residential application segment dominated the market in 2018. This segment is also anticipated to expand at the highest CAGR based on revenue from 2019 to 2027
On the basis of type of equipment, the air conditioning systems market is bifurcated into window, portable, cassette ACs, split, chillers, single packaged, and airside air conditioning systems. Split air conditioning systems are the most preferred kind and accounted for a revenue share of over 76% in 2018. This segment also dominated the air conditioning systems market by volume.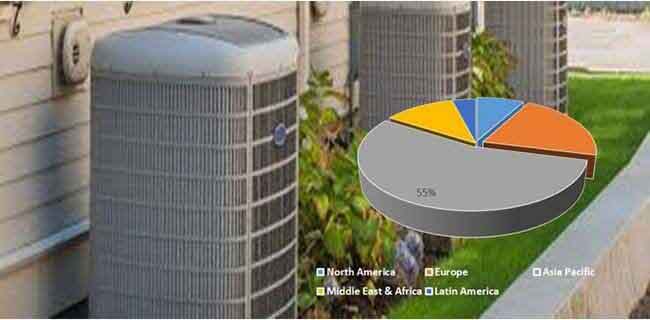 To understand how our report can bring difference to your business strategy, Ask for a brochure
Asia Pacific Is the Largest and Fastest Growing Market
In terms of region, the air conditioning systems market has been segmented into North America, Latin America, Europe, Asia Pacific, and the Middle East and Africa. By revenue, Asia Pacific is projected to dominate the global market for air conditioning systems with a share of over 55% during the forecast period. The demand for air conditioning systems in Asia Pacific is likely to be driven by Japan, China, and India. In addition, the replacement of air conditioning systems with energy-efficient equipment is forecasted to significantly drive the demand for air conditioning systems in the coming years. Rising number of commercial buildings in India and China will also boost the sales of air conditioning system in Asia Pacific.
North America also accounted for the significant share in this market. The changing standards of the American Society of Heating, Refrigerating and Air Conditioning, ongoing technological evolution, and the presence of several regulatory policies have been accelerating the demand for energy-efficient, technologically advanced, and eco-friendly air conditioning systems in North America. U.S. accounted for major share in this region. However, air conditioning systems have been witnessing a surge in demand from both commercial and residential applications, with the popularity of smart thermostats and inverter air conditioners rising with increasing adoption.
Stuck in a neck-to-neck competition with other brands? Request a custom report on Air Conditioning Systems Market
Latin America, as well as the Middle East and Africa, are forecast to witness sustainable growth in the near future, fueled by the increasing adoption of smart air conditioning systems in countries such as the UAE, Saudi Arabia, Turkey, and Israel. Europe is projected to witness moderate growth during the forecast period, with the EU7 countries likely to present the most attractive opportunities for players in the air conditioning systems market. Increasing demand for energy-efficient products will further drive market growth in the coming years.
Growing Consumer Awareness in Air Conditioning Systems Market Drive Market
A wide range of heating, ventilating, and air conditioning systems (HVAC) are used in commercial and residential establishments. Their operations has attracted attention among facility managers who have been relentlessly pursuing to adopt technologies that reduce the energy consumption or those that improve the energy efficiency considerably. This is one of the key technological propositions attracting potential consumers in the air conditioning systems market. This makes huge business sense, the reason having to do with the fact established by a body of studies that residential buildings consume huge energy worldwide. Hence, the need for improving the operational parameters is imperative for industry players and governments around the world. A number of modelling techniques have offered huge promise in relation to dynamic optimization, hence rendering huge savings for end users. The growing use of HVAC systems in multi-zone buildings is a key trend boosting the prospects in the air conditioning systems market. IAQ variables and thermal comfort are some of the key criteria used to evaluate the exact need in these applications. In various technological strides, MPC controllers have also been a key focus for manufacturers of HVAC. Growing number of field studies has helped them make correct evaluations.
The fallouts and aftermath of COVID-19 pandemic has disrupted the economic and health systems worldwide. The pandemic on one hand lent massive morbidity and mortality in the affected population, while on the other crippled several business activities, particularly in second and third quarter in 2020. The post-pandemic world has witnessed numerous new business models and game-changing strategic frameworks catching on momentum in recent months. Companies in the air conditioning systems market have also been influenced by these macroeconomic and microeconomic trends. The pandemic also saw a large percentage of populations being confined to their homes and many severely suffered from loss in incomes. All these income patterns carved out the need for new consumer propositions for industry players to stay afloat in the market.
Read Our Trending Press Release Below:
https://www.prnewswire.com/news-releases/thermoform-packaging-market-to-rise-at-us-82-billion-by-2027-high-demand-from-pharmaceutical-and-food-beverage-sector-to-generate-considerable-revenue—tmr-301318338.html