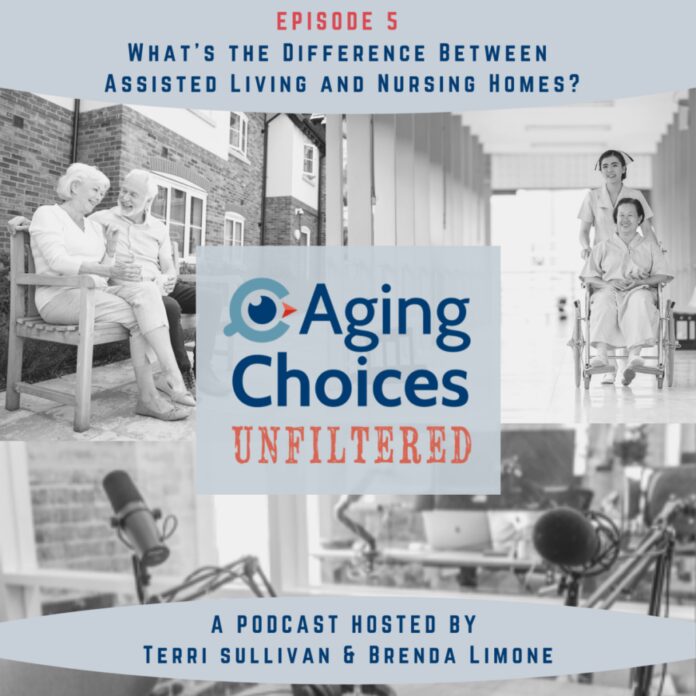 This is a great question and one that we hear many, many times.
Every industry has its own lingo, and senior care is no different. We understand that it can feel overwhelming for anyone starting their journey into senior care options and even for those already in the middle of their journey to grasp all the nuances and that is perfectly normal!
The good news for you is that we recorded an entire podcast that explains the difference between assisted living and nursing homes.
Our guest for this episode is Cynthia Perthuis, a certified senior advisor and elder care strategist with Senior Care Authority, serving New York City and Southwest Florida. Perthuis and her team help people sort through and understand all the care options, traverse a complex healthcare system, get accurate and up-to-date information, and connect clients to vetted local resources.
This Isn't Your Grandmother's Nursing Home!
The concept of the nursing home has evolved a lot over the last few decades.
"We're not talking these days about your grandmother's nursing home," said Perthuis. "Things are just different."
Different indeed.
"A nursing home is just not a phrase that traditionally should be used", Perthuis said.
Instead, she prefers to use these terms: skilled nursing and assisted living.
What is Assisted Living?
A place to assist people to live.
The concept of assisted living was born in the late 1970s as the philosophy shifted to a housing model that allowed residents some sense of privacy.
According to Perthuis, the first published use of the term 'assisted living' was in 1984.
The big difference between assisted living and skilled nursing is that assisted living is a social model while skilled nursing is a hospital model.
"Assisted living assists people in a social manner and skilled nursing skillfully nurses people back to health," explained Perthuis.
What is Skilled Nursing?
A place to skillfully nurse people back to health.
Perthuis explains the two different versions of skilled nursing: short-term recovery and long-term care.
Skilled nursing for short-term care is focused on recovery in 100 days or less. A short-term skilled nursing facility helps people recover from health setbacks such as a fall.
Long-term care is dedicated for health issues that can't be addressed in any other facility. This facility is set up for long term health issues and people who need 24/7 nursing care.
A Peace of Mind
Perthuis works with clients and families to help them arrive at a consensus decision about what's best for the family as a whole. Making the call to move a loved one to an assisted living facility is a big decision and one that impacts the entire family.
In this episode, Perthuis shares one of her favorite quotes from a client. And this quote just happens to speak to the peace of mind that moving to an assisted living facility can bring, not just to the resident, but to their family as well.
"She told me it took a set of Clydesdale horses to come to her home and drag her to assisted living and what she really wishes is that someone had brought those Clydesdale horses to her months before because her life was so easy now that she had somebody to take care of things for her," recalled Perthuis.
Be Proactive in Your Senior Care Journey!
Perthuis breaks down the decision process to move into a senior living community into three buckets: where, when and how.
"Every family can work on the where right now," said Perthuis.
Take a moment and think about the where bucket. Where would you or a loved one go if you needed to move to a senior living community right now?
"There are so many options and the time to figure out the options and do the homework is before someone has a crisis," Perthuis said.
Consider factors such as location, finances and culture when addressing where you or a loved one could potentially move. After you have had the discussion about the where, Perthuis says file that information away. Having these discussions in a proactive manner will make the decision process easier if and when that time arrives.
Enjoy More Episodes of AgingChoices Unfiltered!
We're so excited to launch our podcast featuring real talk about senior care options. Each week we discuss timely topics with industry insiders and give you an unfiltered view of senior care.
Take a listen to our other episodes:
Episode 1–Get to Know Brenda & Terri AgingChoices.com co-founders Brenda Limone and Terri Sullivan detail their backgrounds in the senior care industry and share personal stories involving their own family members' experiences with senior care.
Episode 2–Protecting Senior Living Communities from COVID-19 In this episode, Brenda & Terri are joined by Brenda Abbott-Shultz, VP of Resident Services at Sagora Senior Living to discuss the steps senior living communities are taking to combat Coronavirus.
Episode 3-Staying Home vs. Moving to a Senior Living Community Michelle Woodbrey, Chief Executive Officer and Co-owner of 2Sisters Senior Living Advisors shares four factors to consider when considering whether to stay at home or move to a senior living community.
Episode 4–The State of Home Care During the COVID-19 Crisis Brenda and Terri give you an inside look at the state of home care during the COVID-19 crisis. Guest Girish Lahoty, CEO and owner of FirstLight Home Care of Boston Northwest, shares the steps his team is taking to ensure the safety of all clients and caregivers.
Make the Right Choice!
Are you currently researching senior living or home care options for yourself or a loved one? Or, do you anticipate the need to transition a family member to senior care in the near future? Our Choice! Wizard© makes the research process super easy! Just follow our simple 3-step process to discover the recommended options that best fit your specific needs. The Choice! Wizard© is FREE and easy to use.
Try Our Choice! Wizard©
Contact: