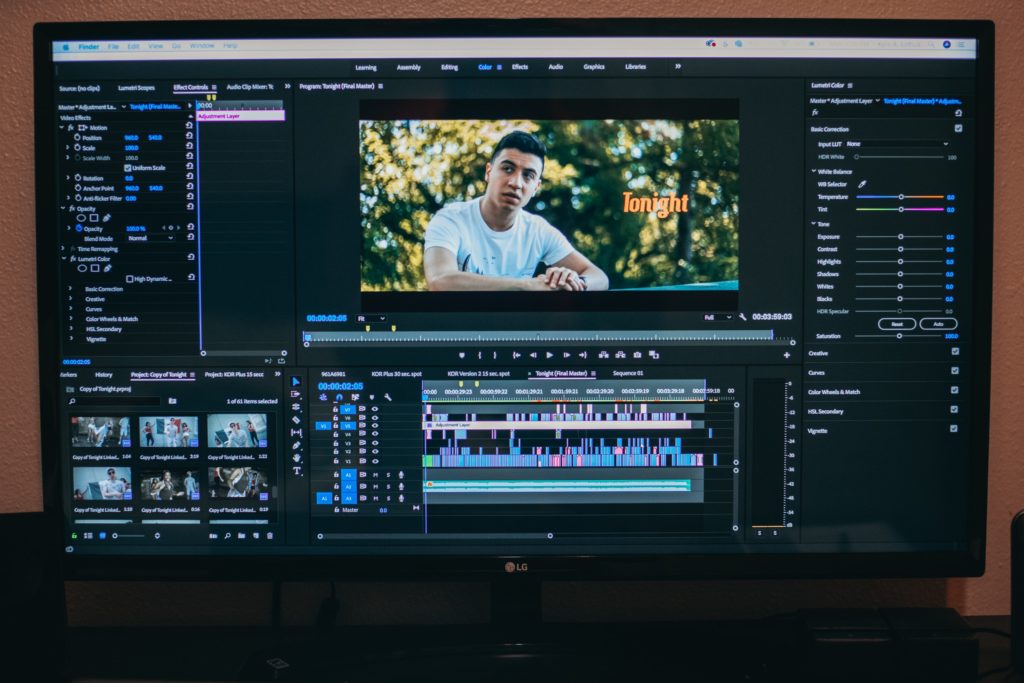 From Coldplay's enchanting India-themed video of their song Hymn for the Weekend to the fancy effects and eye-popping imagery in Ritviz's Barso, music videos have always proven to be attractive and engaging. Perhaps you and your band want to make a music video for your latest song but don't quite know how to go about it. Then this article is just what you need: a guide to make a professional music video. 
What editing techniques should you use in your video? How to make a video with photos and music? Questions like these and many more will be answered in the seven tips given below. 
How to Make Your Music Videos Professional
There are several video editing tools like that of InVideo available online, some of which are free. Not all editors have all the features, but the tips given below are generic, and you should be able to implement them on most editors. 
1. The Visual Content Must be Relevant to the Music
Normally, a video will have a song in the background to assist the visual content, but in a music video, the roles reverse. The song is the main content, and the video is just to enhance the effect. But it's important that the video and song go hand in hand and not appear as two separate entities. 
The video can have a recording of the people playing and singing the song (like Hey Jude), or it can have the artists performing while also acting out something else (A Sky Full of Stars), or it can have just visuals that narrate a story (Sage) or random patterns and graphics. 
All these can be made effective but plan well ahead of making the video which type it is that you want it to be. 
2. Hire a Professional Videographer
If you have decided that the video is going to be one of the first two categories, it is advisable to hire a professional videographer to shoot the video (if your friend or acquaintance is one who can do the job at a cheaper rate, great!). This serves a couple of purposes. One, you don't have to worry about high-end equipment to shoot and two, a videographer will have a much better idea of how to exactly capture the scene to make it most appealing: when to zoom in on the instruments, when to take a group shot and so on.
Ultimately, the video has to be interesting to look at. Even if the song is the focus, a bad video can put off any viewer, taking away their attention from the music too. 
3. Pretend like You are Making a Movie
What this means is that, once the song is ready and you are about to shoot the video, you want all the musicians to act well. They don't have to give award-winning performances, but they have to be charismatic enough. Apart from acting, various other aspects come into play – for example, a location scout may be needed if you want to make it fancy, or a simple setting in your neighborhood or college could work too. 
The entire video doesn't have to be shot. You can exploit whatever software is at your disposal, as discussed below. 
4. Make Use of Video Editing Software
The constraint you have in a music video is the duration of the song – that is fixed, and your video story or content has to fit that time interval, with a shortage or excess of perhaps 10 or 15 seconds. After shooting the sequences or making the graphic video content, use video editing software applications to stitch together the content to match the duration of the song. You might have to sync certain video bits to certain parts of the song, so assemble those first and edit the rest of the sequences around these. 
5. Try Out Picture Slideshows
Picture slideshows are common in music videos. If you decide making a video is too expensive or if you decide that a photo montage is more attractive instead, you can make use of free slideshow makers with music to help you in making the music video. The added advantage of this is that it is easy to adjust the timing and sync music and video because there are no continuous or moving shots. 
Again, it is important to keep the content relevant. Picture slideshows can narrate a story of their own, or you can compile a set of images taken during the making of the video to make it more wholesome. 
6. Apply Other Visual Effects
Like any other video, you can use the plethora of visual effects available in your editing software like filters, slow-motion effects, transitions, and so on. It is good to be creative and explore a lot of effects, but don't overdo it. Remember, you don't want to draw focus away from the music. 
Coldplay's Up and Up is a good example of this: the video has a wide range of fantasy elements and grand visuals that go well with the lyrics. 
7. Show the  Lyrics on the Screen
Lyric videos do exactly this, but if you want to go the extra mile, you can make a music video with music, visuals and incorporate the lyrics into the visuals in a clever way. For example, the scene can have someone writing on a book, and the camera can hover over the page to show the lyrics. Apart from lyrics, you can also display the closing credits and other details of the song or video on the screen before or after the song. 
Doing this brings together all the techniques mentioned above and makes your video stand apart. Visual effects come in handy if you want to make the lyrics stand out from that particular shot on screen. Jason Mraz's 93 Million Miles' music video is a good example of this. 
Make Your Video Today!
Whether it is to support a song that your college band composed or for a wedding video montage, these seven tips are guaranteed to give your music videos a professional touch. Make use of all the video and audio editors you can get and remember to be as creative as possible.