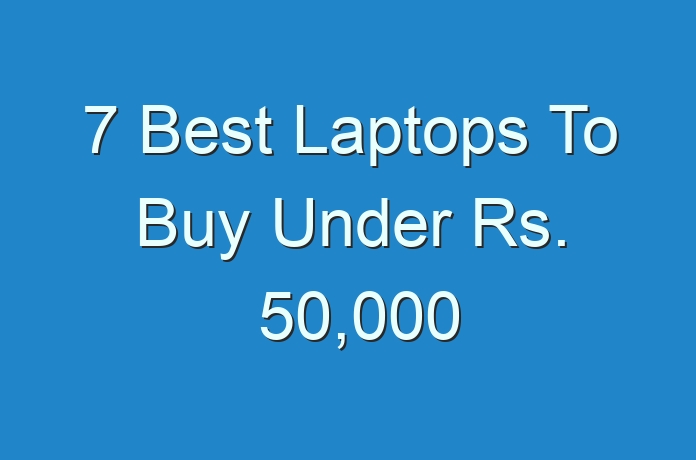 If you are looking to buy a laptop with the high-end specification and your budget is Rs. 50,000, Look no more. 
We have done research for you and listed down the best laptops under 50,000 that you can consider before buying it. 
Here is the list of 7 best laptops you can buy under Rs. 50,000 in India.
1. Acer Nitro 5
The Acer Nitro 5 is another great laptop that comes with a lot of high-end features. This laptop has 8 GB DDR4 RAM and 4 GB AMD Radeon RX 560X GPU to deliver an immersive gaming experience. 1 TB of storage lets you store a huge amount of data, files and multimedia. The battery backup is quite well. You can get up to 5 hours of battery backup.
The laptop comes with the Ryzen 5 Quad Core processor which ensures you the best performance to take your productivity to the next level.
2. Asus VivoBook 14
The Asus VivoBook 14 comes with i5 10th Gen processor, 8 GB RAM, 512 GB SSD, 1 TB HDD storage and Windows 10 Home operating system to ensure seamless multitasking and immersive entertainment experience. This lightweight and compact laptop can be conveniently fit into a backpack, so you can carry it comfortably wherever you go.
The laptop offers dual-storage, so not only can you store a large number of files and movies, but you can expect smooth and efficient performance. You can store your work-related stuff on its 256 GB SSD. For entertainment related stuff like movies and series, you can store in 1 TB HDD storage.
3. Lenovo Ideapad 330

If you are looking to buy a good laptop, then the Ideapad 330 could be your best bet. Lenovo Ideapad 330 offers a 15.6 inches full HD display with intel i5 8th Gen processor. 8 GB RAM and 1 TB storage let you store a lot of stuff. 2 GB NVIDIA GTX graphics provide an immersive gaming experience. 

You get the updated version of Windows 10 that is loaded with amazing features, such as the reimagined photos app which lets you tell your story in the form of video and add music, transitions, 3D effects and much more.
4. Asus VivoBook Flip 14
Asus VivoBook Flip 14 comes with 14 inches Full HD display which is one of the best laptops you can purchase in a budget of Rs. 50,000. With intel core i3 10th gen processor, 4 GB RAM, 512 GB SSD storage drive and Windows 10 you get an enough configuration with this laptop to help you ease your task.
It also comes with Intel Integrated UHD graphics processor to give a better gaming and visual experience. Good thing about this laptop is that you can flip this laptop 360 degrees and it's lightweight. 
5. Acer Aspire A515-51G
This Acer laptop offers you 15.6 full HD display with stunning visuals. It is powered with Intel Core i5 7th Gen processor with 8 GB RAM and 1 TB of storage. The NVIDIA Geforce MX130 2 GB graphic processor takes your gaming experience to the next level.
The battery backup you get with this laptop is more than enough to complete a huge task in one charge. You can get up to 7 hours of battery backup. Comes with Windows 10 operating system to provide you all the latest features.
6. MarQ by Flipkart Falkon Aerbook
The MarQ Falkon Aerbook comes with a premium metal body, with an exquisite QuickSilver finish. The laptop is an ultra-thin with the weight of just 1.26 Kg. It features intel core i5 8th gen processor, 8 GB RAM and a 256 GB SSD storage which boots the laptop quickly, launches the application faster and makes file transfers much faster.
Good thing about this laptop is that it also offers a dedicated SSD slot for the expandable storage of up to 1 TB. The MarQ Falkon Aerbook comes with pre-installed Windows 10 to help you get started right out of the box.
7. Honor MagicBook 15
HONOR MagicBook 15 laptop is a lightweight with an aluminium body and the attractive blue sheen will catch your attention almost immediately. The laptop has very narrow bezels that lets you watch every scene clearly. With Ryzen 5 Quad Core process, 8 GB RAM and 256 GB SSD storage this laptop gives an amazing performance.
It features the PCIe NVMe SSD storage drive that ensures a faster read speed so you can count on it to keep you at your productive best.
We have added the best laptops under the budget of Rs. 50,000 available in Indian market. I hope the above list will help you to choose the one you really want to buy.