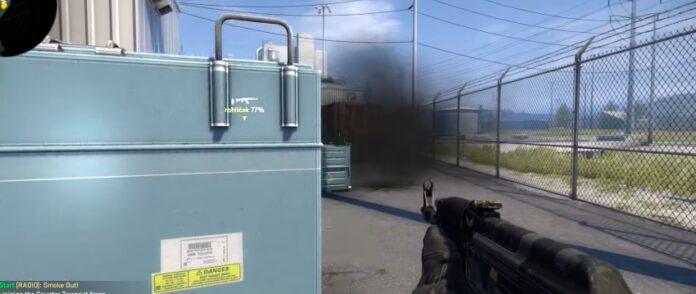 A lot of online threats had been circulating on whether the game is going cold for years. Reddit, Quora, and even Google Search results show several articles on CS: GO going dark. CS, Counter-Strike has been around for very long and was the first community-driven game ever with a novel concept. People in colleges would gather and hook up LAN cables just to play this and compete in tech fests.
However, CS: GO has been in news and articles all the time and even today tons of people play it. Counter-Strike: Global Offensive was released on Steam when it was released back in August of 2012. With over 175,000 recent reviews calling it 'Very Positive' and over 4,174,000 all-time reviews with 'Very Positive' remark is alone sufficient to tell how popular this game is. Over the years this game has only gotten bigger and received more love.
The Birth of Competitive Multiplayer FPS: CS
In the years around 209 to 2012, one would often hear your roommates playing CS. What is that? 'CS is Counter-Strike. It is awesome'. That was enough to get people going. Now, with a smartphone in everyone's pocket, better internet connectivity, and more powerful gaming laptops, things have changed a lot. The fans have matured and gotten much older leaving room for a new generation of young players.
The Best All-Time Favorite FPS Game: Counter-Strike
Here are some of the reasons why CS: GO has been the all-time favorite FPS multiplayer game for fans and has stood the test of time. We shall also discuss the single most beloved feature, the ability to add skins that encouraged many players to stay with something they had been comfortable over the years and something they grew up with.
With many games, skins would allow players to make changes to your weapons and stuff, get better armor, extra content when they paid extra. CS: GO doesn't do that and gives everyone a level playing field. Here skins do change the appearance and allow personalization. It isn't linked to an upgrade in armor, weapons or anything. There are a few places online that sell CSGO skins as well. All these make the game more impartial and equal for players. Everyone starts with the same basics in terms of weapons and ammo. For example, M4A4 is available to all and alternatives that can be changed during load-out are also available to all.
Players can use these skins to change the appearance of their guns, knives, and even gloves. 

They have no impact on the game itself allowing players to start from the same level. 

Players can get skins in a variety of ways during the gameplay such as briefcases that can be opened with a key to find skins. Other than that, you can buy your skins from the community market that sell CS: GO skins.
Functional Matchmaking System
This is a skill-based system and it is one of the inherent attractions of CS: GO. It will pair you with players with the same skill-level thus allowing for a more equal playing field and competing with equal chances of winning. In the Silver ranks, players can meet higher ranks many times though usually they are restricted to the same skill-level only.
CS: GO made a recent addition to their matchmaking system called the 'Prime-Matchmaking System'. Despite the name that sounds premium and elite, the thing does not cost any extra for players. In return, it requires players to verify their phone numbers during the game to reduce smurfs and hackers during the gameplay. This results in a notable reduction in bots and allows for legitimate gameplay. Most importantly you can notice the reduction at lower ranks that are easy to beat with bots.
Then, there is the Abandon-matchmaking system that gives the players a penalty for leaving a match in between. This is to allow for fairness in gameplay. In cases when there is a genuine issue like reconnecting to the internet, the system does give players a chance to do so. Else, players can see themselves being penalized and punished more heavily as they do this more often that is, leaving in between a match.
Even though other games have tried to emulate the system, Steam's VAC is pretty good for CS: GO and all players love it.
Making Constant Improvements
As the developers from Valve, Nexon and Steam and many more that have contributed to CS since its original release in 2000 continue working on the title, CS has pushed constant improvements. The FPS was the first to work seamlessly on all platforms including Linux and Debian systems. Their latest release in August of 2012, the CS: GO brought some of the best a competitive multiplayer FPS can offer.
It has been termed as an incredibly realistic terrorist warfare game in operation till this date, 20 years after its first release. 

From taking hostages, bombing, assassinations and more, this is a realistic take of real-life terrorist activities. Counter-Terrorists try to prevent it, and that is where the name comes from. 

Today, there are hundreds of custom servers that make innumerable maps, game-mods and other accessories available to players across the globe. The community is super strong and wide.
Why Has PUBG Overshadowed CS: GO?
The single game that took the youngsters away was PUBG by Tencent games. The arrival of the first Battle Royale game storming the scene wasn't a surprise. A lot of CS and CS: GO players wanted to try something new, and there was only one that was making rounds, PUBG. So, it was inevitable that someday another game would take away a big chunk of its fans. Within a short time, PUBG that came on smartphones were being played by almost everybody. They recorded 3 million unique players in a very small time.
But, as fans found out the game was repetitive and not quite the same as CS, they would return to their laptops and that saw that only 50% of PUBG players stayed and returned. That meant a lot of players moved to this easier gameplay.
Other competing FPS games of 2023 are: