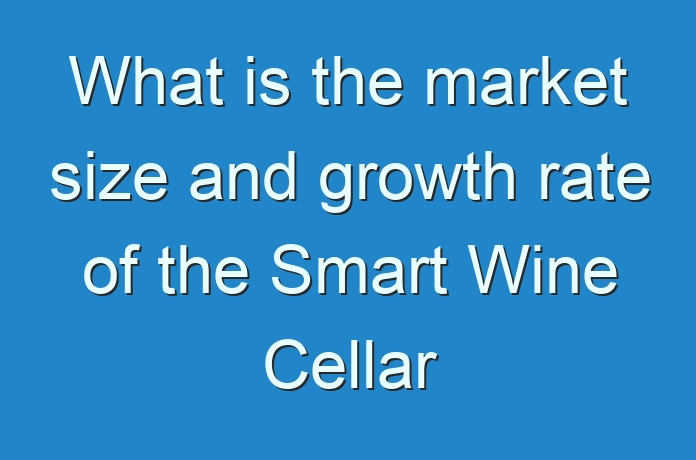 AI-powered Wine Cellars Gain Popularity Due to Online Sales amid COVID-19 Crisis
Wine enthusiasts are looking for online options to purchase bottles amid the ongoing COVID-19 crisis, owing to coupons for new consumers and discounts to existing club members on online orders. Such trends are creating business opportunities for companies in the smart wine cellar market. New tech company WineCab is gaining recognition for using the artificial intelligence (AI) software to improve wine management, storing, and offering trivia on which type of wine is highly recommended.
Business in the smart wine cellar market has taken a hit due to the coronavirus outbreak, since individuals are hesitant to invest in non-essential goods. Hence, smart wine cellar manufacturers are targeting high-income groups with high-tech wine storage solutions to help them organize and maintain their wine collection.
Planning to lay down future strategy? Perfect your plan with our report sample here https://www.transparencymarketresearch.com/sample/sample.php?flag=S&rep_id=72471
Compressor Wine Cellars versus Thermoelectric Wine Cellars: Which is Better?
Compressor wine cellars provide high cooling capacity and long service life. However, these cellars are being associated with a certain amount of operating noise and have a high-ticket price. Semiconductor or thermoelectric wine cellars are compact, low price, and eliminate the need for refrigerants, which contribute to the environment. However, these cellars have short service life, and its cooling performance is affected by the surrounding environment. Hence, companies in the smart wine cellar market are creating awareness about different parameters for purchase such as pricing, quality of wine stored, and capacity, among others to help consumers make an informed purchase decision.
Mobile Apps Enable Automated, Real-time Monitoring of Temperature, Humidity
Smart wine cellars are being operated using mobile apps. The Fogwing eco App is gaining popularity for its smart wine cellar monitoring processes that enable automated maintenance of refrigerators. Thus, companies in the smart wine cellar market are adopting the technology, as an increasing number of managers in the hospitality industry and winery owners are gravitating toward mobile apps for real-time updates about temperature and humidity.
The automation of climate cellar monitoring is a fast growing phenomenon in the smart wine cellar market. In order to develop mobile apps that enable automation, tech companies are increasing their R&D capabilities in industrial Internet of Things (IIoT) platforms. This has led to innovations in the sensor technology, which captures real-time temperature, humidity, and pressure levels of atmospheric air.
Wi-Fi Enabled Smart Wine Cellars Witness Demand
Seamless designs and Wi-Fi enabled wine cellars are generating revenue opportunities for manufacturers. This explains why the smart wine cellar market is estimated to grow at a robust CAGR of ~9% during the assessment period. LG Signature has announced to expand its appliance portfolio with the U.S. launch of its new Wi-Fi enabled and precise temperature control refrigerators.
Aesthetic designs and features in smart wine cellars are grabbing the attention of buyers. UV (ultraviolet) resistant glass, auto lift drawers, and glass touch displays are growing popular with consumers. Companies in the smart wine cellar market are mainly focusing on minimizing temperature fluctuations and reducing vibration in appliances.
Ultra-quiet Cooling Systems, Virtual Sommeliers Become Prominent in Wine Cellars
The growing trend of smart homes and smart restaurants is creating revenue prospects for companies in the smart wine cellar market. The robotic WineWall is acquiring prominence, owing to its AI capabilities and virtual sommelier that helps in wine and food pairing options. Startups are tapping value grab opportunities in the smart wine cellar market where they are taking additional efforts to customize appliances as per an individual's expectations.
Metal trims, interior walls, and rich wood finishes are adding to the sophistication of smart wine cellars. Companies in the smart wine cellar market are boosting their R&D capabilities to integrate ultra-quiet cooling systems with environment temperature controls in AI-based robotic wine cellars.
Looking for exclusive market insights from business experts? Buy Now Report here https://www.transparencymarketresearch.com/checkout.php?rep_id=72471&ltype=S
Smart Wine Cellar Market: Overview
According to the latest market report published by Transparency Market Research on the smart wine cellar market for the period 2021–2031 (wherein 2021 to 2031 is the forecast period and 2020 is the base year), rising consumption of wine across the globe is expected to drive  the smart wine cellar market
Globally, revenue generated by the smart wine cellar market accounted for over US$ 1.1 Bn in 2020, which is expected to expand at a CAGR of ~9%, in terms of value, during the forecast period
Rising Demand for Smart Wine Cellars: Key Driver of Smart Wine Cellar Market
Increasing consumption of wine by consumers over the past few years is influencing the growth of the smart wine cellar market. People frequently visit local wineries, pubs, night clubs, etc., where wine is served. Rapid growth in supply of wine through commercial kitchens, bars, clubs, and pub counters is encouraging the growth of the smart wine cellar market, as it helps to monitor and examine real-time cellar conditions.
Presence of numerous wineries and their suppliers over the years offering unique products is also propelling the smart wine cellar market. In addition, rising consumption of wine and its preference in several traditional rituals, parties, special occasions, and celebrations is driving the demand for small-sized wine cellars in residential spaces.
Currently, many advanced & effective technologies control a large number of home & commercial smart appliances from remote locations. Thus, rapid advancements in the information technology (IT) infrastructure and adoption of wireless communication are positively impacting the smart wine cellar market worldwide.